Read Time:
5 Minute, 42 Second
Welcome back to our series on Disney's use of illusion to bring us the fantasy we love on film and in the theme parks. Part one of our series focused on the magic in the movies. This post, we'll visit the Disney theme parks for a lesson on how forced perspective determines how we actually see the park around us. Disney Imagineers create such amazing illusions by playing with perspective, so enjoy this post. It was a real treat to research!
Inside the Story: Forced Perspective in Disney Theme Parks
Walt Disney's vision when he created Disneyland was twofold – he wanted to create a place where families could have fun together, and he wanted it to be a world where guests could be part of the story, not just looking at the story. Putting guests in the story meant using a few visual techniques to enhance the guests' perspective to add to the story. Here are a few examples from Walt Disney World and Disneyland.
The Castles
The iconic Disney castles (Cinderella Castle in Walt Disney World and Sleeping Beauty Castle in Disneyland) are classic examples of forced perspective in Disney Parks. The bottom levels of the castles are built at full scale, but the upper levels are built at increasingly smaller scales. The building scale, bricks, and windows used on the upper levels are smaller in scale than those used on the lower levels. The decreasing scales on the upper levels makes the castles look much larger than they actually are.
The Beast's Castle and Prince Eric's Castle, both in Fantasyland at Magic Kingdom, are built much smaller than full size, and are built atop their respective show buildings, giving the castles the appearance of being large and far off, rather than closer and smaller like they actually are.
Main Street, USA
The same trick applies to the buildings on Main Street in both parks. There are second floors to some of the buildings, but they are built at smaller scales than the first floors, and they are there for appearance only. Aside from the second floor windows which offer some fun nods of appreciation to Disney legends, the second floors themselves are not used for guest entertainment, only for out-of-site functional use (storage, mechanical systems, etc.).
Eiffel Tower, Epcot
Epcot's World Showcase is full of carefully crafted nods to existing cultural and historical structures and monuments. This is especially evident in the France pavilion, where the Eiffel Tower stands tall behind the pavilion's confines. The original Eiffel Tower in Paris stands over 1,000 feet tall. Epcot's version was built using the original blueprints for the structure, but was scaled down to one-fourteenth size. Imagineers used a combination of forced perspective and sight lines to build the tower smaller in scale, but have the appearance that it is fully sized and simply farther away than guests are able to explore.
Snow White's Grotto, Disneyland
Snow White's Grotto is located around the rear of Sleeping Beauty Castle in Disneyland. The grotto contains statues of Snow White and all seven dwarfs, which were a gift from a generous donor. The only issue was this – the Snow White statue was crafted the same size as the dwarfs, where she should be almost twice as tall as them. To resolve this issue in size, Disney Legend John Hench designed the grotto in which the characters reside using forced perspective techniques. 
Snow White stands at the top of the grotto, further away from guests than the dwarfs, and her immediate surroundings within the grotto are smaller in size. The dwarfs are situated much closer to guests, and with slightly larger environmental surroundings, giving the illusion that Snow White is much taller than the dwarfs.
Park Environments
For Disneyland, Walt originally wanted to create a land inspired by Gulliver's Travels, to be called Lilliputian Land. This land would have allowed guests to roam about as giants in a world full of miniature characters and structures. Some of the characters would have been audio animatronics, but the technology of the 1950s was not developed enough to make Walt's vision a reality. Walt settled on Storybook Land Canal Boats, which is still an attraction in Disneyland today. Guests can ride a small raft boat through a land full of miniature themed areas, including Aladdin, The Little Mermaid, and Three Little Pigs, among many others.
For a fun twist on the concept of pint-sized environments, check out the 1951 Disney cartoon short Out Of Scale, starring Donald Duck and Chip & Dale. This classic combines Walt Disney's love of trains with his love for creating miniature diorama environments, and plays with the concept of forced perspective.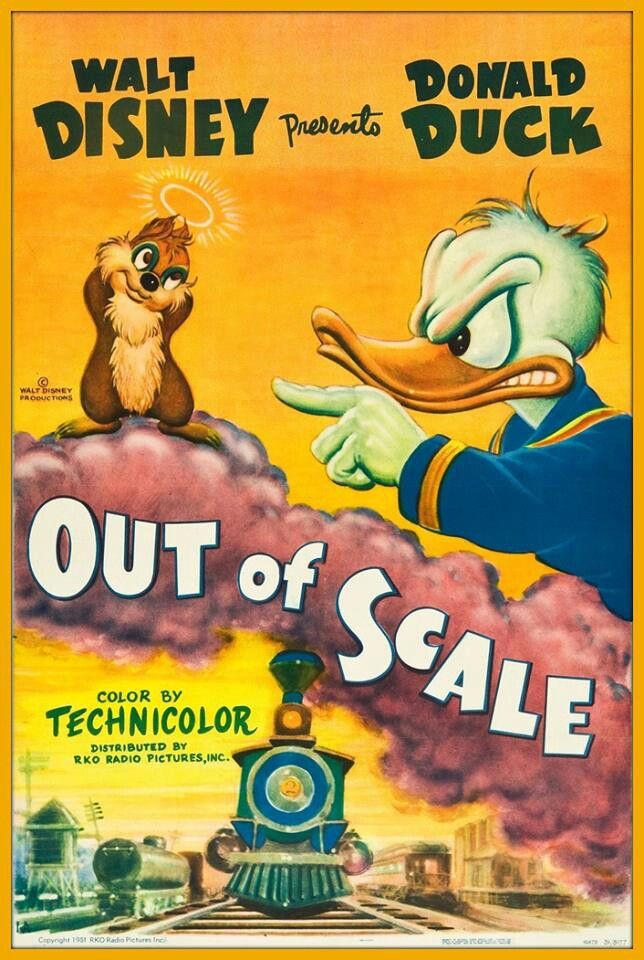 In Walt Disney World's Hollywood Studios, guests used to be able to play as the size of an ant in the Honey I Shrunk the Kids playground, where the entire playground was themed to be a small patch of backyard, blown up to huge scale to make guests feel tiny. 
Sadly, this playground closed in 2016. However, one of Walt Disney World's most ambitiously immersive expansions – Toy Story Land – has successfully recreated the feeling of being a very small guest in a larger-than-life environment. Debuting in Hollywood Studios in June 2018 (and already existing in several other Disney parks), Toy Story Land invites guests to explore Andy's backyard from the perspective of a toy.  Guests are dwarfed by giant figures of Woody, Buzz Lightyear, and other beloved characters from this hugely popular Pixar film series. The land's two new major attractions, Slinky Dog Dash and Alien Swirling Saucers, stick to the theme, keeping the perspective of the riders actually being toys.
The theming and décor of this land are all proportioned to make the guests feel right at home among their fellow toys (I mean, guests)!
Did you ever pause to think about how things look so real and authentic in Disney parks? If you didn't, it's because the forced perspective was done so well, guests don't even consider how it was done, or even that it was done at all!
We'll be back very soon with Lesson 3 – Sight Lines and Invisible Infrastructure.
If you'd like to reach out with a comment or share this article with a friend, please reach out on social at:
Instagram: Disney Facts and Figment
Facebook: Disney Facts and Figment