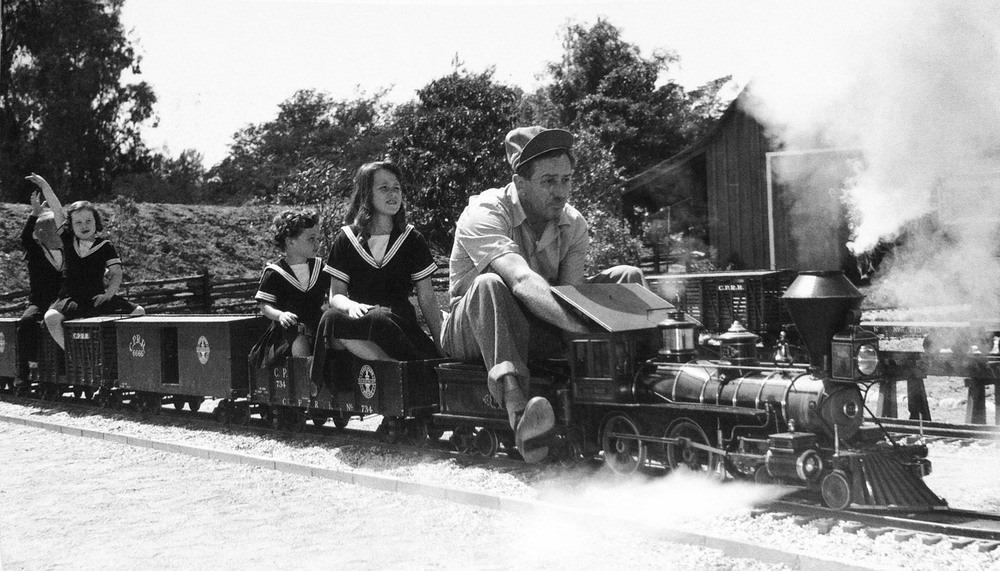 Read Time:
7 Minute, 10 Second
Walt Disney World is full of attractions, restaurants, shops, resorts…and people. But let's admit one thing – taking a family vacation there is hardly what you might consider relaxing. Believe it or not, there is a peaceful place hidden right in the heart of the World. A quiet spot that pays homage to Walt Disney himself, and celebrates his lifelong love of trains.
The Carolwood Pacific Railroad Room — formerly known as the "Iron Spike Room" (and more casually known as the "Train Room") is a treasure tucked away so discreetly, most guests will only find it if they know exactly where to look. The room respectfully displays a collection of memorabilia and images celebrating Walt's lifelong fascination with trains. Guests and visitors to the Boulder Ridge Villas at Disney's Wilderness Lodge may happen upon it, just off the Villa's lobby.
Let's check out this serene and spectacular collection of Walt Disney history. But first, let's look briefly back at Walt's railroad story.
The Romance of the Rails
Walt's connection with trains goes all the way back to his earliest days. He was always filled with wonder and amazement when he watched the big steam engines roll through his charming boyhood hometown of Marceline, Missouri. Walt's Uncle Mike worked as an engineer on the Santa Fe train that ran through Marceline. Walt worked on a train for a short period of time, selling goods to passengers. Unfortunately, Walt couldn't control his appetite for sweets. He ate so much of the candy he sold that he ended up eating most of his profits in the process!
Trains were the primary method of cross-country transportation in Walt's young adult days. When he was still scraping together the beginnings of his animation studio, Walt occasionally took trips from California to New York to meet with animation film producers. In fact, it was on one of these lengthy train trips that legend says Walt created Mickey Mouse.
Walt had just lost Oswald the Lucky Rabbit – his most popular character to date – along with most of his early animation staff, to New York producer/distributor Mintz in a bad deal. Never one to stay down for long, Walt immediately got back to work on his way home to Los Angeles. A mouse was born on that train, and so was an empire.
Walt's Personal Railroad
Walt was always a kid at heart, up until the day he died. In 1949, a 47-year-old Walt purchased a five-acre piece of land in the Holmby Hills area of Los Angeles on which to build his home. Of course, Walt's home wasn't complete without a fully functioning railroad circling the yard. With the help of fellow railroad enthusiast and machinist Roger Broggie, Walt built an approximately half-mile loop around the Disney property. The railroad was complete with a 7 ⅛-inch track on which rolled ⅛-scale train cars. The track layout included eleven switches, as well as gradients, overpasses, a trestle, a tunnel, and an elevated dirt berm (sound familiar?). The backyard sloped steeply down behind the house, followed by a flat area, which Walt named Yensid valley (his name spelled backwards).
Walt's wife Lillian was not a fan of the railroad idea. She objected to the part of Walt's plan that had the train running through an area she envisioned for a flower garden. As a compromise, Walt designed the S-curve tunnel built underneath the location where Lillian wanted her garden. In fact, Walt even employed the services of one of his attorneys to draft a mock legal contract to establish his right to own and operate the railroad's right of way. Walt and Lilly signed the contract – witnessed by their two daughters Diane and Sharon. Walt named his railroad the Carolwood Pacific after the home's address of 355 Carolwood Drive. He named the engine car the Lilly Belle, after his wife.
The popularity of Walt's backyard attraction contributed to his dream of an amusement park, which would naturally be surrounded by a train. A larger scale railroad was built to carry guests around Disneyland, and railroads have since been constructed around several other Disney parks worldwide.
A Peaceful Place
The Carolwood Pacific Railroad Room doesn't attract many visitors. It is not in a heavily travelled area, and there are no Cast Members offering tours. Functionally speaking, it is one of those quiet little nook rooms that Walt Disney World sprinkles outside the main lobbies of most of its moderate and deluxe resorts. There are a few tables, a handful of chairs, a stone fireplace…and an awe-inspiring collection of memorabilia and imagery celebrating Walt Disney's fascination with trains.
It was early morning when I visited. I felt myself holding my breath while I explored every corner of the room. There was a magical feel to the space, different from any other place in all of Walt Disney World. There is a peace inside that comforted me, and put me completely at ease. Most importantly, I really felt like there was a presence of Walt himself in the room. There was joy, happiness, and contentment.
For the first few minutes of my visit, there was a gentleman comfortably seated at one of the small tables. He was busily plugging away at his computer laptop. And that was totally fine. The room is there for whoever wants it, in whatever way they want it. After a last sip of coffee and a few more clicks on the keyboard, the gentleman gently left the room. I'm not sure if he sensed my amazement and decided to let me have my moment, or if he was simply done with his own private time. Either way, he left me with the room to myself.
Walt's History Surrounds You
The centerpiece of the room, carefully protected in a plexiglass case, displays two cars from the Lilly Belle train that circled Walt's backyard.
A smaller replica of the entire Lilly Belle set is on display in a separate nearby case.
To look at the size of the train cars, you'd think "how could a person actually ride that thing?" Then you look at the framed photos on the wall, and you see Walt – a child inside the body of a grown adult – actually riding this exact train.
In one photo Walt is beaming with pride as his train crosses a trestle. In another, he is focused in concentration while operating the train, giving a handful of lucky kids a ride around the yard. Is Walt absurdly big compared to the size of the train? Absolutely. Did that prevent him from exercising his youthful spirit? Never.
If you'd like to gain a different perspective on the size of Walt compared to the size of his train, check out the 1951 animated short Out of Scale, starring Donald Duck. This short was directly inspired by Walt's backyard train, and is one of the most clever pieces in the entire Disney animation collection.
A small mounted pin display resides in the room, honoring the four steam engines that carry guests around Magic Kingdom. These four engines include the Lilly Belle, the Roy O. Disney, the Roger E. Broggie, the Walter E. Disney.
One of the most emotional pieces in the room is a print by artist Bob Byerley titled "Walt Disney's Magical Barn." The print shows an older Walt working on the Lilly Belle in his backyard barn. He is being invited outside by a young boy, to greet a passing steam train. That young boy is, of course, a young Walt Disney. The print celebrates Walt's undying youthful spirit.
Well Worth the Visit
Next time you have a bit of time to explore Walt Disney World, take a bit of time to find the Carolwood Pacific Railroad Room. It is a great place to get away from the bustle of the parks and appreciate a huge part of Walt Disney's life. Thank you so much to Wilderness Lodge for maintaining this treasure.
Friends, I hope you enjoyed this article.  If you would like to chat more about Walt's love of trains, feel free to reach out with a comment here, or on social at:
Instagram: Disney Facts and Figment
Facebook: Disney Facts and Figment
Sources: