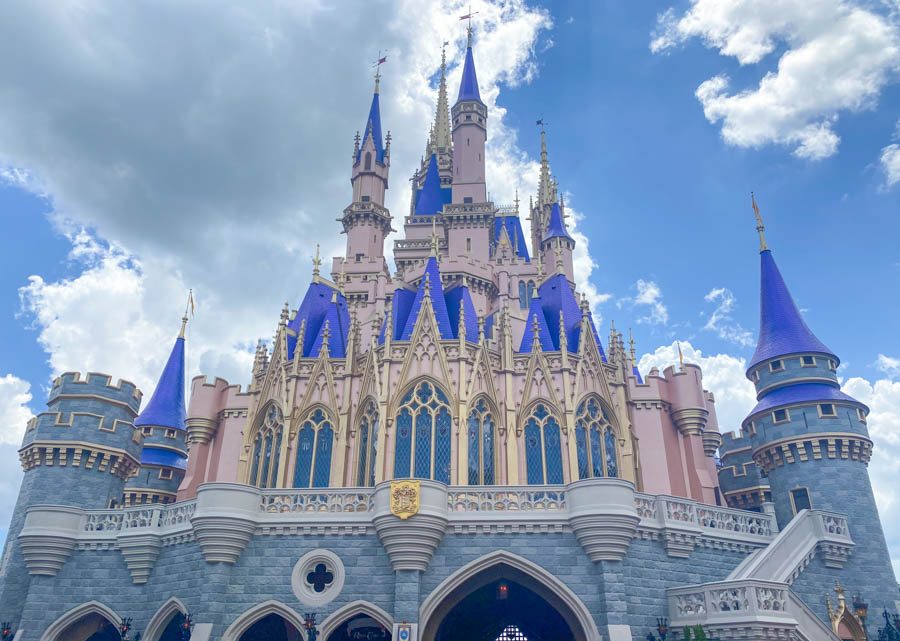 Read Time:
3 Minute, 54 Second
If you've ever been to Magic Kingdom, you've undoubtedly had your picture taken in front of Cinderella Castle. Whether it be in the traditional decor, seasonal theming, or (ugh) the 25th anniversary birthday cake frosting, this castle is the icon of Walt Disney World. But did you know there are several other castles also located in the Walt Disney World parks? There are – by my count – a total of five castles (including Cinderella Castle) scattered about WDW property. They are clustered in two parks, for guests to enjoy.
It's important to note here that my list is limited to the more major castle pieces in the parks, and does not include toy or gift-sized representations of castles, and also does not include castles located outside the parks. So without further delay, here is my list of the five castles in Walt Disney World parks.
Cinderella Castle, Magic Kingdom
The grand lady of them all, Cinderella Castle is based on a composite of European castles. It stands at 189 feet tall – just under the maximum height limit over which the structure would need flashing air travel lighting. Guests can eat inside the castle at Cinderella's Royal Table, and younger guests can sew their royal oats with a visit to Bibbidi Bobbidi Boutique. A very few lucky guests have even been able to spend the night in the Cinderella Castle suite – this experience is not available by reservation, and is generally reserved for special occasions. The story of Cinderella is told through a series of mosaic murals located in the corridor that passes through the center of the castle.
Beast's Castle, Magic Kingdom
You really need to look up to see this one. As you wander through New Fantasyland, by Enchanted Tales With Belle, you will see the Beast's Castle perched high upon the hilly French terrain. A gated entrance will allow guests to wander toward the castle, for entry into the Beast's select castle chambers at Be Our Guest Restaurant. While the castle may look far off in the distance, Imagineers actually used the trick of forced perspective to make the castle look smaller by scaling it down and positioning it out of guest perspective.
Prince Eric's Castle, Magic Kingdom
To find the third and final castle in Magic Kingdom, guests simply need to continue walking beyond the previously mentioned Beast's Castle. Prince Eric's Castle houses the attraction Under the Sea – Journey of the Little Mermaid. This is the only seaside castle on the list, and it is reminiscent of Mediterranian-style European architecture. Guests can meet Ariel in her grotto, which is also located within the castle grounds.
Shirasagilo (White Egret) Castle – Japan Pavilion, Epcot
This is probably the least well known castle on the list. Modeled after a 17th century fortress that overlooks the Japanese city of Himeji, this castle is easily seen from much of Epcot's Future World, but it is largely out of view to guests who are actually in the Japan pavilion. This castle was originally meant to house a Carousel of Progress-style attraction celebrating Japan's history and culture. Unfortunately, that attraction was never installed, but the castle is home to two cool guest experiences – the Bijutsu-kan Gallery showcasing the country's "culture of cute.", and Mitsukoshi Department Store – a fan favorite for fun and unique shopping!
Akershus Castle and Fortress – Norway Pavilion, Epcot
This castle is based on the real-life Akershus Castle and Fortress in Oslo, Norway, which was built in the year 1299. The original castle originally served the traditional purpose of being a royal residence, but was later expanded into a fortress in the late 1500s.
The Epcot version was originally going to be one of two castles in a previously planned Scandinavian pavilion, with the other being Egeskov Castle from Denmark. Akershus Castle was the only castle standing when the pavilion was developed for Norway alone. Guests at Epcot can visit with many of the Disney princesses in the Akershus Royal Banquet Hall (we've experienced this dining event at both dinner and brunch, and we much preferred the brunch version). Fun fact: Akershus Castle served as inspiration for Elsa and Anna's castle in Arendelle in the film Frozen.
There you have it, my royal companion – a short list of castles in the Walt Disney World parks. Have you spent time in all of them?
If you'd like to reach out with a comment or share this article with a friend, please reach out on social at:
Instagram: Disney Facts and Figment
Facebook: Disney Facts and Figment