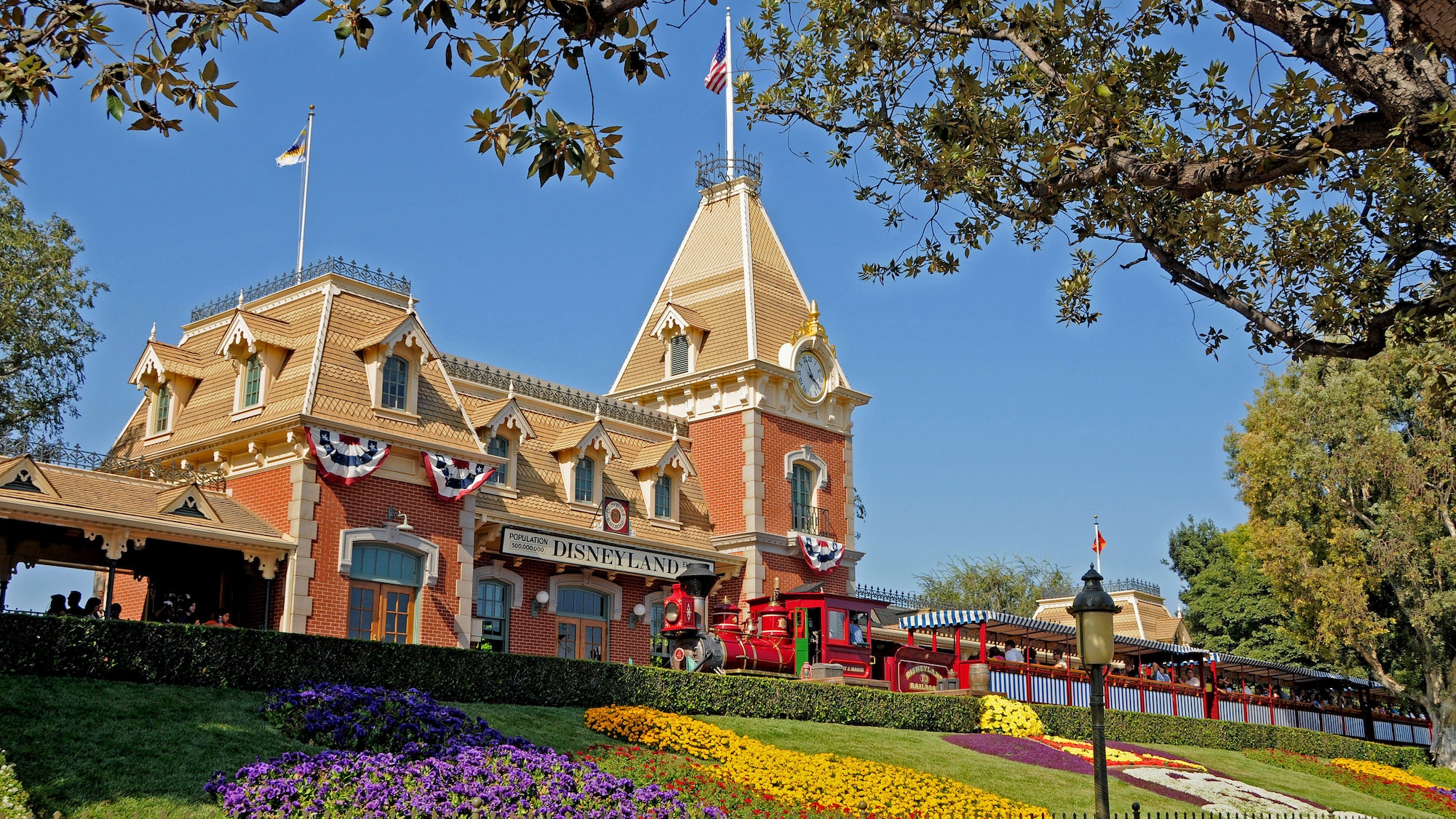 Read Time:
7 Minute, 35 Second
Welcome back to our series on Disney's use of illusion to bring us the fantasy we love on film and in the theme parks. Parts one and two of our series were focused mostly on the use of forced perspectives on film and in the parks. For these last two posts, we'll explore other ways Disney enhances guests experiences in the theme parks. Today we'll explore some of the things we don't see in Disney theme parks.
Sight Lines
In the early days of Disneyland, Walt was annoyed to see a cowboy walking through Tomorrowland, or a contractor's work vehicle parked in Frontierland. Sights like this are so obviously out of context, and they immediately shatter the theme that is carefully created for guests to enjoy. Disney parks operations are expertly planned so that the illusion of fantasy is never spoiled by an accidental look behind-the-scenes. The key to the success of this visual illusion lies not in what you see, but in what you don't see.
A well-executed sight line boundary will not reveal the off-stage magic, nor will it be obvious that something functional is hidden behind a barrier or door, or around a corner. The employment of sight lines in Disney parks are crafted to appear so natural, they are mostly unnoticeable. Lurking around the corner of an attraction entrance or restaurant façade, or behind a themed fence where guests are not invited to enter, could be a control panel, trash collection area, loading dock, backstage performers, or other functional aspects of park operation. There need only be the smallest amount of spatial separation to prevent guests from seeing the backstage workings.
Here are a few examples of successfully-established sight lines in Disney parks.
Parade Routes
Disney parades always start and end out of sight of guests, so the parades just seem to magically come by, without guests seeing the set-up and other programming components. This is not usually done by closing a gate or a door. It is more common that the parade begins or ends around a corner, out of sight from where guests are allowed to visit.
Instead of feeling like the magic gets closed off or put away, guests feel like the magic has simply retreated beyond their grasp, and will return again soon.
The Berm
The famous berm around Disneyland was built to prevent real world sights and sounds from spoiling the fantasy of Disneyland magic. In addition to preventing visual interference to Disney's themed lands, the berm also serves a dual purpose as a sound barrier from the outside world.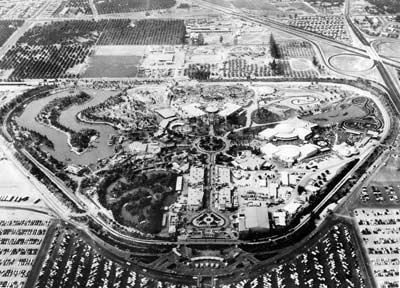 Additionally, the Disneyland Railroad was built to run atop the berm, giving the berm a third purpose – a piece of the theme. When guests look toward the berm, they don't see an earthen wall, they see a railroad. This means of disguise guides guests to "not see" the functional aspect of the berm. When it's a small world was added to Disneyland in 1966, a portion of the railroad berm was removed for the show building. The Disneyland Railroad was routed to cross directly in front of the attraction.
While Walt Disney World does not have an earthen berm, it uses a different kind of berm – an invisible berm of space. Walt considered this "the blessing of size", and when he announced the plan to create Disney World, Walt famously described himself as "six miles tall" compared to the scale of the Florida Project.
Walt Disney World's large land area (47 square miles) creates a separation distance from the outside world, to protect the magic of the parks from unwanted real-world interference. As Walt Disney World has grown, the need for physical sight and sound barriers has occasionally been necessary, but separation space still largely does the trick.
Invisible Infrastructure
Disney parks present plenty of indoor attractions, which are by necessity housed inside large show buildings. But think back to your past visits to the parks – how often did you feel like you were entering a large show building? Not all that often. Disney's show buildings are carefully hidden from sight, or disguised as part of the setting so guests will feel like they are truly in another world, not just entering a theme park show building.
Beyond the Border
Every Disney park has a boundary separating guests from backstage. This is not usually seen in the form of a physical fence or wall, and I'm not talking about the berm either. This separation is commonly achieved through guest-facing storefronts or attractions, beyond the backside of which is some of the infrastructure used to operate that section of the park. All of Epcot's Future World and World Showcase pavilions have guest facing facades, but cast members can easily step out the "back door" of any of these pavilions to backstage areas filled with equipment, workers, delivery trucks, and other vehicles. In Disneyland and Magic Kingdom, the Pirates of the Caribbean, Splash Mountain, and Space Mountain show buildings are actually located outside of the park perimeter. The same is true for Dinosaur in Animal Kingdom.
Weenies
Not every show building is an obvious rectangular-shaped, completely indoor attraction. Splash Mountain, Big Thunder Mountain Railroad, and Expedition Everest are all indoor/outdoor attractions.
For all of these attractions, the mountains themselves are portions of the show buildings, hiding the queue lines and a portion of the attraction components from guest view. What the guests see from outside is the beautifully themed exterior of the attraction, and glimpses of excited guests riding the attractions inside. Think of these glimpses as a few examples of Walt Disney's famous "weenie" technique, where guests get a visual peek, receiving an alluring taste of the experience to come.
Space Mountain, on the other hand, is a completely interior roller coaster. The exterior of the building is fully exposed, but is thematically finished to blend seamlessly with the rest of Tomorrowland.
In Epcot, it is surprising how many guests don't realize that Spaceship Earth is not only the park's iconic symbol, but it doubles as a show building.
Similarly, the Tree of Life at Animal Kingdom conceals the attraction It's Tough To Be a Bug, which is located inside the iconic tree.
Building in Disguise
Did you know the Morocco pavilion in Epcot includes a tower that is not even located in Epcot? It is actually just the back of the Hollywood Tower of Terror show building, located in nearby Hollywood Studios. When Imagineers were designing Hollywood Studios, they knew the Tower of Terror building would be tall enough to be seen from Epcot's World Showcase, behind the Morocco pavilion, so they designed the tower using colors that blend in with the pavilion's terra cotta color scheme.
Clustering
If you walk through Magic Kingdom's Fantasyland starting at Prince Charming's Regal Carousel, go through Liberty Square, and loop left by Cinderella Castle back to the carousel, you've just walked a lap around a cluster of entertainment buildings, including Mickey's Philharmagic, Peter Pan's Flight, The Hall of Presidents, and several eateries and gift shops. You see the inviting, forward-facing exteriors, and none of the backstage workings.
This type of clustering minimizes the amount of access points needed to service the guest locations.
Utilidors
At the beginning of this post, we discussed how Walt never wanted to shatter the illusion of fantasy by seeing cast members or service vehicles out of place. Perhaps the most legendary piece of invisible infrastructure used in Walt Disney World is the famed Utilidors. When designing Magic Kingdom, Imagineers planned the guest-accessible portion of the park to be located on the "second floor" of the park. The "first floor" includes all of the subgrade building foundations, utilities, and a network of hallways which connect the various sections of the park together. Cast members can travel from Frontierland to Tomorrowland underground, for example, and never be spotted by a guest. Food, supplies, and trash can all be transported underground through the Utilidors as well. A smaller version of the Utilidor concept is also employed at Epcot, though it is less extensive.
If you never noticed the transportation of trash, or never saw a cast member out of context, it means Disney has done a successful job of hiding the inner workings from your eyes, only showing you the magic of the story. 
We'll conclude our series next week with Lesson 4 – Sounds and Smells.
Feel free to comment here, or message us on our social media pages at facebook and instagram.