Read Time:
10 Minute, 46 Second
Oh boy, oh boy, oh boy! If you are looking for the lowdown on this cantankerous and cranky duck, you've come to the right place. Donald Duck burst onto the scene in 1934, and his popularity has continued to climb ever since. Donald has a reputation for being a little "ill tempered" from time to time, but we actually think he's a little misunderstood, so let's give our #1 duck a little love, with a look at some of the highlights of his illustrious life and career.
What Kind of Duck is Donald?
Donald may have more of an "everyduck" appearance, but he is actually modeled after a specific breed – the American Pekin (which was, naturally, derived from Chinese heritage, as the name may suggest!). This is where Donald gets his bright white plumage, and golden bill and legs.
Disney animator Dick Lundy is credited with developing Donald as a character, and artists Dick Huemer and Art Babbit were the first to actually animate Donald for a cartoon short. Al Taliaferro, Carl Barks and Don Rosa all prominently contributed to Donald's earlier cartoon and comic musings.
What Did He Say?
If you have a hard time understanding Donald, you're not alone. Clarence Nash – a publicity promoter for the Adohr Milk Company in the late 1920s – auditioned for Walt Disney in 1932, reciting Mary Had a Little Lamb in what he described as a "nervous baby goat" voice. Walt Disney heard it more as a duck, which was perfect for Donald's premier role in The Wise Little Hen.
Nash's duck voice was spoken using his inner cheeks to produce sound, rather than his larynx. As a result, Donald's words were only about 50% understandable. To accommodate this communication issue, Disney kept Donald's dialogue to a minimum when possible. Nash recorded Donald's lines before animation was drawn, so Donald's movement could be choreographed to his dialogue, making his words easier to interpret when accompanied by the animated visuals.
Nash went on to perform Donald's voice exclusively for over 50 years, and he trained his vocal-heir Tony Anselmo to take on Donald's mantle in the early 1980s. To date, Nash and Anselmo are the only two people to have been named Donald's official voices. Nash died in 1985, and was posthumously named a Disney Legend in 1993.
Number One!
If you've ever met Donald in a Disney park and received his autograph, you'll notice he doesn't just simply sign his name. He stubbornly insists, in writing, that he is "#1", so as not to play second fiddle to a certain mouse. While we applaud Donald for his assertiveness, he actually ranks third all time in popularity among cartoon characters, behind Mickey Mouse and Bugs Bunny.
Donald can lay claim to being Number 1 in one key category – he was the first member of the Mickey Mouse gang to appear in color. The Wise Little Hen – a Silly Symphony short released on June 9, 1934 – was Donald's first ever appearance, and it was in color. With Mickey Mouse being so popular during the early innovation days of color animation, Disney did not need to prioritize the adaptation of Mickey into color. So our favorite mouse's first color appearance wasn't until the award winning short The Band Concert was released on February 23, 1935. The Band Concert also marked the first time a Silly Symphony character (Donald) appeared in a Mickey cartoon. As a side note – Goofy made his first color appearance in this short as well, as a member of the band. Donald's first appearance with Mickey was in the 1934 short Orphans' Benefit. This short was created in black and white, and was later colorized in 1941.
King of the Comics
Many Disney characters have had their own comic book series over the years, but Donald has been by far the most popular. This is especially true in Europe, where his comics continue to be hugely popular to this day, unlike the U.S., where comic sales have consistently declined in recent years.
Did you know Donald is the most published non-super hero comic book character of all time? And he's fifth all-time overall, behind heavy hitters like Superman, Batman, Spider-Man, and Wolverine. Take that, Charlie Brown!
A Military Duck
During World War II, The Walt Disney Studios reduced development and production of planned animated features and films, and contributed a great amount of animated product in support of U.S. forces around the world. It was during this period from 1942 through 1944 that Donald appeared in several military shorts, including Der Fuehrer's Face, Donald Gets Drafted, The Vanishing Private, Sky Trooper, Fall Out Fall In, The Old Army Game, and Commando Duck.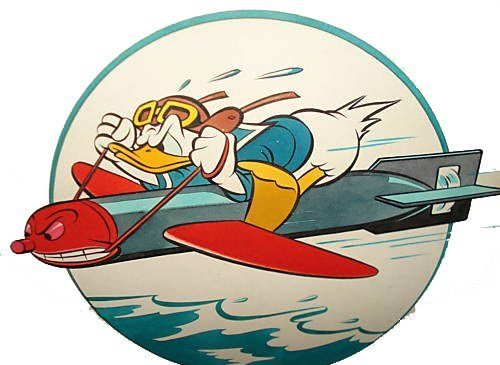 Thanks in part to the success of these shorts, Donald became somewhat of a mascot for several branches of the U.S. armed forces. Donald received an honorable discharge from the Army in 1984 – in honor of his 50th Birthday Celebration.
What's in a Name?
It was in one of these military shorts – Donald Gets Drafted – where we first learned Donald's middle name "Fauntleroy", which appears on his Order to Report for Induction.
Why Fauntleroy? Well historically, a fauntleroy garment was designed as overly fancy clothing for wealthy little boys, and often consisted of a sailor suit and hat. The literary character Little Lord Fauntleroy himself was portrayed as spoiled and moody. Hmmm, sound familiar?
And the Oscar goes to…
Donald Duck! (actually, Walt Disney, but you know what I mean). One of Donald's wartime shorts – Der Fuehrer's Face – won the 1942 Academy Award for best animated short film.
Der Fuehrer's Face (originally planned to be titled "Donald Duck in Nutziland") features Donald in a nightmare setting. Having been recruited for service in Adolph Hitler's Nazi regime, Donald is forced to work on an artillery shell assembly, while being malnourished and bombarded with Nazi images and propaganda. After several harried and comical minutes of Donald trying to survive in this horrific circumstance, he wakes up to find his experience was only a terrible dream. Newly awakened, Donald developed a newfound appreciation for being an American citizen.
Der Fuehrer's Face was the only Donald short to have won an Academy Award. Disney took the short out of general circulation after its initial run, due the propaganda nature of the short and the depiction of Donald Duck as a Nazi (albeit a deeply very reluctant one). It has only ever made brief and subtle appearances since, but you can view it here, along with historical comment by film critic Leonard Maltin.
Donald Goes to College
The University of Oregon has historically celebrated a duck as it's school logo. In the 1940s, cartoon drawings of the university's mascot "Puddles" began to resemble Donald. Oregon athletic director Leo Harris, who was a friend of Disney animator Mike Royer, met with Walt Disney and reached an informal handshake agreement that allowed the University of Oregon permission to use Donald as its sports mascot.
Donald remained the mascot for the school from 1943 through 2010, and to this day he is the only significant film and television character to appear as a mascot for a major American university. In 1984, Donald was named an honorary alumnus of the University of Oregon during his 50th birthday celebration.
Who's Number One Again?
As you may have noticed, Donald has quite a few accolades that even Mickey doesn't have. I'll add one more here. Donald has appeared in seven feature films – more than any other Disney character – including Saludos Amigos, The Three Caballeros, Fun and Fancy Free, Fantasia 2000, Mickey's Once Upon a Christmas, Mickey's Twice Upon a Christmas, and Mickey, Donald, Goofy: The Three Musketeers.
The first two films in this list were inspired by El Grupo – Walt Disney's 1941 goodwill trip to Central and South America, and it was in these two films that Donald met his friends José Carioca (a parrot) and Panchito (a rooster). Together, the trio are known as the Three Caballeros.
Guests at Epcot's Mexico pavilion can cruise through an adventure with them on the Gran Fiesta Tour, and lucky guests may meet these three characters together during special events at Epcot.
Meet the Family
Between short films, television series, and comics, Donald has built a family of ducks to rival that of the Massachusetts Kennedys. It would take far too long to list them all here, but I'll hit the high points.
Daisy Duck
Donald's closest companion might not technically be considered family (yet), but his longtime girlfriend Daisy stands tall as one of the gang in any Disney park. Daisy made her first appearance in the 1940 short Mr. Duck Steps Out, and she's been bossing poor Donald around ever since.
Did you know Daisy is not Donald's first girlfriend? He had a romantic interest with Donna Duck in the 1937 short Don Donald (which was also Donald's first solo cartoon).
Huey, Dewey, and Louie
Over the years, Donald's three troublesome nephews have provided countless laughs at their Uncle's expense. They made their first film appearance in the 1938 short Donald's Nephews, though their very first appearance came in a Donald Duck comic book nearly six months earlier. In fact, Huey, Dewey, and Louie are collectively the 11th most published comic book characters in the world, and second only to Donald himself outside the superhero genre. The three nephews are color-coded (Huey is red, Dewey is blue, and Louie is green), and much like the chipmunks Chip 'n Dale, their pranks usually get the best of Donald.
Since Huey, Dewey, and Louie are Donald's nephews, you may be wondering about their mother? She is Donald's twin sister Della (who Donald sarcastically refers to as Dumbella).
Della has rarely been seen – except for in a handful of comics – until her recent inclusion into Disney's 2017 reboot of the DuckTales television series.
Uncle Scrooge
Rich Uncle Scrooge is one of my all-time favorite Disney characters – a perfectly imperfect combination of wealth, greed, compassion, and adventure. Donald's uncle made his first official appearance in comics in 1947, and his look and personality are largely considered to be based on an unnamed character in the 1943 Donald propaganda short The Spirit of '43.
The wealthy Scottish entrepreneur is best known for his role in Mickey's Christmas Carol, and the television series DuckTales (which also features a fan favorite from the 1980s – Launchpad McQuack). Uncle Scrooge is a huge draw for Magic Kingdom guests during Mickey's Very Merry Christmas Party.
A Star In His Own Right
On August 9, 2004 Donald was given the recognition he craved, when he was awarded his own star on the Hollywood Walk of Fame. The only other Disney characters who share this honor include Mickey Mouse (who was the first animated character to receive a star), Snow White, Winnie the Pooh, Tinker Bell, and Minnie Mouse.
While Donald's short tempered personality often appears in stark contrast to Mickey Mouse, there is a part of his constant struggles that resonate with all of us. Donald is imperfect, just like life is imperfect. And while we never fail to laugh at his shenanigans and misfortunes, deep down inside there's a part of us that is always routing for him to finally succeed. Thank you Donald for forging ahead through this adventure known as life, and for letting us come with you on your journey!
Donald in Walt Disney World
Where can you meet Donald in Walt Disney World? Donald greets guests in every park – sometimes in multiple locations.
If you'd like to dine with Donald, he stops by several character meals, including:
Tusker House at Animal Kingdom
Hollywood and Vine at Hollywood Studios (seasonal appearances)
Chef Mickey's at the Contemporary Resort
Topolino's Terrace at Riviera Resort
Cape May Cafe at Beach Club Resort
If you want to meet Donald during a future visit, check the Walt Disney World website before you take your trip.
Better yet, contact us today at Facts and Figment Travel Planning to start planning your next Disney Vacation! We'll get your trip planning off the ground, so you can start looking forward to your next magical experience.
How about you? Are you Team Donald or Team Mickey? Let us know with a comment here or on social:
Instagram: Disney Facts and Figment
Facebook: Disney Facts and Figment