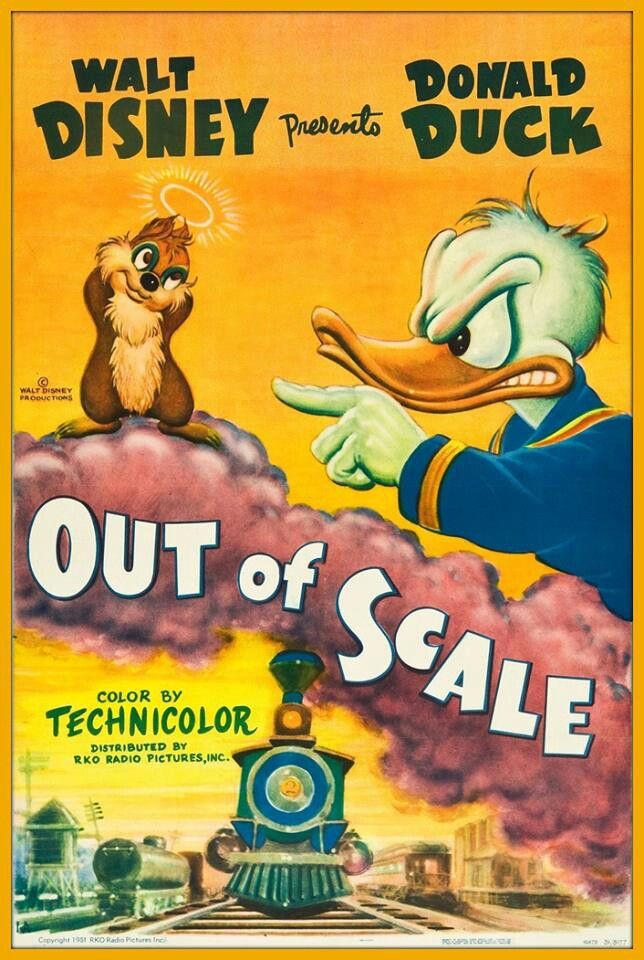 Read Time:
3 Minute, 36 Second
Walt Disney had a lifelong fascination with trains, from his days as a child in Missouri, into young adulthood when he worked on a train selling goods to passengers, and throughout his professional career. Heck – Mickey Mouse himself was born on the train, on Walt's ride home to Los Angeles from New York after he lost the rights to Oswald the Lucky Rabbit (and several of his staff) to his film distributor.
As the Disney Studios gained stable financial ground in the 1940s, Walt was able to spend more of his time exploring trains as a hobby. Walt attended the 1948 Chicago Railroad Fair, and after visiting the Henry Ford Museum in Dearborn, Michigan, he constructed a functioning 1/8th scale model train and tracks to circle the yard at his Holmby Hills home. This train – named the Carolwood Pacific Railroad by Walt – was a precursor to the Disneyland Railroad, which would circle Disneyland beginning in 1955. Walt's love for trains was shared by several notable Disney contemporaries (now all Disney Legends) including Ward Kimball, Ollie Johnston, Roger Broggie, and Bob Gurr.

It was the height of Walt's romance with the rails that inspired the Donald Duck short Out of Scale. Released on November 2, 1951, this short features Donald as a model railroad enthusiast, carefully crafting the perfect backyard train "setup", complete with approximately 1/8th scale train on tracks, houses, neighborhoods, even a small pond and mountain. Donald is happily "planting" tiny trees when he takes exception to a rather large "real" tree in his yard. Donald deems the real tree to be "out of scale" with his setup, and plans to remove the tree by excavating it from the ground.
We learn that the chipmunks Chip 'n Dale have been happily living in this tree, and when Donald removes the tree (unknowingly removing their home) the chipmunks decide to move into one of the scale model houses in Donald's yard. Donald sees this and is initially annoyed, then reconsiders his mood and finds the chipmunks' new living situation charming. For a while, Donald caters to their comforts, then gets bored and starts playing tricks on them. 
Getting tired of Donald's antics, Chip 'n Dale flee the house to find their original tree, which is propped in one of Donald's train cars. They hop in the train and steal it from Donald, hoping to take their tree somewhere safe.
Through a series of comedic chase scene events, the tree ends up on Donald's tracks, and the train plows through it, leaving a giant tunnel-shaped hole in the base of the tree. Donald is about to remove the tree a second time when the chipmunks slap a "GIANT REDWOOD" sign on the tree, convincing Donald that the tree can in fact be to scale in his yard. Donald happily tests out the tunnel through the tree on his train, while Chip 'n Dale celebrate their reclaimed home with a sigh of relief.

Out of Scale was directed by Jack Hannah, with animation by Bob Carlson, Volus Jones, Bill Justice, George Kreisl, and Dan MacManus. Layouts were created by the legendary Yale Gracie.

This short is filled with brilliant visual gags revolving around the disproportionate scale of the railroad shenanigans in Donald's yard. Knowing Walt Disney's love for trains, and how he shared that love with several of his employees, makes this short even more meaningful for fans of Walt Disney. The short is adorable. It has wit and heart, and beautifully celebrates Walt's love for trains.

This short is also unique because we are used to seeing Chip 'n Dale playing pranks on Donald (and sometimes Mickey and Pluto), but in this short, Donald is the instigator, and Chip 'n Dale are just trying to go about their business. It's an odd and humorous reversal of their usual relationship.

Speaking of Chip 'n Dale – are you a fan of this troublesome twosome? Let us know with a comment, either here on the post, or on our Instagram or Facebook pages.

Sources