Read Time:
16 Minute, 2 Second
"Epcot without kids? Yes, please!"
In part one of this series on enjoying Walt Disney World as adults, we spent the day at Magic Kingdom. Let's continue our way through the World, taking the monorail over to Epcot – perhaps the most "adult" of Walt Disney World's theme parks.
EPCOT Center
Epcot Center was Walt Disney's grandest dream – one he was planning even during the final days of his life. In conception, Epcot was meant to be a futuristic city – an Experimental Prototype Community of Tomorrow. In reality, Epcot is more of a World's Fair, blending the technological progress of Future World with the cultural community and diversity of World Showcase.
If you are touring the park with kids, chances are you will spend more of your time in Future World. The selection of attractions appeals to kids more than those of World Showcase. The obvious exception to this is the Norway Pavilion. Between the Frozen Ever After attraction and the princess dining at Akershus Banquet Hall, Norway is a kid magnet. The soon-to-open Ratatouille attraction in the France Pavilion will further increase kid appeal in World Showcase. But for now, it still appeals more to adults than most children (including my own).
As an adult without kids, how would you prefer to spend your time in Epcot? Let's visit Walt's last greatest dream and spend a glorious day adulting in Epcot.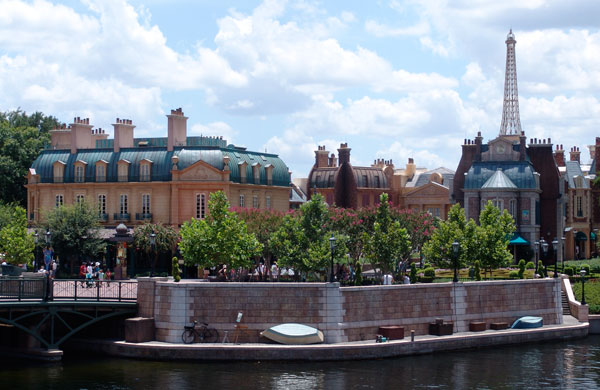 Not an early riser? That's ok – Epcot doesn't open until 11:00 (Future World was opening at 9:00 prior to COVID, but as of the time of this publishing, all of Epcot officially opens at 11:00). The hours of operation often change, so double-check the park hours on Walt Disney World website as your park day nears.
Whether Future World opens earlier or not, my suggestion is to start your day hitting your high points there, before heading to World Showcase. There are several favorite attractions for any age located in Future World, and getting these done before the lines swell will allow you to be in World Showcase in time for a late lunch, and you can eat and drink your way around the world for the rest of your day.
Future World Attractions
These attractions will let any grown-up feel like a kid again – even if only for a few minutes.
Test Track
Life is a highway, so drive it with the top down and your arms high. Test Track gives adults the thrill of those glory days, when driving felt more like a treat than a necessity of commuting. And you don't even need to steer!
Soarin'
Ever have a dream that you were flying? The weight of the world is lifted off your shoulders. You're light as air, and without a care. No one is too old to enjoy that carefree feeling, and Soarin' never fails to deliver. It's got incredible scenery, a superb score by Jerry Goldsmith, and…David Puddy (i.e. Patrick Warburton) as your unforgettable flight attendant.
Living with the Land
This often overlooked attraction is located only a few steps from Soarin', and it rarely has a significant wait. This is one of very few educational-based attractions remaining in Epcot. Kids are 50/50 on having the patience for this treasure, but adults with an open mind and imagination will enjoy this look at innovative agriculture. For those with (or without) a green thumb who wish to learn more about the techniques used here, Epcot offers a Behind the Seeds walking tour (this is temporarily unavailable during COVID, but could return in the future, and is always worth looking into).
Spaceship Earth
Classic Epcot. Start by taking the obligatory Instagram-worthy photo in front of the sphere, then enjoy a trip through the history of communication, narrated by Academy Award winning actor Judy Dench and scored by Emmy winning composer Bruce Broughton. Hidden facts and secrets abound in this classic Epcot attraction. You can read up on them in this article by author and Disney historian Jim Korkis.
Mission: Space
Hmmm, is this an adult attraction? Well, it depends on the fortitude of your stomach. Mission: Space has long endured a two-pronged criticism of being both too old for little kids, and at the same time too harsh for young and old bodies alike. But if you haven't just eaten, and your stomach can handle the stress of the g-forces exerted on your body during lift off, then you'll truly enjoy this journey to Mars. For those who are more susceptible to motion sickness, the green mission will go a little easier on your body when you travel around the world.
Time Check
If you executed your morning well, you should be able to complete these attractions in Future World by 1:00 or 2:00, leaving you the rest of the day to wander around the lagoon through World Showcase. Your next big decision – start in Mexico or start in Canada? We tend to start out in Mexico, but everyone has their own opinion on this matter, and all are correct!
Dining in Epcot
Ok, let's acknowledge the herd of huge multi-cultural elephants in the room – the festivals. The Epcot International Food and Wine Festival started in 1995, and has grown to be the largest seasonal draw at any Disney park since. The popularity of this festival has given birth to several other festivals, including Flower and Garden Festival, Festival of the Arts, and Festival of the Holidays. At this point, there is a festival going on at Epcot almost any time of the year, so take your pick. All festivals come with unique guest experiences, unique drinks, and of course, unique food!
With the festivals in mind, let's approach World Showcase in two different ways. First will be touring the pavilions in the traditional manner, enjoying a meal or two at your choice of Epcot's many excellent restaurants. The second approach will be eating (and drinking) your way around the world, taking in all of the unique seasonal food and drink options the festivals have to offer.
World Showcase
You've arrived at World Showcase just in time for a late lunch. And being that it's high time for the Florida sun, maybe we can retreat indoors for a bit of a break from the heat.
Mexico
If you start in Mexico, head into the pavilion, where you can browse your way through an "outdoor" marketplace. After you've shopped the market, you can dine in permanent twilight at San Angel Inn Restaurante – a Mexican restaurant modeled after a 17th-century plantation set at the base of an ancient Mayan temple. You may need your cell phone flashlight to see the menu, but once you're done ordering sit back, relax, and enjoy a margarita while you watch the Gran Fiesta Tour boats float by. This sit down dining experience will recharge your battery like few others can.
Norway
As I mentioned above, the Norway Pavilion has become a hotspot for kids in World Showcase. But that doesn't mean adults can't enjoy the pavilion as well. Norway is home to some amazing Scandinavian architecture, and you could definitely fool some people on Instagram taking a selfie in front of a classic Norwegian cottage.
China
Step into this pavilion for a taste of ancient eastern history. Kids seem to find marginal interest in this pavilion, but it really has quite a bit to offer. One of Epcot's lesser appreciated attractions is Reflections of China, a Circle-Vision 360 film – a narrated tour of the Chinese countryside and historical sites. If Mexican cuisine isn't your thing, Nine Dragons Restaurant offers Chinese food with a modern twist.
Germany
Stroll through an adorable old German town, exploring fascinating shops, including a chocolatier, bakery, clock shop, and a doll and toy shop. A fan favorite of kids and adults alike is the small scale German village set with working model train. If you happen to be in Germany around dinnertime, make it a beer and bratwurst kind of meal at Biergarten restaurant. You'll never go wrong with live folk music entertainment in a cozy venue.
Italy
Visit Epcot's version of the Trevy fountain for your Instagram feed, then open up your belt an extra buckle or two if you head to Tutto Italia Ristorante. This dining gem serves up the flavor of the Old World, right in the heart of Orlando, FL.
The American Adventure
American history buffs will enjoy the American Adventure attraction, warmly hosted by Mark Twain and Benjamin Franklin. Here you'll enjoy an abbreviated (albeit slightly sanitized) playback of key points in American history. Thirty minutes in this theater will also cool you off, and get you out of those crazy Florida summertime downpours. This pavilion is not known for amazing food, which is totally fine since you've literally got a world of other options nearby.
Japan
Adults, and kids with adventurous palettes, will enjoy Japan, if for nothing more than the food. Takumi-Tei and Teppan Edo are two highly regarded dining locations in this pavilion, where entertainment meets your stomach. If you have some time while waiting for your table, do some shopping at Mitsukoshi Department Store. This store has it all – Japanese-inpsired clothing, amazing kitchenwares, and of course loads of Kawaii – Japanese "cute culture." Hello Kitty, Pokemon Pikachu, Tamagochi, and other cute, bright, smiley faces abound in this fashion trend that has adults acting just a little more like kids. Hey, you're at Disney, why not?
Japan may also be the most Instagrammable pavilion in World Showcase. Did you know this pavilion has one of two castles located in Epcot?
Morocco
Morocco may be the least appreciated pavilion in World Showcase, but inquisitive guests can discover a realistic minaret, a traditional Moroccan house, and several shops selling authentic Moroccan craft goods, including rugs, leather goods, and traditional Moroccan clothing. Adventurous eaters will normally find plenty to choose from between Spice Road Table and Restaurant Marrakesh. However, Restaurant Marrakesh has yet to reopen since Walt Disney World reopened in the midst of COVID. If Marrakesh reopens, don't miss the belly dancing performances that occur several times each evening.
France
Kids rarely yearn for French cuisine, which makes this pavilion the perfect location to dine as adults (enjoy it now before Remy's Ratatouille Adventure opens later in 2021). Chefs de France and Monsieur Paul (still temporarily closed due to COVID) offer classy choices for the distinguished palette. L'Artisan Des Glaces will satisfy your sweet tooth. While your food digests, check out Impressions de France – another underappreciated Epcot gem.
United Kingdom
Step back into old-world London, or visit a British countryside cottage, in what may be my favorite looking pavilion in World Showcase. The charming exterior and interior architecture is worthy of many an Instagram post. You may need to wait your turn for a photo in the iconic telephone booth – but it's worth the wait.
If you want to flex your credit card, several shops offer merchandise ranging from classic Dickens fare to the British Invasion. Get your Beatles and Rolling Stones concert tees, or your Doctor Who Tardis Christmas Tree ornament. If fish and chips is your taste, check out the Yorkshire County Fish Shop and Rose and Crown Pub.
Canada
The last pavilion in World Showcase (or first, depending on the direction you travel) is America's neighbor to the north. The Canada pavilion has an undue reputation for being a "boring" pavilion. But between the Canada: Far and Wide film, and the live entertainment, there is plenty to see and do here. You want a photo opp? Visit the totem poles, you'll get instant likes! And Le Cellier Steakhouse offers one of the finest dining experiences anywhere on Walt Disney world property. In fact, Le Cellier is famous for the cheddar cheese soup and, of course, poutine.
Eating and Drinking Around the World
You've seen the t-shirts, and viewed the Facebook and Instagram posts. Eating and drinking your way around the world is a thing. But we're not talking chicken wings and Bud Light. The festivals at Epcot offer one of the most complete collections of multi-cultural tastes you're likely to ever find in one place.
The temporary nature of the festivals allow us to expand our experiences beyond the eleven permanent pavilion installations. Your taste buds can visit the islands of the Caribbean, the European Alps, Africa, Spain, Brazil, and Hawaii. Non-ethnic-based food kiosks and tents offer additional tastes as well.
The Food
The beauty here is that each pavilion in World Showcase offers additional sidewalk-style food options, unique to that region, which you cannot easily get in the pavilion's restaurants. And you can try these smaller tastes bit by bit, without needing to commit to a full meal. Start with a pork tostada from Mexico, follow it up with chicken dumplings and Chinese slaw from China. Cap it off with a Sicilian Cannoli from Italy – filled with Sweet Ricotta, Chocolate and Candied Orange.
Mix and match as your taste buds desire. Having bits and pieces as you go will allow you to truly enjoy the different tastes the festivals have to offer. And the built-in take-your-time component naturally causes you to pace yourself so you don't get too full too quickly.
The Drinks
Similar to the food options, libations are prevalent at the festivals, and come in all shapes and sizes. All pavilions have their own offerings, and not-international themed options exist as well. Taste a sip of tropical paradise with a coconut key lime ale. Sip on a Strawberry Nigori Sake from Japan. You'll always find fun beers in Germany, like the hard-to-pronounce Hacker-Pschorr Hefe Weisse Naturtüb (you think it's hard to pronounce now? Try saying it after draining a couple). Wanna drink your dessert? Try a Guiness Baileys milkshake (I haven't tried this yet, but it's absolutely on my bucket list).
As you sip your way around the world, please remember to drink responsibly. Like the rest of Walt Disney World, Epcot is full of families, and little eyes are always watching:
The Festivals
Here's a super-quick low-down of the festivals that frequent Epcot. If I were to expand on the specific offerings of each festival, this article would get way too large, way too quickly. Besides, there are a ton of online guides and how-to's for festival information. Note that the COVID pandemic drastically changed the complexion of the festivals in 2020 and into 2021, butthe traditional festival offerings should continue returning to normal as we progress out of the pandemic.
International Food and Wine Festival – July through November
This is the signature festival in Epcot – the one that started it all. Food and Wine has become a go-to annual autumn pilgrimage for millions. The food and wine (and beer, and cocktails) are by far the main attraction here, with tastings from upwards of twenty food booths.
The popular Eat to the Beat concert series has drawn huge crowds in years past, and will likely resume at some point post-COVID. Thus far, plans for a 2021 concert series have not been announced. But Disney will continue to showcase live entertainment provided by Voices of Liberty and Mariachi Cobre at the America Gardens Theatre, as well as the Jammin' Chefs, who will return to the Canada Mill Stage.
International Festival of the Holidays – November/December
Hot on the heels of Food and Wine, this festival introduces guests to cultural holiday traditions from around the world. This festival typically includes entertaining Holiday Storytellers, the fan favorite Candlelight Processional, sweet and savory tastes from Holiday Kitchens, and familiar Disney characters in festive outfits. Kids love the storytellers, so if you are looking to elevate the average age in your general vicinity, you may wish to wander elsewhere.
If there is one must-do during this festival, it is the Candlelight Processional. The amazing choir and orchestra, along with celebrity narrators, tell the biblical tale of a savior born to a virgin in Bethlehem. This performance was not offered in 2020, but it is expected back in 2021. Bonus points if you can score an NPH night:
International Festival of the Arts – January/February
Entertainment abounds during this colorful and energetic festival, with live demonstrations and performances. Watch multi-disciplined artists draw, paint, mold, sing, act, play, and just perform for the love of art. You name it – if it involves the right side of your brain, you'll find an outlet here. Aside from watching artists perform their crafts, guests can also participate in the creative process themselves. Past performances have included pieces from the Disney Broadway series.
International Flower and Garden Festival – March through June
Masterfully crafted topiaries and beautiful floral displays are the highlight of this springtime festival. But many people go for the food, thinking of this festival as a spring version of the Food and Wine Festival.
Disney artists and horticulturists work tirelessly to create 30-million blooms, 240 floating flower planters, 700 gardens, nearly 100 Disney character topiaries, 30 flower towers, and one beautiful butterfly tapestry of flowers, all of which all culminate to make springtime the most colorful time of year in Epcot.
There are not a whole lot of specifically-added entertainment options associated with this festival. Think of it more as a seasonal enhancement to Epcot's beauty, plus a bunch of exciting food and drink options.
Did I Say One Day?
Wow, how could you possibly be expected to do all these things in just one day (without kids to drag you past all the cool food options)? There is only so much time, and your belly is only so big. Solution – go back tomorrow!
But wait! We're planning on going dapper at Hollywood Studios! Stay tuned…
Also, as I noted periodically, several of the experiences I discussed here may be temporarily unavailable or permanently changed due to COVID restrictions, or park improvements and refurbishments. But as the world, and the theme parks, return to a satisfying sense of normalcy, more and more of these experiences will return. I recommend the services of a Disney travel planner to help you navigate the vacation planning waters. Check out Far Beyond Infinity Travel, and be sure to contact them at [email protected] for a free no-obligation quote request.
If you enjoyed this article, please feel free to share it with friends using one of the buttons below, or by copying/pasting the URL for this post.
Follow Facts and Figment on social media:
Instagram https://www.instagram.com/disneyfactsandfigmentFacebook https://www.facebook.com/disneyfactsandfigment.