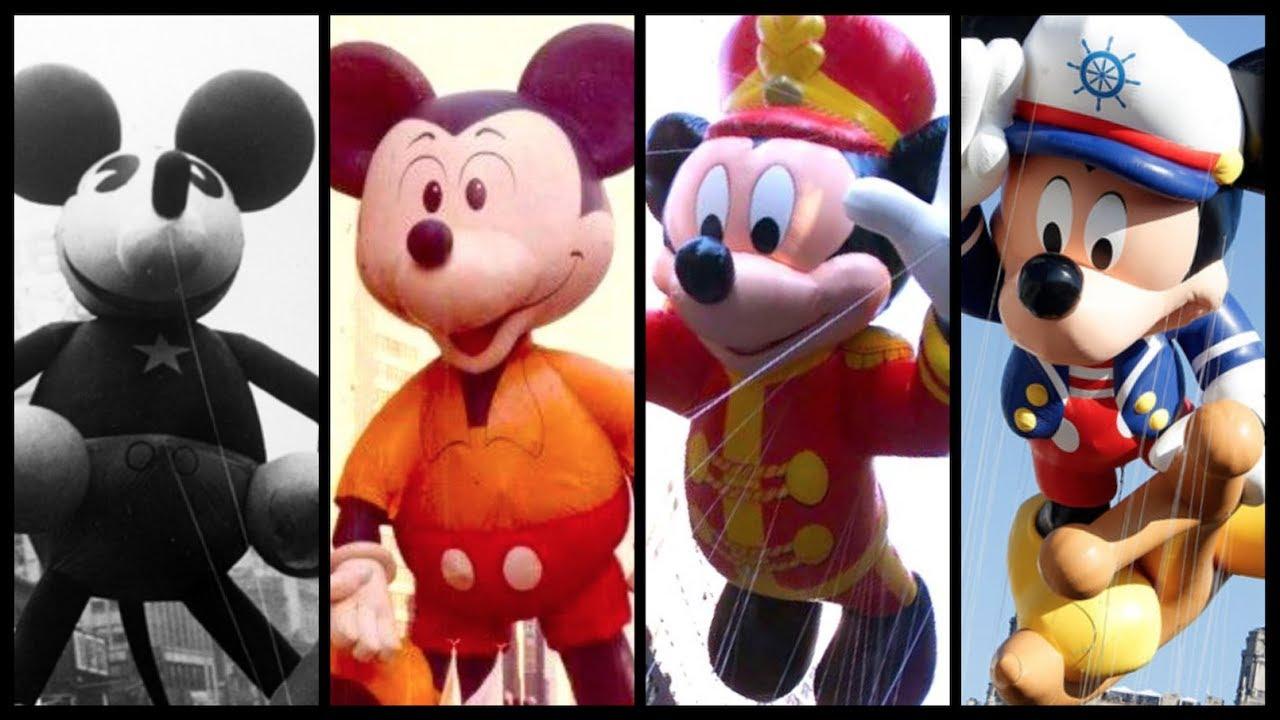 Read Time:
12 Minute, 13 Second
Thanksgiving is upon us, and the Macy's Thanksgiving Day Parade is back in Manhattan! After a pandemic year without a traditional parade, the Thanksgiving classic is back in full steam.
What's your favorite part of the parade? Is it the grand floats, the musical performances, or the immense balloons? Whichever floats your boat, there will be plenty to go around this year.
Disney is no stranger to the Macy's Parade. Numerous Disney characters have floated through the skies of Manhattan over the years. Others have rolled down the streets. Let's take a look at Disney's history with this iconic American tradition, as well as get a sneak peek at this year's new additions to the parade.
Balloons
The very first balloon to have flown in the Macy's Parade was Felix the Cat, in 1927. As a kid (and even now as an adult) the balloons have always been the highlight of every parade for me. I can remember countless Thanksgiving mornings watching Snoopy float through the streets of New York. Charlie Brown's trusty beagle is, after all, the most experienced member of the balloon gang, having flown in 39 parades over the years.
Disney has flown their share of larger-than-life characters to this legendary parade as well. Let's look at them here.
Mickey Mouse
It all started with a mouse, so it's no surprise that the big cheese himself has appeared in 20 total parades.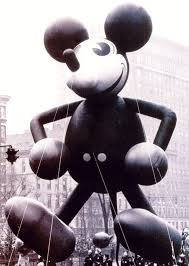 Mickey first made his way through Manhattan in 1934. During his inaugural run, Mickey was joined by several Disney friends, including Pluto, Horace Horsecollar, Practical Pig (one of the Three Little Pigs), and the Big Bad Wolf.
This first ever Mickey balloon ran the parade route for three additional years before being retired.
After a hiatus lasting more than thirty years, Mickey flew again from 1972-1982, celebrating the opening of Walt Disney World in 1971. Bandleader Mickey rang in the new millennium in 2000, and Sailor Mickey sailed the skies in 2009-2012, to promote the Disney Cruise Line.
Mickey's only major parade accident occurred in 1983. During the preparations of the parade, Mickey's arm was accidentally torn off during inflation. The balloon subsequently burst while being inflated. The damage to Mickey was so severe that he had to be removed from the parade.
Donald Duck
Always nipping at Mickey's heels is the self-proclaimed "Number 1" Donald Duck. The peevish Pekin duck coasted through town 13 times, including 1935, 1962-1972, and 1984.
Donald's 1935 balloon sported the skinny neck, plump body, and long beak of his cartoon appearance. Unfortunately, an extreme amount of rain caused Donald's neck to give way, resulting in his head and neck struggling to stay afloat. The balloon was retired after its only appearance.
A brand new Donald balloon flew in 1962 all the way through 1972, and once more in 1984, thankfully without any additional flight problems.
Kermit the Frog
Beloved Muppet Kermit the Frog made his debut as a balloon in the 1977 parade. Over all, Kermit has flown in a whopping 22 parades. This makes him one of the top flyers in parade history, and tops of all Disney-owned characters! The first thirteen of Kermit's flights were before the Muppets' affiliation with Disney. Kermit has flown an additional nine times while owned by the House of Mouse.
Over the course of his tenure in the parade, Kermit has endured two major accidents. Both times, the balloon crashed into some trees. The first time, in 1985, Kermit's belly was punctured and he slowly deflated. The poor frog had to be carried away by his handlers.
In 1991, another tangle with a tree caused Kermit's head to deflate. He managed to finish the parade, while the good-hearted crowd cheered him on.
Spider-Man
Spidey is no stranger to the skies of New York, having flown in the parade 18 times. However, instead of his webs pulling him up, his Macy's variant needed straps to hold him down.
Spider-Man's first run of 12 years ran from 1987-1998. He enjoyed a second, six-year run from 2009-2014, flying under the Disney umbrella.
In 2013, Spidey sliced his arm when he scraped a tree. Like a true marvel hero, our favorite friendly neighborhood Spider-Man valiantly finished the parade.
Goofy
Would you believe Mickey's pal Goofy has only appeared in one Macy's Thanksgiving Day Parade? Santa Goofy – a favorite among Disney Parks guests – made his way down 34th Street to celebrate the big dog's 60th birthday. In fact, he was named Macy's Holiday Ambassador of 1992. The balloon design featured Goofy in a Santa Claus costume tangled up in Christmas lights.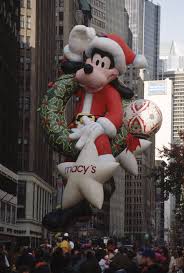 While this may have been Goofy's only appearance in the Macy's Parade, the Santa Goofy balloon did have a chance to wow guests at Disney-MGM Studios in Walt Disney World just a month later. Goofy (along with Kermit the Frog, Betty Boop, and Humpty Dumpty) were on display on the old New York Street backlot set.
Practical Pig
The Three Little Pigs were giant stars in their day, thanks to a series of shorts by Walt Disney Animation. To promote Disney's Silly Symphonies animation short "The Three Little Pigs", Walt debuted a balloon of Practical Pig alongside Mickey in the Macy's Parade in 1934.
Practical Pig made his only other appearance in 1935, after which patriotic Disney donated the rubber from the balloon to the U.S. efforts in World War II.
Chicken Little
This nerdy chicken made his only planned appearance in the Macy's Parade in 2004, as a way to promote the film Chicken Little, scheduled for release in June 2005. However, the film release was delayed to December 2005, which meant the not-so-little chick was recruited to fly again in the 2005 parade.
JoJo Tickle
JoJo's Circus is a stop-motion animated series that first aired on the Playhouse Disney in September 2003. The curious 6-year old clown, JoJo Tickle, lives with her family and friends in Circus Town. JoJo's Circus teaches kids about movement using games, songs, colorful circus characters and funny storylines.
In keeping with the show's values, JoJo juggled her way down the parade route from 2005-2007. The juggling trick consisted of three balls, and the motion of the balls was choreographed by a group of 50 balloon handlers!
Buzz Lightyear
Pixar's Space Ranger flew through Manhattan (and beyond!) for six consecutive years, from 2008-2013. During two of Buzz's flights, John Lassetter – director of Toy Story 1 and 2 – assisted as one of the balloon handlers.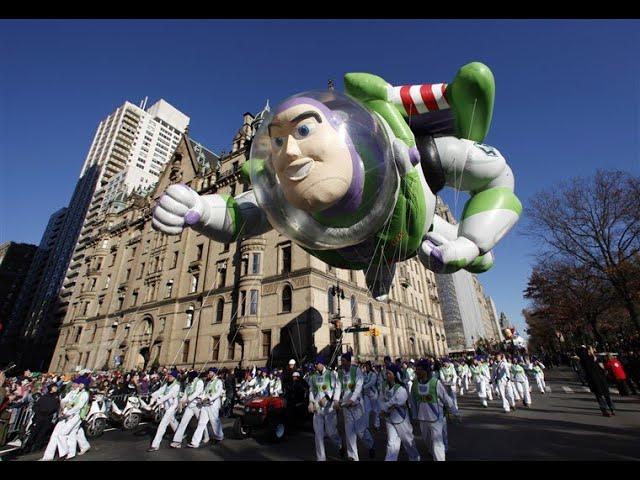 Attendees of Disney's 2015 D23 Expo may have seen Buzz make an appearance outside the Anaheim Convention Center.
Olaf
Elsa's finest creation first snowed his way through Manhattan in 2017, promoting the short film Olaf's Frozen Adventure. Olaf flew again in 2018 to promote Frozen 2, and one final time in 2019.
Former Macy's Parade Studio Senior Director John Piper commented on the difficulty of getting Olaf's tiny stick arms to inflate properly, admitting "trying to get those branch arms to look exactly right, which are very, very thin and small in a giant inflatable is not easy."
Bart Simpson
"Eat my shorts!"
Bart Simpson made his Macy's Parade debut in 1990 Parade, following the immense success of The Simpsons, which premiered on television the previous year. Bart's 1990 skate through Manhattan kicked off a run of six straight parade appearances. All of these appearances were before Disney acquired 20th Century Fox (and therefore the rights to The Simpsons).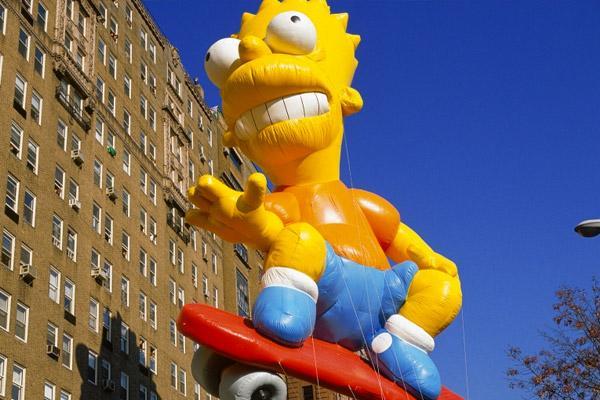 Between a challenged balloon design and windy weather in the streets of New York, Bart had to fight his way through the parade most of those years.
Floats
The term float may be a bit of a misnomer (or at the very least, a bit counterintuitive). Parade floats don't actually float – instead, they are decorated platforms, either built on a vehicle (like a truck) or towed behind one. Disney has contributed a fair number of floats over the years – Some unique to a particular celebration, and others a little more general. Let's take a peek at them here.
The Disney Wagon
The Disney Wagon made its debut back in the 1969 parade, and featured a rotisserie of several core Disney characters such as Mickey, Minnie, Donald, Goofy, and Pluto. The 1969 parade also featured Baloo and King Louie from 1967's The Jungle Book. Oddly enough, Dumbo joined the group for the 1972 parade. Disney stopped sponsoring the wagon after the 1976 parade, and the Disney branding was removed from the float.
Captain Hook's Pirate Ship
This classic pirate ship first set sail in the 1969 parade. The float was created for a re-release of the Disney film classic Peter Pan. The ship featured Pan, Captain Hook, Wendy Darling, and Tinkerbell. The Jolly Roger stood over 40 feet tall and was decorated with intricately-detailed masts, a plank, smoke-bellowing cannons, and a skull with a jewel eye at the helm.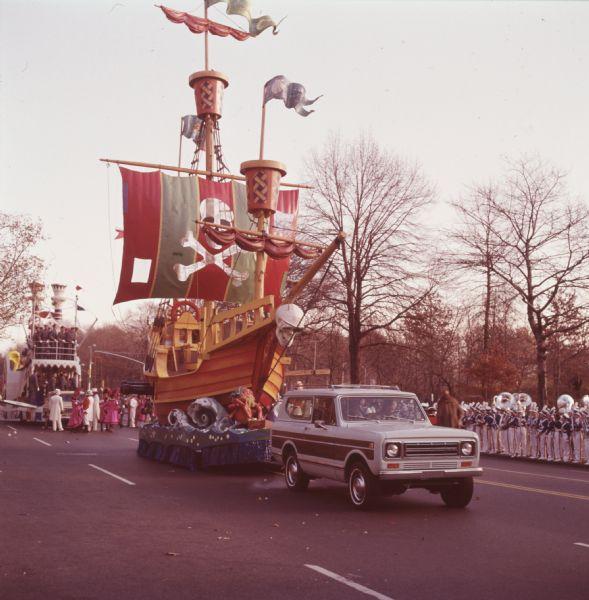 After the 1977 parade, all Disney branding was removed from the float, and it was turned into a generic pirate ship for future parade appearances. The float has since gone by the names Jolly Polly Pirate ship and Macy's Clipper.
The Three Little Pigs
From 1969 to 1971, Walt Disney Studios sponsored a mini float representing the Three Little Pigs' Brick House. There's not much more to say here. It was just a little float rolling through the city.
Mickey Mouse's 40th Birthday Cake
The big cheese spent the entire 1968 parade waving from the top of a giant cake celebrating his birthday. Several other Disney characters came along for the party as well.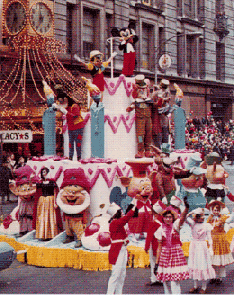 The Aristocats
The Aristocats entered the parade in 1970, to promote Disney animated romantic musical comedy film. Unfortunately, I could not find any photos of this float to share, but it's a pretty safe bet to assume it included Thomas O'Malley and Duchess, and possibly several other kittens. If spectators at the parade were lucky, they got a taste of some blazing scat jazz!
Disney Parks Floats
Several floats have rolled down 34th Street over the years in celebration of the Disney Parks.
The Walt Disney World Castle (known by Disney Parks fans as Cinderella Castle rolled through New York from 1971-1980. A Walt Disney World "Tencennial" Celebration float celebrated the resort's tenth anniversary in 1981. The Disneyland Celebration float – representing of a portion of Sleeping Beauty Castle – made its way through town in 1984-1985, celebrating Disneyland's 30th anniversary. To celebrate Disneyland's 50th anniversary, the Ship of Dreams sailed through Manhattan in 2005.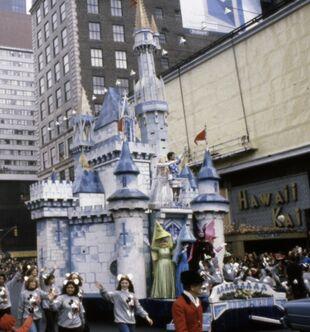 The list of characters and guest stars present during these Disney Parks celebration floats is too extensive to list in this article, but can be found here.
P.T. Flea's Circus
Disney's A Bug's Life debuted in theaters in 1998. To promote the film, a float based on P.T. Flea's Circus debuted in the 1998 Macy's Parade, along with a "falloon" of Heimlich the caterpillar (more on falloons below). The float was a one-time entrant into the parade.
Falloons
What is a Falloon, you may ask? Macy's coined the term – a portmanteau of "float" and "balloon" – to define balloons that are filled with cold air instead of helium, and are fastened to a float and pulled along, instead of suspended in the air. There have been a couple notable Disney falloons in the Macy's Parade.
Heimlich
The previously mentioned P.T. Flea's Circus float rolled through the streets of New York in 1998, along with a falloon of Heimlich the caterpillar.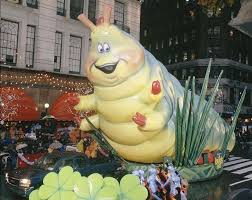 Although the circus float was a one-time entrant into the parade, Heimlich was repurposed for a single appearance in the 2001 Macy's Flower Show.
Bolt
This giant German Shepherd made his one and only appearance in the Macy's Parade in 2008, alongside his travelling companions – Mittens the jaded cat and Rhino the TV-obsessed hamster.
Coming Thanksgiving 2021
What does Disney have planned for this year's Macy's Parade? Well, we happen to know the answer to that question. Check out these new pieces of magic.
Magic Meets the Sea
According to Macy's Thanksgiving Day Parade Wiki: Disney Cruise Line is set to debut an all-new float. The imaginatively designed "ship" has been christened "Magic Meets the Sea" and is inspired by the fantastical style of the Disney Wish, which sets sail in summer 2022. The new float showcases the majesty of a Disney Cruise Line vessel and features iconic design elements including a Mickey Mouse-inspired color palette, towering red funnels and an intricate filigree motif along the hull.
The float will also spotlight 15 favorite Disney friends who represent the stories and experiences on board the Disney Wish, including Captain Minnie Mouse, Princess Tiana, Aladdin and Jasmine, Cinderella and more. Guest star Jordan Fisher will sing "Together We Set Sail."
Grogu
More affectionately known as Baby Yoda – Grogu (aka The Child) will be "Forcing" his way through New York this holiday season as a brand new balloon. The breakout sensation from the Star Wars series The Mandalorian is a toddler of the same species as Jedi Master Yoda. Grogu will be bringing his favorite silver control knob with him!
Friends, I hope you enjoyed this trip through Disney's history with the Macy's Thanksgiving Day Parade. Did any characters on this list surprise you? Are there any characters you think should have had bigger representation in the parade? Feel free to join the conversation here, or send a direct message on social:
Instagram: Disney Facts and Figment
Facebook: Disney Facts and Figment
Happy Thanksgiving friends. Eat well and be healthy!
Sources used in this article include:
Macy's Thanksgiving Day Parade Wiki