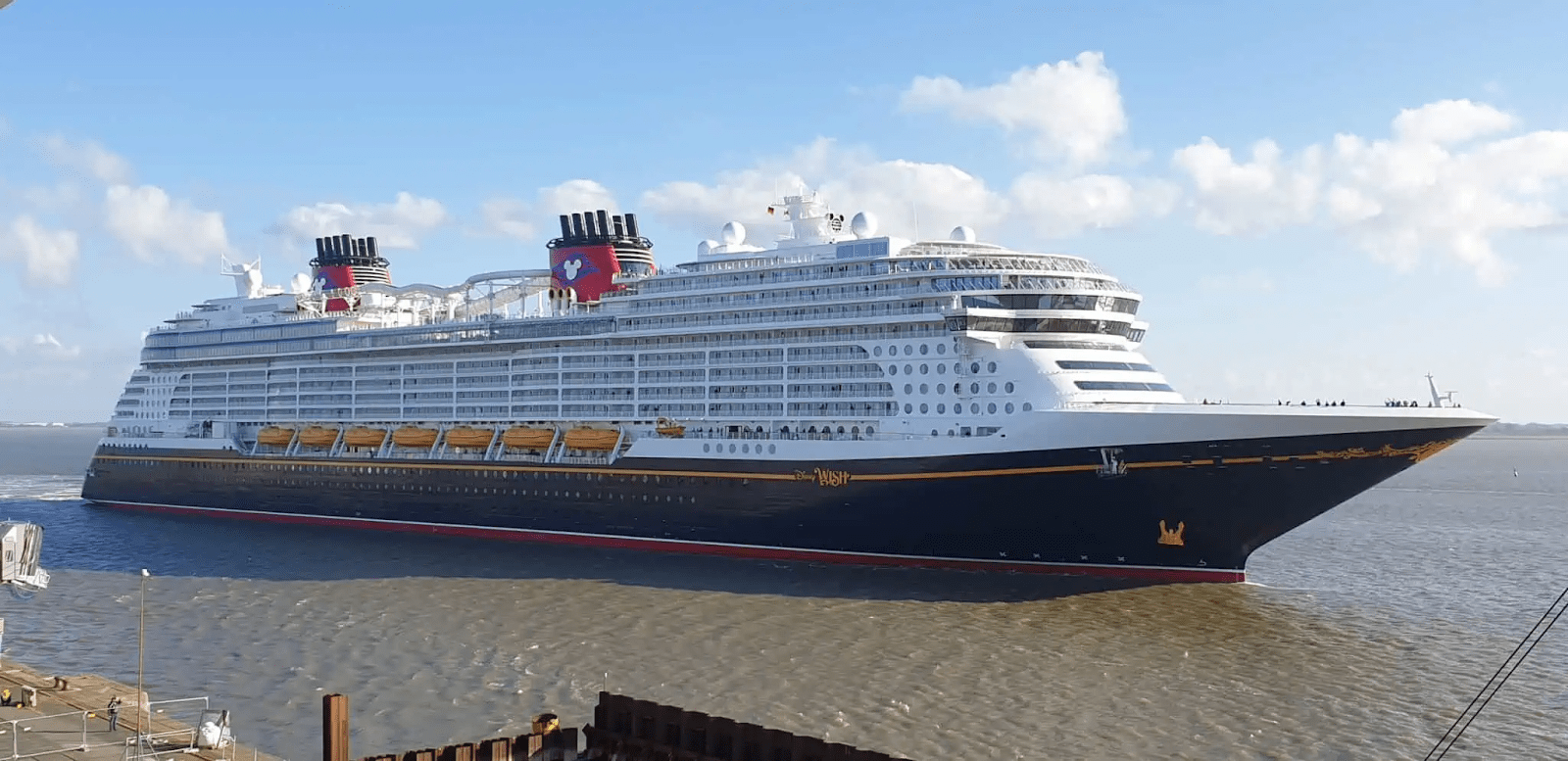 Read Time:
10 Minute, 17 Second
(A version of this article was shared on Pirates & Princesses, along with similar articles on other Disney Cruise Line and Disney Resort Pocket Guide pieces.)
"Spoiled silly on the high seas."
The Disney Wish – Disney Cruise Line's fifth (and newest) cruise ship – chartered its maiden voyage in July 2022. An elegant bright white atrium theme is perfectly complemented by bronze finishing touches which celebrate Cinderella – one of the most popular Disney princesses. The most evolved atrium of all Disney ships boasts an interactive chandelier, dedicated stage for various entertainment offerings, and many activity opportunities for guests of all ages. This largest Disney ship can hold over 4,000 guests, spread throughout fourteen decks and 1,250 staterooms. Let's explore this maritime marvel.
Home on the High Seas
The Disney Wish offers a large variety of staterooms.
Inside Staterooms sleep up to four adults. As the name might suggest, they have no view of the outside world, nor do they offer the real-time "Magical Porthole" window video views offered on some other Disney ships. But these inside rooms do have fairytale murals, which vary by deck and location, above the queen bed headboards. These are among the smallest rooms on the ship. As such, they are the least expensive rooms on the ship.
Deluxe Oceanview Staterooms also sleep up to four, and offer porthole views outside the ship. Not a bad view to wake up to! The Deluxe Family Oceanview Stateroom offers a little extra space and can sleep five.
The next level of luxury is the Deluxe Oceanview Stateroom with Verandah. These rooms can sleep up to five adults (for the family stateroom) but what sets them a tier above is the verandah you can walk out onto from your room, to enjoy some much-appreciated fresh ocean air.
The highest category of staterooms on the Wish is the Concierge collection. The Concierge Family Oceanview Stateroom (some with Verandah) sleep up to five guests, and feature spectacular views outside the ship. Concierge 1-Story and 2-Story Royal Suites both sleep up to six guests, and have private Verandahs and whirlpool tubs. The very tip of the Concierge Pyramid is the Concierge Wish Tower Suite – a monster-sized spaced consisting of two main bedrooms, a children's bedroom, a living area, and floor-to-ceiling windows which sleeps up to eight guests (the most of any room on any Disney Cruise Line ship).
So what exactly is Disney Concierge Level? Think of it as being similar to Club Level treatment in some Disney resort hotels, but even better. Guests who sail in Concierge Level enjoy several perks, including:
Early access to cruise activity bookings
Exclusive onboard meals and other offerings
Ability to rent cabanas on Disney's Castaway Cay private island (when the ship's itinerary heads there)
Exclusive access to a pretty swanky Concierge lounge.
The planDisney PDF Pocket Guide offers more details on all the different room types available on the Wish.
Let's Eat! (Don't forget to Bring a Larger Size Pair of Shorts)
One common bond all cruise lines share is food, glorious food! Disney Cruise Line is no exception here, with most food and drinks being included in the price of the cruise. But the food on a Disney Cruise is truly exceptional. Let's explore what the Wish offers for dining.
Rotational Dining – an innovative concept first introduced by DCL – gives all guests the opportunity to dine at each of the ship's main themed dining rooms at least once on every cruise. Parties are assigned a dining location and a table each night. Individual parties (or groups) travel from dining room to dining room each day. Even better – their server travels with them each step of the way, to establish a familiarity and trust that will make each subsequent meal on the cruise even better than the last.
The three main dining rooms on the Wish include:
1923 – This main dining area on the Wish draws guests into the relaxed elegance of California's yesteryear while celebrating the beginning of the Disney Studio. Guests will be seated in one of two dining areas – aptly named Walt and Roy in a heartfelt homage to the two legendary Disney brothers. 1923 features a diverse menu showcasing California's inclusive blend of Asian, European, and South American flavors.
Arendelle: A Frozen Dining Adventure – Dining and entertainment combine in this enchanting dinner show-style experience. Guests will celebrate Anna and Kristoff's engagement with live music and entertainment, all while enjoying a Norwegian-inspired smorgasbord of seafoods, game dishes, and other Frozen-inspired cuisine – provided by Oaken's "Hearty Party Planning Service… and Sauna".
Worlds of Marvel – Did you think you were simply going to eat dinner? Think again. Worlds of Marvel is the most interactive dining experience yet. Guests here will witness a special presentation by Ant-Man and the Wasp as they display some of the most iconic Avengers technology. But when trouble ensues, guests are called upon to assist in restoring order to the dining room. Food in this meal spans the far corners of the Avengers-inspired globe, with flavors from Africa (Black Panther), Eastern Europe (Black Widow and Scarlet Witch) and New York (most everybody else).
Aside from the rotational dining rooms, the Wish offers two adult-only Beauty and the Beast-inspired signature dining experiences. These options cost extra, but they are well worth the price for the level of dining and luxury they provide. Note that an elevated level of dress is requested of guests dining in these two locations.
Palo Steakhouse has brought the legendary Palo dining to a new level of elegance, offering a salivating combination of Northern Italian flavors, stunning views from some of the windowside tables, and a robust assortment of potables (including fine wines, Italian-American cocktails, and coffees). Palo Steakhouse also offers a glorious brunch to adult guests most days at sea.
Enchanté by Chef Arnaud Lallement features French-inspired fare prepared under the direction of the three-Michelin-starred chef who also prepared the menu for the Disney Cruise Line-favorite Remy. In addition to dinner, guests at Enchante can also experience a champagne brunch or a five-course dessert experience.
Marceline Market is a good place to quickly grab some of your favorite breakfast and lunch grub. This casual dining location offers a varied menu of American fare, and turns to table service for dinner.
The Wish offers several poolside quick service locations, including Mickey & Friends Festival of Foods, Inside Out: Joyful Sweets, and Wheezy's Freezies. For morning (or anytime) coffee, guests can choose from numerous coffee bars sprinkled throughout the ship.
Many adult-only lounges are tucked throughout the ship, including Luna, Keg & Compass, the Bayou, and Star Wars: Hyperspace Lounge (home of the legendary $5,000 Kaiburr Crystal drink and experience), and many others.
Showtime on the Seas
The Walt Disney Theatre offers Broadway-quality shows, included as part of your cruise.
Disney's Aladdin – A Musical Spectacular tells the tale of Aladdin with the same fun and humor of the 1992 animated classic. This broadway-caliber performance is simply too large for the stage, as much of the action spills out into the aisles, or even takes place overhead! You'll also hear an exclusive song, written by the 1992 film composer Alan Menken, only in this production.
The Little Mermaid is a charming retelling of the Disney classic, featuring a group of storytellers who find an enchanted treasure chest. As they explore the contents of the chest, the story of The Little Mermaid comes to life, featuring amazing visual effects and a reimagined script.
In Disney Seas the Adventure, Goofy takes the helm to sail through uncharted waters. When his confidence begins to waver, Goofy finds inspiration with the help of some favorite Disney characters from iconic films such as Hercules, The Princess and the Frog, Finding Nemo, Moana, Frozen II, and Brave.
Aside from theater productions, Decks 11 and 12 feature the outdoor celebrations Set Sail on a Wish and Pirates Rockin' Parlay Party (which includes fireworks).
Select sailings on the Wish offer other unique experiences, including Very Merrytime Cruises, New Year's Eve, and Halloween on the High Seas.
Poolside
The Wish offers many guest pools – six in total – for the whole family to enjoy. Aside from these family pools, Deck 13 offers the AquaMouse water coaster attraction – a 760-foot-long coaster that sends guests all about the top levels of the ship while experiencing two different Mickey-inspired tales. Other splashy options include Slide-a-Saurus Rex water slide, Trixie's Falls wading pool, and Toy Story splash zone.
Adults-only water options include the Quiet Cove Pool (which features an infinity pool).
For the Younger Crowd
When the adults want to just relax by the pool or at a lounge, Disney has them covered with plenty of kid and youth activities. All DCL ships offer a range of youth destinations, including the following:
"it's a small world" nursery – ages 6 months to 3 years.
Oceaneer's Club and Oceaneer's Lab – ages 3 to 12 – offer themed spaces like Marvel Super Hero Academy, Star Wars: Cargo Bay, Fairytale Hall, and Walt Disney Imagineering Lab.
Edge – ages 11 to 14 – gives 'tweens a space to chill, with flat screen TVs, video games, a dance floor, and a state-of-the-art video wall spanning over 18 feet wide and almost 5 feet high. Edge on the Disney Wish features a New York loft-style theme.
Vibe – ages 14 to 17 – allows teens a place to be themselves (without tag-along siblings or parents) and has the look and feel of a hip urban night spot, with multiple areas, a secret entrance, and its own outdoor deck space.
The Hideaway – Exclusive to the Disney Wish, The Hideaway offers young adults a third hangout option. This posh space is outfitted with a dance floor and DJ booth—perfect for karaoke contests and dance competitions. The Hideaway can also be reserved for special events for guests aged 18 to 20.
Pampered People
Aside from eating, swimming, and shows (as amazing as that combination is) the Wish offers other activities for guests of varying ages. Adults have full use of the fitness center, as well as Senses Fitness and Senses Spa. The ever-popular Bibbidi-Bobbidi-Boutique offers young princesses the chance to glam it up for a night on the high seas. Hero Zone – exclusive to the Disney Wish – is an indoor multi-function, climate controlled sports area offering basketball, ping pong, and many other indoor athletic games.
Different spaces on the ship offer additional activities such as movies, trivia challenges, and character meet-and-greets, among other activities. The DCL Navigator App will spell it all out for guests.
If you think cruises can be claustrophobic – think again. At over 1,119 feet long and fourteen decks high, the Disney Wish is a palace-on-the-sea, packed with magical surprises for guests of all ages.
—
planDisney Pocket Guides are especially helpful to guests who are considering staying at a resort (or sailing on a Disney cruise ship) they've never before experienced. The Pocket Guides take the form of 5-14 page PDF slides, which are easily printable and savable to smart devices. They offer efficient snapshots of the resort basics, including:
Transportation options
Room sizes
Food and beverage options and locations
Pools and recreation activities
Shopping
Tips from the planDisney panel
Check out the full list of planDisney Pocket Guide summaries here.
Are you interested in taking a cruise aboard the Disney Cruise Line, or visiting Disneyland or Walt Disney World resort? Contact us today at Facts and Figment Travel Planning to start planning your next Disney Vacation! We'll get your trip planning off the ground, so you can start looking forward to your next magical experience.
If you enjoyed this article, feel free to reach out with a comment here or on social:
Instagram: Disney Facts and Figment
Facebook: Disney Facts and Figment