Read Time:
16 Minute, 31 Second
Have we established yet that Walt Disney World is for more than children and families? Previous articles in this series took us to Magic Kingdom and Epcot. Today we continue our kidless (is that even a word?) journey through WDW, visiting Hollywood Studios – the most divergent-themed park in WDW.
"Is there enough in Hollywood Studios to spend a full day?"
This question used to be asked by many guests at WDW, until recent additions of Star Wars: Galaxy's Edge and Toy Story Land put this park into the big leagues. Add the cherry on top – Mickey and Minnie's Runaway Railway – and you're lucky to finish in one long day! Let's go check it out.
Hollywood's Golden Years
Disney Hollywood Studios (or Disney MGM Studios, as it was originally called) opened in 1989, and celebrated the glitz and glamour of Hollywood and moviemaking.
According to previous Disney CEO Michael Eisner, the park celebrates "a state of mind that exists wherever people dream and wonder and imagine, a place where illusion and reality are fused by technological magic. We welcome you to a Hollywood that never was—and always will be."
A Park in Transformation
While the name of the park still sings to Tinseltown, the theme of the park has evolved over time. Working production studios, moviemaking tours, and demonstrations have been increasingly replaced by intellectual properties (IPs) and attractions that span the spectrum from kiddie fare to fright night.
The phenomenon known as the "IP creep" has left this park feeling a bit disjointed. Guests can eat breakfast with Disney Junior pals, act like a kid in Andy's Backyard, fly to another planet in the Star Wars universe, and disappear into another dimension via The Twilight Zone – all in the same day. In a way, Hollywood Studios is the perfect park for families because there is a little something for everyone. Let's see if we can pluck out the pieces that may appeal to the adult-only audience, while allowing for a bit of relaxation along the way.
Another Era
Even before entering the front gate, guests are immediately transported to another time, where chrome exteriors and fluorescent signs adorn the well-worn facades of Hollywood's yesteryear. Stroll down Hollywood Boulevard and grab a Starbucks (and a pastry) as you approach the central stage and Chinese Theater. There are plenty of Disney photogs along the way who will be happy to take your picture.
Tip – you don't need to purchase Disney's Photopass package in order to have your photo taken by a Cast Member. They will gladly snap your photo using your own camera or phone – you need only ask.
Hollywood Boulevard
After you soak up the atmosphere, bang a right and head down Sunset Boulevard. Here, you'll enjoy more of old-world Hollywood, with plenty of unique shopping options.
Clothing, art, retro – something (ok, MANY things) will surely catch your eye. Do you notice the mood changing as you continue down the boulevard? The ominous "house at the end of the street" will be our first destination.
Hollywood Tower of Terror
"Hollywood, 1939. Amid the glitz and the glitter of a bustling young movie town at the height of its golden age, the Hollywood Tower Hotel was a star in its own right. A beacon for the show business elite. Now, something is about to happen that will change all that."
Rod Serling's unforgettable warning will put you perfectly at "unease" as you enter this once ritzy glam hotel frozen in time.
When the bellhop tells you to store your items under your seat, take their word for it. I once left a sweatshirt on my lap, and upon our descent, I found it floating in front of my face!
Instagram Tip: find out ahead of time where the elevator camera is, so you'll be ready for your frightful photo!
Rock 'n' Roller Coaster Starring Aerosmith
Once you've finished falling 13 stories, double down on your stomach's fortitude and head straight to your super stretch limo. You're running late for Aerosmith's live performance, so make haste!
This indoor launch coaster is considered by most to be the most intense ride Walt Disney World has to offer. The exhilarating minute-plus trip will hurtle you close to 60 MPH, and send you upside down three times.
Adult Tip: If the line is long, Rock 'n' Roller Coaster offers a single rider option. It cuts the wait time down by as much as 75%!
Echo Lake and the Indiana Jones Epic Stunt Spectacular
Ok, you've completed the two most intense rides of your day. Take a few minutes to breathe. Stroll back down Sunset Boulevard to the Echo Lake area, where you can take in a performance while your stomach recovers. Make sure to wave hello to Gertie along the way.
Gertie is the giant bluish-green dinosaur residing in the lake. She is an homage to one of the earliest animation pieces, created by Winsor McKay in 1913. Early animation pieces like Gertie were among the largest influences of an up-and-coming animator named Walt Disney.
Let's move on from dinosaurs to archaeology. The Indiana Jones Epic Stunt Spectacular is the perfect way to get off your feet for a bit. Learn how some of the greatest action moments in the film were brought to life. Stunt coordinators set the stage for full scene thrills – including the iconic rolling boulder scene.
If you aren't too shy of crowds, raise your hand to volunteer to be an extra in one of the scenes. I was once picked to do this, and our group was taught a few basic acting moves, then allowed to "perform" in the background of the finale fight scene. Talk about a different perspective of a Disney Parks performance!
You won't be sitting in air conditioning, but being under the covered stadium seats will at least give you a break from the sun (and rain, if it happens to be one of those Florida mid-summer thunderstorms). But be warned – things could get a little toasty up front, as you may witness a stunt explosion up close!
As of the time of this writing – Indiana Jones is still closed while Disney continues to negotiate and coordinate post-COVID with the actors' union which staff this performance and many others. Fingers crossed that Indy will return soon!
Lunch Time!
Since you're still near Echo Lake, take yourself back to high school for lunch. Hollywood Studios offers two excellent theme options that appeal to families and adults alike.
Sci-Fi Dine-In Theater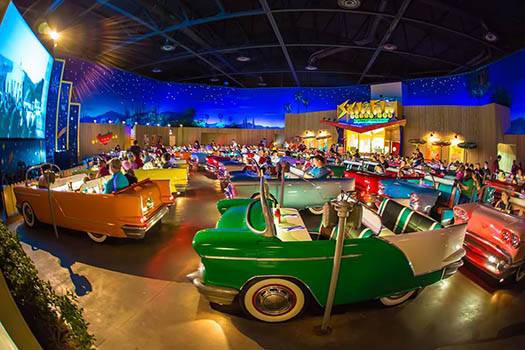 There are so few drive-in movie theaters still operating, so the experience of watching a monster flick through the windshield of your car with your sweetheart is not an easy option for most. But you're at Disney, where anything and everything can happen! So snuggle up in your very own classic car "automo-booth", take in some classic movie clips, and enjoy the outdoor evening ambience.
50s Prime Time Cafe
Just like mom (or grandma) used to make. Step back some 70 years into the days of old, when families actually ate together around the kitchen table. This has all the kitsch, color, and clutter of your grandmother's little old house. Bonus – you get to watch TV while you eat!
Just be warned – your server won't let you get away with elbows on the table or chewing with your mouth open! I once witnessed a young kid being fed peas and carrots (the little square kind) by his server. Likewise, a young dad was ordered to drink his beer with a straw because he didn't take his hat off at the table. It's all in good fun! Just keep your distance (but don't look like you're keeping your distance!).
Travel to a Galaxy Far, Far Away
Ok, this is the moment so many fans have been waiting decades for – the opportunity to live their very Star Wars adventure. Galaxy's Edge was made to appeal to families, and caters more towards the newer films. But make no mistake about it – guys like me who remember seeing some of the original trilogy films in theaters are flocking to Batuu (the planet at Galaxy's Edge) on pilgrimage to satisfy our own Star Wars fantasies.
Fly the Millennium Falcon? Check. Board a Star Destroyer? Check. Enjoy a drink in the cantina? Check. Galaxy's Edge will scratch every adult Star Wars fan's itch.
Galaxy's Edge Attractions
Two major attractions highlight Galaxy's Edge, including Rise of the Resistance (ROTR) and Millennium Falcon: Smuggler's Run.
Rise of the Resistance
You're fleeing the planet with your fellow Resistance comrades, then the (amazingly) unthinkable happens. You are intercepted by the First Order and brought aboard a Star Destroyer. From there, Resistance heroes Finn and Poe Dameron help guide your escape, but not without your share of altercations with Stormtroopers, General Hux, and Kylo Ren himself. The first moment aboard the Star Destroyer hangar will bring many adult fans to tears. This is Star Wars!
This three-act attraction features an active queue and loading experience, followed by a tour through the hangar bay, climaxing in a frantic escape from the clutches of the dark side. The animatronics, the scale, the music, and the Cast Members make this an experience any adult Star Wars fan will remember forever (and want to do again immediately)!
Millennium Falcon: Smugglers Run
If Rise of the Resistance hit you in the feels, try taking the helm of the most iconic vehicle in the Star Wars universe – the Millennium Falcon. You won't be flying with Han Solo and Chewbacca (unless you know how to activate "Chewie mode"). Instead, you'll get to BE Han and Chewie! In this motion simulator, you're guided on a mission to steal precious cargo from the First Order. This experience is similar to Mission: Space in Epcot, where each person in the cockpit has their own job. The crew must work together to succeed.
Being that this is an animated simulator, I don't consider it a must-repeat attraction. But any grown-up Star Wars fan will melt at the opportunity to sit in that cockpit, or pose for a photo at the memorable Dejarick (hologram chess) table. This attraction is definitely worth doing at least once.
Photo Ops
Galaxy's Edge is full of amazing photo opportunities to fill up your Instagram feed.Take photos in front of X-wings, Tie fighters, and of course the Millennium Falcon. If you can track down Rey or Chewie, you can grab a photo with them. But they are busy fighters, and don't stop long to pose, so be quick on the draw with your phone! You'll also find a handful of droids and other critters worthy of a moment.
Oga's Cantina
What Star Wars fans hasn't wanted to visit the famed Mos Eisley Cantina? In Galaxy's Edge, you are on Batuu, not Tatooine. Therefore, you can't visit Mos Eisley specifically, but you can have a drink in Oga's Cantina.
DJ R3X (who you may know from his previous career as a pilot on Star Tours) spins galactic tunes while guests relax and sip on out-of-this-world drinks such as a Fuzzy Taunton, Bespin Fizz, and many other spirited cocktails. Non-alcoholic concoctions such as Jabba Juice and Blue Bantha are also available.
Oga's serves light snacks, but if you want real (space) food, you can head over to Docking Bay 7 and try the now famous Ronto Wrap.
Star Wars: Back on Earth
There's more Star Wars in Hollywood Studios than what you'll find on Batuu. Continue your Force-filled afternoon with these galactic options.
Star Tours – The Adventures Continue
This simulator will take you on a three-phased adventure where you'll visit a couple different well-known planets, encounter Imperial foes, and maybe get a helping hand from Resistance allies. Your cosmic tour is randomized, with dozens of possible combinations to give guests a fresh experience every time. When your trip is complete, you'll exit through Tatooine Traders. Have fun checking out some of this cool merch, but don't get too hung up. If you like Tatooine Traders, you'll love…
Star Wars Launch Bay
THIS is the ultimate Star Wars museum/film attraction/character greeting mecca/merchandise shop. See exhibits from the films, artistic creations, and video demonstrations. Also, you may meet Star Wars' most iconic villains, Darth Vader and Kylo Ren, along with Chewie and BB-8.
Launch Bay has only been partially open during the emerging stages of the COVID pandemic, and as of this publishing, the film attraction and character meetings are still not offered. However, given how quickly COVID protocols have been peeling away in recent months, we expect Launch Bay to be "fully armed and operational" very soon.
Dinner Time
After touring the galaxy, you must have worked up quite an appetite. At this point, we actually have a few interesting dinner options. Let's check them out.
Hollywood Brown Derby
Disney's Hollywood Brown Derby is a replica of the famous Vine Street Brown Derby, originally built in 1928 in Los Angeles, and home to dozens of famous Hollywood stories (steeped in glitzy rumor!). The decor is classic and old fashioned, fitting with the heyday of Hollywood's yesteryear. Dinner here will be especially relaxing for adults without children, as this location does not pump the Disney details as much as it replicates the old style of Tinseltown.
The food here is as upscale as the decor, with options like lobster bisque, tuna carpaccio nicoise, filet mignon steak Dianne, and of course the famous Brown Derby Cobb Salad. The drink menu is extensive, with a healthy selection of wines, liquors, and mixed drinks. I would suggest pairing an after dinner drink with dessert, but we've got other dessert plans (keep reading!).
Dine Around the World at Epcot
If you have a Park Hopper option on your ticket, or if you're an annual passholder, you can leave Hollywood Studios and head over to Epcot for dinner.
With Epcot being so close, you can easily get there in one of three different ways:
Take a Friendship Boat which sails along Crescent Lake to Epcot. Your trip will include stops at the Epcot area resorts, but you won't need to transfer. Just stay on the boat and relax!
Walk to Epcot along Crescent Lake on a dedicated walking path. This is about a 20 minute walk – a little over a mile. Keep this in mind as you assess your energy level, physical abilities, and the weather. Watch out for those Florida popup thunderstorms!
Take the Disney Skyliner! WDW's newest – and most festive – mode of transportation will take you high above the resort for some spectacular views. You'll need to change Skyliner pods at Disney's Caribbean Beach Resort, which is the Skyliner's hub. From there, take the Skyliner to EPCOT.
Once you arrive in Epcot (via the International Gateway) you'll be in prime position to take your pick of a world of dining options in World Showcase. Learn more about Epcot's dining options here.
Take a Walk Over to the Epcot Resorts
Similar to hopping over to Epcot, you can also visit the Epcot area resorts for dinner.
Use any of the same methods of transportation above to get the vicinity of any of these amazing resorts (and their top-class restaurants):
Beach Club and Yacht Club – Ale and Compass Restaurant, Yachtsman Steakhouse
BoardWalk Inn – Flying Fish, Trattoria al Forno, ESPN Club
Swan and Dolphin Resorts – Shula's Steakhouse, Todd English's Bluezoo, Il Mulino, Kimonos
Heading Back to Hollywood Studios?
You're full up on dinner, rested and recharged, and ready to continue your evening. To return or not to return? That is the question. If you had dinner over at Epcot, you may wish to just finish your evening there. Fireworks have returned to WDW, and either Epcot Forever (currently playing) or Harmonious (when it opens) will be sure to satisfy your propensity for pyrotechnics (to borrow a phrase from Harry Potter's Professor McGonagall).
If you dined at one of the Epcot resorts, feel free to explore the resorts themselves. All of the Epcot resorts offer excellent lounge options, so side up to the bar for a nightcap. But if you do return to the Studios, you'll enjoy a selection of nighttime spectaculars rivaling the shine of Hollywood's golden days.
Hollywood Studios at Night
Nighttime entertainment may include the following shows (seasonal variations and COVID restrictions may apply):
Wonderful World of Animation
Fantasmic
Star Wars: A Galactic Spectacular
Jingle Bell, Jingle BAM! (Christmastime)
Sunset Season's Greetings (Christmastime)
Check out this guide to Hollywood Studios Nighttime Entertainment.
Fantasmic takes place in its own dedicated outdoor amphitheater, and space can be limited. Disney offers dining packages that guarantee admission to the show.
As COVID continues to unwind, the other nighttime shows should resume their displays around the Chinese Theater, with the exception of Sunset Season's Greetings, which projects on the Hollywood "Toy" Hotel (if you didn't think Tower of Terror had a warm and fuzzy side, check out this adorable seasonal transformation).
Crowds for these events can be overbearing at times, which is why I warned you earlier to consider saving your dessert for…now!
Finally – Time for Dessert!
Disney offers special event dessert parties, which come with exclusive access to reserved viewing areas for the nighttime fireworks shows. Guests of these parties will have their choice of mouthwatering desserts, savory snacks, and specialty drinks in a comfortable (i.e. uncrowded) environment.
After indulging your sweet tooth, you'll be escorted to a viewing area reserved just for these special (paying) guests. Enjoy the show!
Wow – who said there wasn't enough at Hollywood Studios for a full day? We showed them! And we didn't even touch Toy Story Land or Mickey and Minnie's Runaway Railway! Of course, every adult (I mean, kid at heart) is different. If Star Wars doesn't float your boat but you love Pixar, visit Andy's Backyard. And of course, Mickey and Minnie are timeless and never go out of style.
So now that we've adulted at Magic Kingdom, Epcot, and Hollywood Studios, there's only one WDW park left to explore. Join us next when we visit Animal Kingdom!
As I noted periodically in this article, several of the experiences I discussed here may be temporarily unavailable or permanently changed due to COVID adjustments, or park improvements and refurbishments. But as the world, and the theme parks, return to a satisfying sense of normalcy, more and more of these experiences continue to return.
Plan Your Trip Soon!
I recommend the services of a Disney travel planner to help you navigate the vacation planning waters. Check out Far Beyond Infinity Travel, and be sure to contact them at [email protected] for a free no-obligation quote request. I know John, and he will get you squared away, so all you need to do is dream big (and pack your clothes).
If you enjoyed this article, please feel free to share it with friends using one of the buttons below, or by copying/pasting the URL for this post.
Follow Facts and Figment on social media:
Instagram https://www.instagram.com/disneyfactsandfigment
Facebook https://www.facebook.com/disneyfactsandfigment.