Read Time:
11 Minute, 30 Second
(Updated July 5, 2023)
As a lifelong Disney fan, and a big Beatles fan since college, writing this post is a match made in heaven. On the surface, there really aren't many obvious connections between the Beatles and Disney. But the more you seek, the more you find. The connections I chat about below are not only interesting, but they give a little more depth to the movies, songs, and references listed below. Enjoy!
Do You Want To Know a Secret?
"Do you promise not to tell? When you're standing by a wishing well, make a wish into the well, that's all you have to do, and if you hear it echoing, your wish will soon come true."
Snow White first sang these words on screen in 1938. George Harrison and the Beatles released "Do You Want To Know a Secret" in 1963, at the heart of "Beatlemania." The title and the first couple lines of the song were inspired by Snow White's words from the 1937 classic. John Lennon had fond memories of Snow White as a child, as his mother used to sign him the wishing well song, and those memories inspired him to write this Beatles hit song. Further homage to Snow White, in the form of a small statue, is included in the Beatles legendary album cover for Sgt. Pepper's Lonely Hearts Club Band.
An Ill-Fated Evening
What happens when two legends unite for one romantic evening? Lots of screaming, scratching, and chaos. Let me explain. In 1964, at the height of worldwide Beatlemania, there was a young Disney Legend-in-the-making who was creating waves of her own. Seventeen-year-old Hayley Mills – star of the Disney film Pollyanna (and future star of five other Disney films, including The Parent Trap, Summer Magic, and That Darn Cat! among others) – was becoming a household name in Disney homes. Born of two parents well entrenched in showbiz, Hayley's mom reached out to Beatle George Harrison – whom they had met a few days before – and invited "the quiet Beatle" to a charity event for the Red Cross. George said yes, and he was to be Hayley's escort for the evening.
Of course, nothing was quiet or easy for any Beatle in those days. From the moment the pair arrived at the event, George was pawed at, photographed, and begged for autographs. Poor Hayley had to fight for her place alongside George, as throngs of fans pushed their way to get close to him. Partway through the event, George suggested they sneak out to get away from the crowd. Being nearly impossible for a Beatle to "sneak" anywhere, the pair was spotted, and more fans clamored for autographs. As they attempted to get in a car, someone (from George's entourage) closed the car door after the Beatle got in – but with Hayley stuck outside. In Hayley's words " I saw his face looking back at me helplessly as the car sped off, girls still chasing and banging on the windows." That ends the first and only date between Disney Legend Hayley Mills and music legend George Harrison. You can read the full story of the encounter here, as part of Hayley Mills' memoir.
Speaking of Hayley Mills…
In 1966, this Disney Legend appeared in a non-Disney film – The Family Way – along with her father, acting legend John Mills. The film is a comedy about a young couple having difficulty consummating their marriage while living with a houseful of in-laws. In another notable Hayley Mills connection, The Family Way featured a score by Paul McCartney and arrangements by Beatles producer George Martin.
These Birds Can Sing!
If you're a fan of the animated classic The Jungle Book, then you are familiar with the four vultures who goof around, teasing Mowgli, but actually end up helping him along in his journey. These four birds were modelled after the Beatles.
Disney tried to get John, Paul, Goerge, and Ringo to agree to play the parts of Buzzie, Dizzy, Flaps, and Ziggy and sing the song "That's What Friends Are For", but they never committed to the part. Legend has it John Lennon refused to participate. The vultures were still animated to resemble the Fab Four, and they share the British Liverpudlian accent, but the song's style was transformed to resemble a Barbershop Quartet (more suited to to be performed by the Dapper Dans). John Favreau briefly entertained the idea of having remaining former Beatles members Paul and Ringo do a cameo for the 2016 reimagined version, but that plan never got off the ground.
Animal Sensitivity
Paul McCartney is a long time animal rights activist, who has worked extensively with PETA throughout much of his adult life. Paul developed his sensitivity to our furry friends in large part due to a couple of Disney films – Bambi and Dumbo – that made a huge impression on him as a kid.
Seeing Bambi and his mom be hunted for sport, and observing how cruelly and disrespectfully Dumbo and his mother were treated by the circus hands really spoke to him. While discussing this influence, Paul is quoted as saying "I think that made me grow up thinking hunting isn't cool. You look through a lot of these great stories – Dumbo, his mum is quite badly treated. A lot of these classic stories, through their efforts, kids – as I once was – have grown up feeling it's a bad idea to hunt animals."
You're Sixteen
"You come on like a dream, peaches and cream

Lips like strawberry wine

You're sixteen, you're beautiful and you're mine"

Ringo Starr
Let's take this connection concept just a bit deeper. In addition to a Disney-Beatles connection, we're also gonna add a Star Wars connection.
Let's start with a song written by the legendary Sherman Brothers, performed by former Beatle Ringo Starr. The Sherman Brothers song "You're Sixteen" was originally performed by rockabilly singer Johnny Burnette and reached the top ten in both the US and UK in 1960/61. Ringo recorded his own version in 1973. It hit number one in the US and reached the top ten in the UK.
An added bonus for Star Wars fans – Carrie Fisher starred as Ringo's love interest in the 1978 music video for the song. Take a few minutes to check this out.
You will be smiling, laughing, scratching your head, and you may even shed a tiny tear. You're welcome!
I honestly don't know how I went through most of my life as a Beatles fan, Star Wars fan, and Disney fan, and never came upon this. Better late than never!
The End of an Era
The Beatles ceased to exist as a band, at least functionally, in 1970, as years of tensions between the four members had escalated to the point where they no longer wished to write, record, or perform together. While the Beatles functionally ended in 1970, it was not until 1974, after several years of legal issues, that the dissolution of the band was final. Most of the band – and their associated lawyers – assembled in New York's Plaza Hotel on December 19, 1974 to formally sign papers dissolving the band. Ringo was present on the phone, but he had previously signed off on the documents in the presence of his lawyer.
John Lennon was notably missing from the meeting (though his lawyers were there). When Lennon, who only lived a few blocks away from the hotel, was called to inquire as to his whereabouts, he informed the group that he would not be attending the meeting, because "the stars aren't right." Furious over the slight, Paul and George proceeded to sign off on the documents anyway, in the presence of their lawyers.
Fast forward ten days later, when John was on vacation with his son Julian and his girlfriend May Pang at Walt Disney World's Polynesian Resort. The legal documents were forwarded to John while on vacation, and on December 29, 1974, John signed his name to the dissolution papers, officially ending the Beatles, right there in the Most Magical Place on Earth.
Yellow Submarine Got Submarined
In 2009, Disney took major steps toward remaking the 1968 Beatles film Yellow Submarine. Disney and Apple Corps (the music and entertainment media company founded by the Beatles) announced an animated CGI motion capture remake of the film, to be directed by Robert Zemeckis through his studio, ImageMovers Digital.
Motion capture performance of the Beatles was planned to be performed by a California-based Beatles tribute band The Fab Four, which regularly performed at Disneyland's Tomorrowland Terrace in the early 2000s. But due to the box office failures of two ImageMovers films – A Christmas Carol and Mars Needs Moms – ImageMovers closed, and the film project was cancelled shortly thereafter, in 2011.
Ahoy there, McCartney!
If you have a sharp eye, you may have spotted Paul McCartney in the 2017 film Pirates of the Caribbean: Dead Men Tell No Tales. He played a brief role as Jack Sparrow's Uncle Jack. Argh, man!

Things To Catch Up On
The Marvel Cinematic Universe, overseen by Disney, is never short on witty references, meaningful homages, and hidden Easter Eggs. This amusing Beatles reference comes courtesy of Captain America: The Winter Soldier. Early in the film, Steve Rodgers, who has recently been reintroduced to the world after spending nearly 70 years in a frozen cryonic state, is seen reviewing a list of things he wants to catch up on, as he works to acclimate himself to the present day.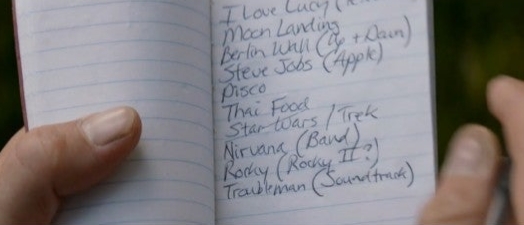 Marvel ingeniously made Cap's list a bit varied for release in numerous countries/regions around the world. The Beatles appear on the U.K. version of Cap's list.
Disney Time
Fans of the British Broadcasting Company may remember a television show called Disney Time, which aired on the BBC on major British holidays from 1960 through 1998. Each program was a little bit different, but all of them would show classic Disney shorts and film clips. Each episode would also include a different host, or set of hosts.
In 1973, Paul and Linda McCartney hosted the Christmas episode of Disney Time on Boxing Day which included scenes from Pinocchio, Mary Poppins, Wild Geese Calling, Run Cougar Run, Bambi, The World's Greatest Athlete, 101 Dalmatians, Snow White, Herbie Rides Again, and Robin Hood.

That sounds like a "Wonderful Christmastime."
Rocket Raccoon

"Now somewhere in the Black Mountain Hills of Dakota

There lived a young boy named Rocky Raccoon"

Rocky Raccoon, The Beatles "White Album", November 1968
"Now somewhere In the Black Holes of Sirius Major

There lived a young boy named Rocket Raccoon!"

Incredible Hulk, Volume 1 #271, May 1982
Rocket Raccoon, one of our favorite (foul mouthed) Marvel heroes, was named after the Beatles' Rocky Raccoon, the title character from one of the songs of the Beatles "White Album", released in November 1968.
Rocket made his first appearance in the Incredible Hulk comic and was introduced to the parody above. While Marvel was not a part of Disney when Rocket was inspired by Rocky, this is still a fun connection we can now celebrate.

"Ain't No Thing Like Me, Except Me"

Rocket Raccoon
Indiana Jones and the Magical Mystery Tour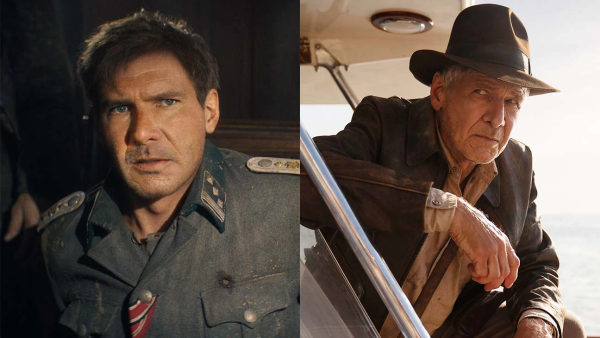 Our final Disney-Beatles connection was unearthed very recently by the world's most famous archeologist. Indiana Jones and the Dial of Destiny – the fifth and final film of the iconic action/adventure franchise – sees Doctor Jones coping with older age in a world where youth is king. Most of the previous films in the franchise were set in the World War 2-era 1940s. In fact, the opening sequence of Dial of Destiny was also set near the close of World War 2. But that sequence was a flashback to prime the audience for one last adventure, set in Indy's "current day", which happens to be 1969.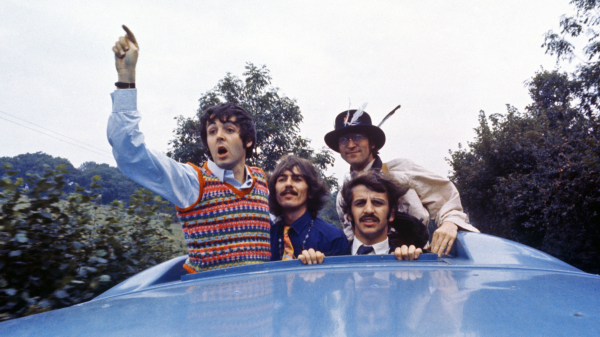 In order to set the table for that moment in time, the film featured Indy being woken out of bed by the trippy, harmonic vocals of the Beatles' hit "Magical Mystery Tour", being blared by his nearby apartment neighbors. The song's context immediately put Indy in the late 1960s, and the exact day of July 20, 1969 was cemented by celebrations of Americans first walking on the moon. The producers for Indy's final film reportedly paid the Beatles' estate upwards of $1 million to use the song in the film. Dare I say that song "belongs in a museum?"
---
How About You?
Do you have a certain person, group, or other interest that has few or no obvious connections with Disney? Let me know and I'll be happy to research out some connections you may not know about!
Either leave a comment here on the blog, or find us on social and start a conversation.
Instagram: Disney Facts and Figment
Facebook: Disney Facts and Figment
Sources: