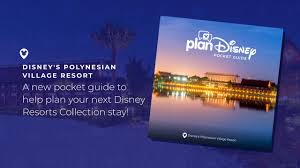 Read Time:
1 Minute, 41 Second
Over the last few weeks, planDisney released several additional installments of the "pocket guides" series on Disney Parks Blog, continuing to get guests up to speed on several WDW resorts:
planDisney Pocket Guides are especially helpful to guests who are considering staying at a resort they've never before experienced. The Pocket Guides take the form of 5-14 page PDF slides, which are easily printable and savable to smart devices. They offer efficient snapshots of the resort basics, including:
Transportation options
Room sizes
Food and beverage options and locations
Pools and recreation activities
Shopping
Tips from the planDisney panel
Check out the full list of planDisney Pocket Guide summaries here.
In addition to Disney Parks Blog, planDisney also releases Pocket Guides via their Instagram page. Following their IG feed may be the best way to stay updated on the newest releases. We'll continue to update this list of Pocket Guides as planDisney releases them.
If you enjoyed this article, please feel free to share it with friends using one of the buttons below, or by copying/pasting the URL for this post.
Find Facts and Figment on social:
Instagram: Disney Facts and Figment
Facebook: Disney Facts and Figment