Read Time:
11 Minute, 15 Second
The Marvel Cinematic Universe (affectionately known to fans as the MCU) is like an onion – the more layers you peel, the more it stinks. Thankfully, we love onions (metaphorically speaking)! By now, everyone knows the Avengers and their toughest villains. Dive a little deeper and you'll find some fantastic side characters. But if you continue traveling toward the MCU quantum realm (if you know, you know) you'll remember quite a few cameo appearances and other small roles that all helped shape the MCU into the rich universe we know and love.
There are literally dozens of high profile stars – actors, comedians, celebrities, and media – who have come and gone through the MCU. Some have floated by with barely a whisper, while others have made an indelible mark on the history of the MCU. Join us for a look at some of our favorite MCU cameo appearances and other small character roles.
Cameo Appearances
Cameos – those itty bitty roles performed by well known actors, that offer an ah-ha moment for fans in the know. The MCU is full of them, and here are a few of our favorites.
Peter Billingsley – Iron Man and Spider-Man: Far From Home
"You'll Shoot Your Eye Out!" Mr. Ralphie Parker – the Indiana boy who longed for a Red Ryder Carbine Action 200-Shot Range Model Air Rifle BB gun in the yuletide classic A Christmas Story – grew up to become one of Stark Industries' top engineers. Billingsley's character – William Ginter Riva – was secretly working for Stark's business partner Obadiah Stane (played by Jeff Bridges) trying to craft an Iron Man that could rival that of Tony Stark. Riva failed in that venture, as, by his own admission "I'm not Tony Stark."
Riva left Stark enterprises in disgrace, and he managed to fly under the radar for over ten years until resurfacing to assist another former Stark employee Quentin Beck (Mysterio) in Spider-Man: Far From Home. There, he helped create an army of drones capable of altering the perception of reality.
Both of these roles were small, and Billingsley looks very different from the little boy who almost shot his eye out, but he's there. Do a YouTube search for "I'm not Tony Stark" if you want to see Jeff Bridges at his outrageous best.
Trivia tidbit – Billingsley also served as co-executive producer for Iron Man.
J.B. Smoove – Spider-Man: Far From Home
Sticking with Spider-Man, let's tour Europe with Peter Parker and his school group. One of the chaperones, and a source of comic relief in the film, is Julius Dell, played by the unforgettable comedian J.B. Smoove.
The Saturday Night Live and Curb Your Enthusiasm alumnus uses his trademark over-the-top mannerisms while trying to keep the international field trip in line and on time.
David Hasselhoff – Guardians of the Galaxy: Vol. 2
"The Hoff" might just be one of the most recognizable actors of the world, with international fame far outweighing his popularity in America. The star of iconic television shows Knight Rider and Baywatch plays none other than himself in the second Guardians installment, when Peter Quill's dad (and the film's villain) Ego transforms multiple times in the film's climactic fight scene. Hasselhoff also performed a song for the film's soundtrack (with an accompanying music video).
Did you know, prior to Samuel L. Jackson's entry into the MCU, Hasselhoff was the first actor to portray Nick Fury, in the 1998 made-for-TV movie Nick Fury: Agent of S.H.I.E.L.D.
Matt Damon, Luke Hemsworth, and Sam Neil – Thor: Ragnarok
This is an amazing three-for cameo, set near the beginning of Ragnarok. After Thor (played by Chris Hemsworth) reigns victorious in an opening battle against the fire demon Surtur, he returns to Asgard to find Loki impersonating their father Odin, enjoying an outdoor performance celebrating Loki's valiant heroics.
The key roles in this play are humorously performed by Oscar winner Matt Damon as Loki, Chris Hemsworth's brother Luke as Thor, and Jurassic Park's Sam Neil as Odin. Damon and Chris Hemsworth are good friends, which was instrumental in helping this comical scene come together.
Small Roles (Too Big to Call Cameos)
At some point, a role adds up to more than a simple cameo, and becomes a more meaningful part of the MCU story. Below are a few smaller celebrity roles I find particularly interesting.
Lou Ferrigno – The Incredible Hulk
Voice roles aren't necessarily performed by the human actor playing the physical character. In the case of The Incredible Hulk (2008), the title character's human form – Bruce Banner – was played by Edward Norton, yet Marvel chose to use another voice for Banner's alter ego – the computer generated Hulk character. Hulk's actual voice plays only a small part in the scenes where the green guy is smashing everything in sight, and amounts to not much more than a series of grunts and shouts, with a few well placed words, including the signature phrase "Hulk Smash!"
What makes this role so special is that Hulk's voice was provided by none other than Lou Ferrigno – the Incredible Hulk from the 1970s television show. Marvel is excellent at honoring the comic media accomplishments of yesteryear, and offering Ferrigno a way of reprising the signature role of his acting career was a classy move. Well done Marvel.  Ferrigno continued to voice Hulk in the MCU in The Avengers and Avengers: Age of Ultron, while Bruce Banner and the Hulk image were performed by Mark Ruffalo.  In all subsequent Marvel films featuring Hulk, Hulk is voiced by Mark Ruffalo.
Aside from voicing Hulk, Ferrigno made a brief appearance in The Incredible Hulk, as a security guard.
Ty Burrell – The Incredible Hulk
Do you have trouble taking Ty Burrell seriously? As a fan of ABC's Modern Family, I can't help but smirk when I see him, for his brilliant turn as the hopelessly whimsical Phil Dunphy.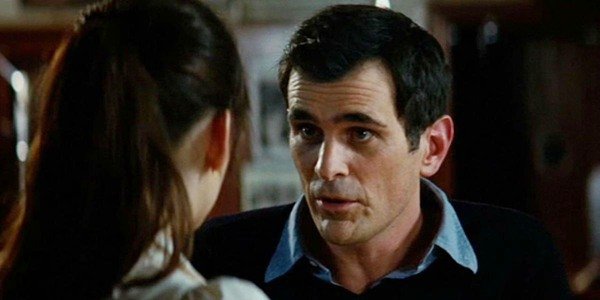 But Burrell was actually quite serious in The Incredible Hulk, where he played the poor unfortunate soul Leonard Samson, a psychotherapist who was caught in a love triangle between Bruce/Hulk, and Betty Ross. In the end, Leonard yielded to Banner, and stepped out of the relationship (after all, would you want to anger The Incredible Hulk?).
Garry Shandling – Iron Man 2 and Captain America: The Winter Soldier
"This is the theme to Garry's Show,

The theme to Garry's show.

Garry called me up and asked if I would write his theme song.

I'm almost halfway finished,

How do you like it so far,

How do you like the theme to Garry's Show?"
If you subscribed to Showtime on cable in the 1980s, then you likely know this theme song. Garry Shandling was a comedian who marched to his own beat and created two highly acclaimed comedy series during his career – It's Garry Shandling's Show and The Larry Sanders Show. Shandling was nominated for many Emmy awards between the shows, and won several.
So it was an unusual change of character to see Shandling play the dislikeable U.S. Senator Stern, as he targeted Tony Stark for his technological success in Iron Man 2. Shandling's purposely irritating performance contrasted beautifully with Stark's snappy comebacks, allowing Stark's larger-than-life personality to shine brightly in those scenes. Senator Stern returned in Captain America: The Winter Soldier, but by then he had turned corrupt and was attempting to assist Hydra. It didn't work out so well for him.
Glenn Close and John C. Reilly – Guardians of the Galaxy
If you were preparing a high school yearbook and had to vote "most likely to star in a Marvel Comics film", would you choose Glenn Close or John C. Reilly? Why not take both! Close has led such a distinguished film career, that a small performance in Guardians of the Galaxy isn't the first role that comes to mind. Conversely, John C. Reilly – known more recently for goofy comedy roles, and of course the voice of Wreck-It-Ralph, seems a more natural fit for this film. Nonetheless, both actors suited up for their positions in Nova Corps to assist Peter Quill and his gang of loose cannons in defeating Ronan the Accuser.
At the end of the film, Close's character – Nova-Prime Irani Rael – was placed in charge of one of the six Infinity Stones. Thor later revealed that Thanos wiped out their planet in order to acquire the stone. Hopefully she got off-planet!
Benicio Del Toro – Thor: The Dark World, Guardians of the Galaxy, and Avengers: Infinity War
Benicio del Toro is one of those actors that produces a whole range of character personalities, but is best known for his more serious and dramatic roles. When Marvel fans see del Toro as The Collector in three Marvel films, the character's mysterious personality seems to fit del Toro's perceived persona quite well.
Del Toro's first appearance as The Collector was a simple cameo, in a mid-credits scene from Thor: The Dark World. Despite a small amount of initial screen time, The Collector became a larger part of the MCU in Guardians of the Galaxy and Avengers: Infinity War, becoming more of a legend, much like del Toro himself. How incredible would it be if Marvel gave The Collector his own origin film?!
Peter Dinklage – Avengers: Infinity War
Everyone knows Peter Dinklage, whether for his multiple award winning role as the clever, witty, and cynical Tyrion Lannister on the HBO television series Game of Thrones, or for his small but memorable role as award winning children's book author Miles Finch in the Christmas classic Elf. Dinklage was born in 1969 with dwarfism, and he stands just under four and a half feet tall. Dinklage's size made him a perfect choice for his role as Eitri the Dwarf King in Avengers: Infinity War.
When Thor's hammer Mjolnir is destroyed by his sister Hela in Thor: Ragnarok, and then his remaining Asgardian people are wiped out by Thanos at the beginning of Avengers: Infinity War, Thor seeks to replace Mjolnir – and his self confidence – by obtaining a replacement weapon. His quest takes him to see Eitri, played by Dinklage.
Eitri is a weapons forger of Asgardian descent, who originally created Mjolnir. In Infinity War, he helps Thor forge a new weapon – Stormbreaker. And he has good reason for helping Thor; when Eitri made a classic "deal with the devil" with Thanos to spare his race in return for forging the Infinity Gauntlet, Thanos betrayed his promise, and proceeded to wipe out Eitri's race, sparing him alone.
Sylvester Stallone and Ving Rhames – Guardians of the Galaxy: Vol. 2
For our last best small role celebration, let's bring in the tough guns – Sly Stallone and Ving Rhames. You wouldn't want to meet either of these two in a dark alley, much less in a lawless bar on the outskirts of celestial civilization. Peter Quill's adoptive father Yondu takes center stage near the end of Guardians 2, and the news of his heroic passing brings the wildest collection of Ravagers in the galaxy to pay tribute in a space funeral.
Stallone plays Stakar Ogord, a legendary Ravager captain and the leader of the Stakar Ravager Clan, of which Yondu used to be a member. Rhames plays Charlie-27, a member of Stakar's team. Buzz on the Marvel beat is that both Stallone and Rhames could return in the franchise's third installment.
Debra Jo Rupp – WandaVision
Queue up the kooky, comfortable, and charming sitcom mom – Debra Jo Rupp has you covered. She played the sweet and silly mother character Kitty Forman regularly on Fox's That 70's Show, and a mother character to Phoebe Buffay on occasion in NBC's Friends.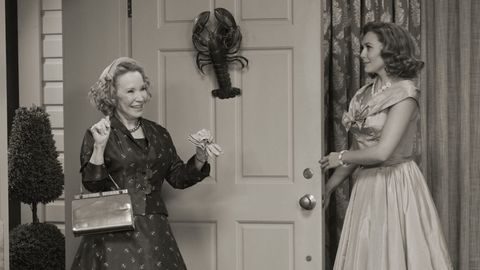 So when the groundbreaking Disney+ series WandaVision was casting roles for their classic sitcom scenes, Rupp was on the list and made the cut. She plays – you guessed it – the flaky yet charming wife of Vision's boss in the first episode of the series, along with a couple other brief momentary appearances later in the season. In the scene where her husband is choking on his dinner, Rupp's momentary shift away from her spirited personality provides the first clue in the series that something isn't quite right in Westview.
So there you have it. Not every role in the MCU is big and juicy, but then again, they don't have to be big and juicy to be memorable.
Do you have a favorite cameo or small role in the MCU? Is there one we missed on this list? Let us know by joining the conversation on Facebook or Instagram (links below) or by leaving a comment here. And if you enjoyed this article, please feel free to share using one of the buttons below (or you can always go old school by copying/pasting the URL for this post).
Godspeed friends – Excelsior!
Instagram https://www.instagram.com/disneyfactsandfigment
Facebook https://www.facebook.com/disneyfactsandfigment.