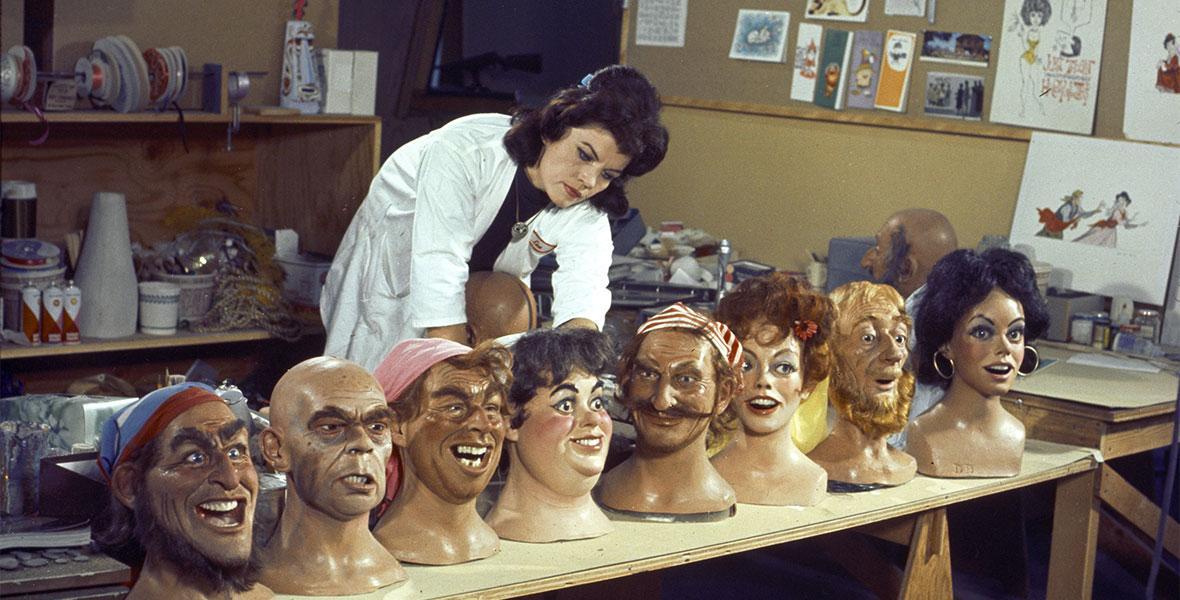 Read Time:
5 Minute, 1 Second
"Hurry back! Hurry back! Be sure to bring your death certificate, if you decide to join us. Make final arrangements now! We've been dying… to have you…"
These "inviting" words have haunted countless guests exiting Disney's Haunted Mansion since 1969. The tiny ghost offering this invitation is known unofficially as "Little Leota".
But this is not the Leota we came here to talk about. When Disney fans hear the name Leota, they immediately associate it as "Madame Leota", the character who resides inside a crystal ball nestled deep within the Haunted Mansion. This famous face is none other than Disney artist, Imagineer, and Legend Leota Toombs.
Let's explore Leota's life and career in this edition of Disney Legends Spotlight.
An Artist's Life
Leota Toombs Thomas was born Leota Anne Wharton in California in 1925.  She began her career at Disney in the Ink and Paint department at a young age, in 1940. After spending several years in Ink and Paint, Leota transferred to the Animation Department where she met lead animator Harvey Toombs (known for his work on films such as Dumbo, Lady and the Tramp, Peter Pan, and Sleeping Beauty). Leota married Toombs in 1947.  The couple had two children, and Leota left Disney to spend her time raising the kids.
Leota returned to Disney in 1962 to work at WED Enterprises (later known as Walt Disney Imagineering). There, she served as one of the company's first female Imagineers during the creation of several original Disneyland attractions, along with other notable Disney women Harriet Burns, Joyce Carlson, and Glendra von Kessel. As one of only a handful of women in the WED Model Shop, Leota worked both as a designer and artist.
The 1964 New York World's Fair and Disneyland
While at WED Enterprises, Toombs began work developing designs and creating models for two of Disney's attractions for the 1964-65 New York World's Fair, including "it's a small world" and Great Moments with Mr. Lincoln.  After the conclusion of the Fair, Toombs contributed to the creation of several original Disneyland attractions, including Pirates of the Caribbean, Walt Disney's Enchanted Tiki Room, and the Country Bear Jamboree.
The Haunted Mansion
Of all the attractions she worked on, Leota Toombs is best known for her contributions to the original Haunted Mansion. During development, she was asked by fellow Imagineers Rolly Crump and Yale Gracey to assist them in developing facial projection technology. She allowed Gracey to record her likeness as her head was made stationary, so he could experiment with the technology he was planning to use to project the face of actress Eleanor Audley onto animatronic moulds for ghosts in the attraction. However, Gracey and the Imagineering crew came to like Leota's demo-reel so much that (with her permission) they used her face as the model instead of Audley's face. The famous crystal ball head came to be named Madame Leota, in appreciation of Toombs' assistance.
"Hurry Baaack."
Leota's light voice didn't work as the imposing specter of Madame Leota, she contributed her voice to the character of "Little Leota", a miniature full figure who appears near the end of the attraction, encouraging guests to "hurry back."
Leota's Later Years
Leota moved to Orlando, Florida in 1971 to become part of the Imagineering team at Walt Disney World. There, she served as part of the "on-site team that would maintain shows and attractions." Leota returned to her role as an Imagineer at Disneyland in 1979, where she served as a trainer for artisans and figure-finishers. The most notable of her trainees was none other than her own daughter, Disney Legend-in-the-making Kim Irvine (more on Kim below)!
Leota Toombs died in December 1991, and was posthumously honored as a Disney Legend in 2009.
Now hundreds of talents have been honored as a Disney Legend, or with a Window on Main Street. But only a select few have been "memorialized" with a tombstone in the famous Haunted Mansion graveyard. Leota Toombs will forever be celebrated with the perhaps the most well-known epitaph in the cemetery:
"Dear Sweet Leota,
Beloved By All.
In Regions Beyond Now,
But Having a Ball."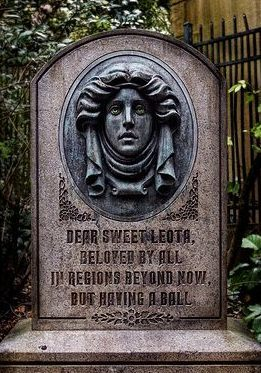 A Lasting Legacy
Leota's daughter Kim Irvine followed tightly in her mother's footsteps. Irvine (born Kim Thomas) joined Disney in 1970, working in the Imagineer Model Shop. She has progressed to become one of the predominant Imagineers with the company, and currently holds the title of Director of Concept Design at Disneyland. Kim has been described as "arguably the person most responsible for maintaining the look and feel of Disneyland."
Sticking with her family roots, Irvine has joined her mother in lending some of her personality to Madame Leota. Their facial similarities have allowed Irvine to offer her own face for recordings of Madame Leota's character in Disneyland's seasonal Haunted Mansion Holiday overlay.  Recently, Irvine also appeared in Muppets Haunted Mansion special, as a maid who takes on the task of cleaning the crystal ball (albeit with Miss Piggy's likeness inside). Recently, Irvine also appeared in Muppets Haunted Mansion special, as a maid who takes on the task of cleaning the crystal ball (albeit with Miss Piggy's likeness inside).
Leota Toombs and her daughter Kim have demonstrated a true family legacy within Disney. Between them, they have about a hundred years of service with the company. They are not only valued cast members, they are treasured pieces of Disney history.
Friends, thank you for "coming out to socialize." As always, if you would like to contribute a comment to this article, please do so here, or with a message on social media.
Instagram: Disney Facts and Figment
Facebook: Disney Facts and Figment
Thanks for learning about another Disney Legend! Follow along here for additional articles in this series. We'll continue to highlight more of the extraordinary people who have shaped Disney's storied history.