Read Time:
10 Minute, 35 Second
(I published a version of this post for Pirates & Princesses, along with similar posts on the most popular attractions at Magic Kingdom, Disney's Hollywood Studios, and Disney's Animal Kingdom.)
Epcot has long been considered the more "adult" Disney theme park. While that has historically been still true to some extent, as Bob Dylan once said "The Times They Are-a-Changin'." Epcot is undergoing a massive reimagining, separating Future World into three distinct "neighborhoods." Even prior to the current transformation efforts, Epcot has seen a transition in recent years from adult/educational experiences to more Intellectual Property (IP) and family-based entertainment. Let's take a look at the most popular attractions at Epcot right now (plus a few hints at a new attraction opening soon).
Soarin'
"Soarin' to tower. We are ready for takeoff." These words, delivered memorably by the velvety smooth voice of Patrick Warburton, might be the sweetest words you'll hear when you visit Epcot. Just don't forget to store your " little beauties" (Mouse Ears) under your seat before takeoff.
Soarin' Around the World takes guests exactly where it sounds – on an aerial tour of our world, with breathtaking views of the Taj Mahal, Great Wall of China, Eiffel Tower (albeit a slightly curved version of it), and several other iconic locations. The attraction is a treat for almost all human senses. Bruce Broughton's score (which adopted much of Jerry Goldsmith's previous Soarin' Over California music) lifts guests as much as the mechanics of the ride.
Disney "Smellitizers" are working overtime in this attraction, offering aromas of jasmine, fresh grass, and paradise ocean breezes (though I miss the orange grove smell from the previous Soarin' Over California). Both iterations of Soarin' have long been my favorite Epcot attractions.
Spaceship Earth
Take a tour through time in our "grand and miraculous spaceship" we call home. Epcot's park icon is often dismissively referred to as the "golf ball", but it houses this quintessential Epcot attraction. Audio animatronics, Omnimover vehicles, charming narration – this classic Epcot attraction has it all. Guests slowly escalate in their ride vehicles to the top of the globe, viewing a brief history of the progress of communication, before sliding back down for a glimpse of the future. Your nose will never un-smell the uneasy scent of "Rome burning."
The outside of the famous sphere is always a favorite photo location and is second only to the Disney castles as the most Instagrammable location in all of Disney parks. With the recent addition of the Beacons of Magic lights to the exterior, Disney Imagineers made this beautiful globe even more gorgeous at night.
Test Track
The fastest attraction in all of Walt Disney World puts the thrill into the most gleeful joyride in Epcot. Guests of this attraction can enjoy one of the more interactive queues in the parks, designing their dream cars. After designing a car and taking a run through the proving grounds, guests go full throttle, exiting the building to reach a top speed of 65 mph. Hard-banked turns add to the exhilaration, getting riders' collective heart rates racing!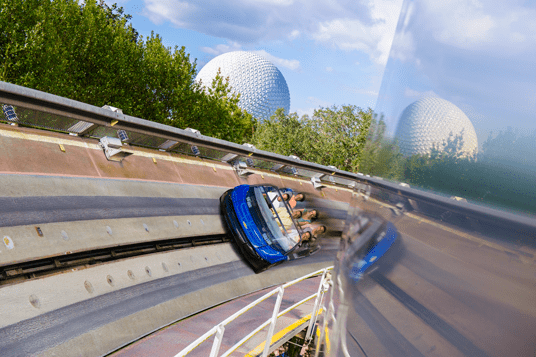 Of course, this trip is always enjoyed with the top down. I dare you not to smile (especially if you know where the ride photo is taken)!
Guardians of the Galaxy: Cosmic Rewind may challenge Test Track in the speed trials when it opens sometime in 2022. This huge indoor coaster promises to give guests a party in the spaceport (on the distant planet Xandar)!
Mission: SPACE
If you are looking to head into space, then Mission: SPACE is for you. This slightly divisive attraction offers its unique brand of intensity. Riders can choose to partake in the "tame" Green Mission (a trip around the world) or the more intense Orange Mission (a trip around the moon). Centrifugal force spins guests into orbit at speeds as fast as 35 mph. However, this ride doesn't register in most guests' minds as a fast ride. That's because speed is a hidden component used to tell the story of space travel, taking guests sneakily sideways, not forward.
Why is this attraction divisive? Some guests' stomachs cannot physically handle the spinning motion exerted by this attraction. If you've never ridden the attraction, it is strongly recommended that you start with the Green Mission, then work your way up to Orange if your body can handle it.
Remy's Ratatouille Adventure
Epcot's newest attraction (at least until Guardians of the Galaxy: Cosmic Rewind opens later in 2022) provides guests with the ability to scurry through trouble like a rat being chased (because you ARE being chased). French cuisine is on the menu at Gusteau's Restaurant. Guests board their "ratmobiles" as they prepare to cook an amazing signature dish. Unfortunately for Remy and his guests, rats are not welcome in the restaurant. Remy leads guests on a chase through the kitchen, the dining room (causing a riot among the diners), into the restaurant's ventilation system. Guests eventually make it into Remy's private kitchen to put the finishing touches on the culinary masterpiece.
Remy's combination of the theme, animatronics, and projection mapping present the attraction as more of a classic Fantasyland dark ride amplified for the modern technological era. The ride is quick but very eventful. When you exit the attraction, take a few minutes to enjoy the amazing details of the updated France Pavilion.
Frozen Ever After
If you're looking for a place to chill out of the heat in World Showcase, Norway is the place to go. In this attraction, Anna, Elsa, Kristoff, Sven, and of course Olaf guide you through a watery adventure through Arendelle (the fictional nation based on Norwegian geography and culture). This attraction is not just a simple retelling of the Frozen story. Guests on the attraction are arriving in Arendelle just in time for the "Winter in Summer" celebration. Here, Elsa uses her magically icy talents to make it snow on the hottest day of the year. This attraction is dark, even by dark ride standards, but it's not scary. Most kids – even the youngest – should be fine on the attraction.
If you're looking to give the "it's a small world" earworm the boot from your head, you can replace it here with the unforgettable ballad "Let it go!"
Gran Fiesta Tour Starring the Three Caballeros
Who are the Three Caballeros? The trio of Donald Duck, Panchito Pistoles, and Jose Carioca made their first appearance together in the film of the same name. This leisurely water boat ride invites guests to tour of Mexico. During the excursion, Panchito and Jose search for Donald, who has wandered off exploring the tropical sights. The combination of animatronics and show screens introduce guests to Mexico's high points, but the climax is the opportunity to see the Three Caballeros in concert. The animatronic Caballeros have been faced with recent health challenges over the last year, and had to be temporarily replaced with plywood stand-ins until repairs were completed in mid-2021.
Gran Fiesta Tour may not be the best attraction in Epcot, but it is a kid-oriented ride in a park that has historically been a little short on kid-oriented rides. Like the Mexico Pavilion overall, Gran Fiesta Tour is a great place to retreat from the hot Florida sun. If you want to expand upon the attraction's water trip, get a bite to eat at the charming San Angel Inn Restaurante, where you can watch the attraction's boats float by tableside.
Turtle Talk With Crush
"Dude! Like, ask me any questions you want."
Crush may be the most chill character in the whole Pixar-verse, and through Turtle Talk, Crush entertains both kids and adults alike while teaching them about the deep blue sea. Located in the Seas With Nemo & Friends Pavilion, this sit-down-on-the-floor classroom-style discussion captures the "edutainment" spirit that Epcot was originally about. Crush is an endearing character, and his charm really makes this attraction stand out.
The animated Crush swims about "behind the glass" via a rear-projection screen. The brilliance of this attraction lies in how Crush is performed live via "digital puppetry", allowing a backstage puppeteer/actor to converse with the audience as Crush. Similar technology is used in Magic Kingdom's Monsters, Inc. Laugh Floor attraction.
The American Adventure
Take a trip through the history of America alongside Benjamin Franklin and Mark Twain. The pair take to the stage of a classic colonial auditorium to narrate a brief history of America's highs and lows, starting way back before We The People first formed the nation. An assortment of animatronics rise from the stage to illustrate poignant moments in history. The animatronics are supported by a giant 72-foot rear projection screen, giving great gravity to some of the biggest events that have shaped the nation.
Get out the tissues for the show's finale scene. Golden Dream – written by Robert Moline – builds the emotions to a crescendo while guests watch a video montage of some of the more modern moments in American history. You'll leave this attraction feeling red, white, and blue.
Don't Overlook These Gems!
Now that I've offered my Epcot favorites, let's give some consideration to these often overlooked attractions and experiences, which tend to be passed by most guests on their way to the latest festival celebration food booths. These attractions rarely have a significant wait, but are all pure Epcot in spirit.
Living With the Land
Soarin' isn't the only attraction in the Land Pavilion. Living With the Land is one of only two opening-day Future World attractions remaining (with the other being Spaceship Earth). This gentle cruise begins as a dark ride, introducing guests to a few of the various biomes of the world.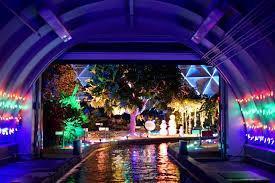 The second half of the ride is a tour through a "Living Laboratory", where guests can witness the latest in Disney's efforts for advanced and innovative hydroponic agriculture. Where else can you see gigantic lemons, Mickey-shaped pumpkins, and the "World's Hottest Pepper?" Disney uses much of the fruits, vegetables, and even fish that are grown in this pavilion to serve at restaurants around Walt Disney World Resort.
Journey Into Imagination With Figment
"Figment Popcorn Bucket Mania" is evidence that the pink and purple dragon is more popular than ever with Disney Parks fans. Guests of this attraction enter the five labs of the Imagination Institute, based on the five human senses. Dr. Nigel Channing (Monty Python's Eric Idle) welcomes guests to see, hear, smell, touch, and (almost) taste their way through the institute. Of course, Figment comes along for the ride, offering his childlike whimsy every step of the way.
Journey Into Imagination is on its third iteration since it first opened in 1983. The original (and still revered) attraction was reimagined into a much-loathed (and almost entirely Figment-less) version in 1999. Two years later, fans' collective screams convinced Disney to reimagine the attraction again, bringing Figment back to the prime-time position he deserved.
World Showcase Country Films
Epcot's most popular World Showcase attractions come complete with a combination of digital films, audio-animatronics, and – for a couple – even moving ride vehicles. But several others offer amazing views and stunning soundtracks of their own, without the addition of all the mechanics.
Canada's Canada Far and Wide and China's Reflections of China show off their national pride in full CircleVision 360 technology, so be ready to exercise those neck muscles. France's stalwart film Impressions de France alternates with the recently opened Beauty and the Beast Sing-Along (a crowd-pleaser among the younger audience). If you can find a bit of time to take these films in, it will be worth your while.
Take all the most popular attractions, add in a few overlooked gems, and that still leaves everything in the middle! Epcot offers so much more entertainment than just the attractions, such as the four different seasonal festivals, each offering their unique flavors and activities. This gives guests plenty of tasty reasons to return again and again.
Check out a few of my favorite attractions in Magic Kingdom, Disney's Hollywood Studios, and Disney's Animal Kingdom.
Feel free to reach out with a comment here, or send a direct message on social:
Instagram: Disney Facts and Figment
Facebook: Disney Facts and Figment