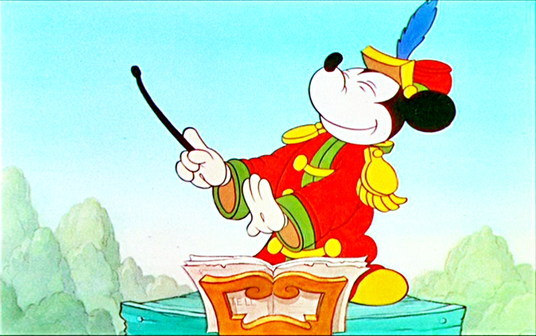 Read Time:
3 Minute, 55 Second
November 18, 1928 is recognized as the birthday of the one and only Mickey Mouse, whose legendary origins lie somewhere on a steam train rolling through the American midwest plains. Mickey started on the road to national superstardom, and quickly became an icon for children and adults throughout the country – and around the world – for generations since. Mickey made his official debut with the release of the black and white short Steamboat Willie.
Those first several years of Disney animation continued in black and white with the creation of many more Mickey Mouse cartoons, and the introduction of the Silly Symphony shorts.
While Mickey is indisputably the genesis of Walt's blockbuster success as the Walt Disney Company, was he the first Disney character to appear in color? To answer this question, let's take a step back in time to the dawn of color animation.
World of Color
While color began to make its way into animation in the 1910s, these color animation processes were crude, and generally involved limited color tinting, not full on coloring. Black and white remained the standard through the 1920s, through the turn of the decade into the early 1930s.
The first Disney animated short produced in color was the Silly Symphony short Flowers and Trees, released July 30, 1932.
This is thought by many to be the first full color cartoon, but that honor actually goes to the Ub Iwerks short Fiddlesticks – featuring his character Flip the Frog – which was released on August 16, 1930.
This was Iwerks' first animated short after leaving Disney to pursue his own animation ventures. By the way, does the character on the right look familiar?
Iwerks' color cartoons were produced using the two-strip Technicolor process. Disney created Flowers and Trees using a superior three-strip Technicolor process, and Walt locked up a contract to use the process exclusively through 1935, forcing competing animation studios to continue using the inferior two-strip process, or similar inferior processes.
So, you wanna guess who is the first Disney character to be featured in color? Take one big obvious guess… If you said Mickey – you're wrong! Mickey's first appearance in color didn't come for several years after Disney's first color cartoon, and here's why.
Two Animation Series
Walt used the Silly Symphony series as a way to encourage his artists to explore, experiment, and innovate. Because of this, the series is full of imagination and ground-breaking innovation (one of which included the use of color), but the shorts as a whole were not as beloved as the Mickey Mouse series. With Mickey being so popular, Disney did not need to prioritize the adaptation of Mickey into color, so our favorite mouse's first color appearance wasn't until the iconic short The Band Concert was released on February 23, 1935.
Donald Duck and Goofy appeared in this short as well. It was Goofy's color debut, but it wasn't Donald's, because…
Eight months earlier, Donald made his first official appearance in the Silly Symphony short The Wise Little Hen, released June 9, 1934. This short was produced in color, making Donald the first member of the Disney gang to appear in a color cartoon.
First Disney Color Appearances
While not exclusive to Disney, several other characters of note made their first color appearances in a Silly Symphony short, even before Donald.
Hansel and Gretel got lost on a journey through the forest in Babes in the Woods, released November 19, 1932.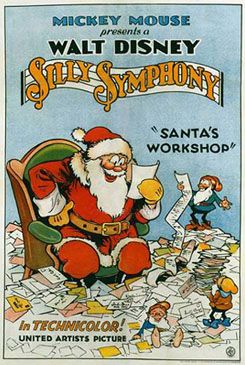 Santa Claus donned his famous red suit in Santa's Workshop, released December 10, 1932.
Noah, of biblical fame, made a colorful splash in Father Noah's Arc, released April 8, 1933.
The Three Little Pigs (and the Big Bad Wolf) sang their way through their first color appearance in the eponymously named short, released to sensational popularity on May 27, 1933.
Old King Cole – along with Little Red Riding Hood, Old Mother Hubbard, Goldilocks, and a host of other traditional nursery rhyme favorites – performed a color rendition of a previous black and white Silly Symphony short, with Old King Cole, released July 29, 1933.
Did you have any idea that all these characters had been animated in color before Mickey? While Mickey was the face of early animation gone wildly popular, he was a little late to the color party. The next time you get Donald's autograph at a Disney park, and he signs it "Donald Duck #1", you'll know why!
Feel free to reach out with a comment here, or send a direct message on social:
Instagram: Disney Facts and Figment
Facebook: Disney Facts and Figment