"A Cool Cat"
For some folks, the ability to add life, character, and charm to an animated character comes naturally.  Fred Moore was one of these people – able to inject incredible personality through the use of a character's movements and body language.
Fred Moore was born in 1911 and grew up in Los Angeles CA.  Fred was an animator of nearly limitless talent, though he had no formal education or training in animation, except for a few night classes he received in exchange for janitor services at the Chouinard Art Institute in Los Angeles (now Cal Arts).   Fred's big break came quite by accident: when his friend was unable to attend a job interview at the Disney studio because of a severe toothache, a 19-year old Fred Moore attended the interview in his place and got the job. Fred quickly established himself and became one of the dominant Disney animators during the formative years of the 1930s (the formative years came after the early days with Ub Iwerks but before the establishment of Disney's Nine Old Men). 
Fred is generally credited with creating "personality animation", and a hallmark of Fred's drawing style was his ability to give emotion, charm, and appeal to his characters, while also making their actions more convincing.  Fred was an expert at silhouetting – a process of designing the animation in a character such that the character's pose and positioning (their body language) guide the action in a scene. 
Fred's first major contributions to the world of Disney animation include a role as principal animator for Three Little Pigs, a short which earned much acclaim and has since been selected for preservation in the Library of Congress for cultural and historic relevance.  When he animated the pigs in Three Little Pigs, Fred also won Walt Disney's highest praise that "at last, we have achieved true personality in a whole picture." Fred animated Mickey Mouse in The Brave Little Tailor, which would ultimately be the last significant new appearance of the old-fashioned pie-eyed Mickey. Fred was primarily responsible for a complete redesign of Mickey's look for the 1939 short The Pointer (though the iconic new look was popularized in 1940 in The Sorcerer's Apprentice segment in the film Fantasia). In fact, Mickey's look has changed very little since Fred's redesign.
When Walt Disney changed the animation business with the first full-length animated feature film Snow White and the Seven Dwarfs, Fred was right there in the middle of it, as supervising animator for the seven dwarfs.  Pinocchio's temporary and misguided friend Lampwick was a Fred Moore creation as well, and Lampwick's look and design are considered by many to be a self-caricature of Fred himself. Fred was also primarily responsible for animating Dumbo's Timothy Q. Mouse, several scenes with the mice in Cinderella, the mermaids in the mermaid lagoon scene from Peter Pan, the centaurettes in Fantasia's The Pastoral Symphony segment, the White Rabbit in Alice in Wonderland, and the All the Cats Join In segment of Disney's package film Make Mine Music. Overall, Fred contributed to nearly 35 animation shorts.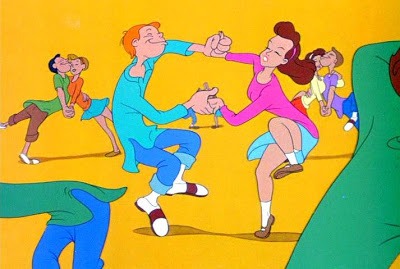 Fred was particularly talented at animating innocent, graceful, yet highly sexual female characters of all ages.  The characters were sometimes very stylized, and often lacked significant detail. Fred's work on some of the female characters mentioned above are good examples of Fred's unique style, and these character types became commonly known as "Freddie Moore Girls." This style has also been referred to as "Good Girl Art", and has remained iconic and influential in animation to this day. In fact, the design of Ariel in The Little Mermaid was influenced by the work of Fred Moore.
Fred struggled with excessive alcohol consumption, and unfortunately this struggle led to him being fired from Disney in 1946. Fred then worked with Walter Lance from 1946 to 1948, and contributed to a redesign of Lance's Woody Woodpecker character. Fred rejoined Disney in 1948, and worked for Disney until his untimely death in a car accident in 1952, at the age of 41. Fred received the animation industry's Winsor McCay Award in 1983, and was named a Disney Legend in 1995.

Fun Fact – Fred Moore appears as a caricature of himself in the 1941 Mickey Mouse short The Nifty Nineties. Look for him and fellow Disney Legend animator Ward Kimball in the vaudeville act Mickey and Minnie attend during the short.

Sources:
Jim Korkis – The Death or Fred Moore, MousePlanet, May 30, 2018
Disney D23 Legend page
IMDB
Michael Ruocco – Fred Moore and the Moving Silhouette, Cartoon Brew
Mark Kennedy – A Kick in the Head, Part One