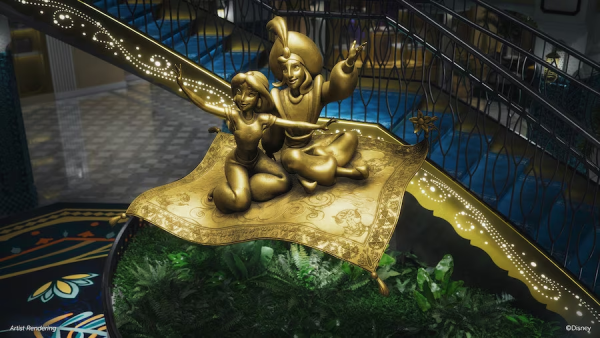 Read Time:
4 Minute, 48 Second
Disney Cruise Line shared their long-awaited look at the Disney Treasure today. As expected, Disney provided tantalizing details on their newest ship, which will be entering the fleet in December 2024.
The Treasure's 1,246 staterooms will be inspired by classic Disney tales of adventure, evoking the exploratory spirit of beloved Disney and Pixar films including Aladdin, Pocahontas, Up, and Encanto. The concierge and royal suites will celebrate The Lion King, The Jungle Book, and Aladdin.
Let's look at the high points here.
Grand Hall
The Treasure's Grand Hall will embody the ship's theme of adventure, spotlighting Disney's Aladdin, complete with a bronze statue of Aladdin and Jasmine.
Just off the Grand Hall, two adventure-inspired casual walk-up cafes will offer guests a selection of coffee, tea, specialty beverages, and snacks. Heihei Café, inspired by Moana's dim-witted friend rooster, will reflect the blue waters and seashells of the South Pacific Isle. Jade Cricket Café, inspired by the classic Disney film Mulan, will honor the Fa Family's "lucky" cricket, Cri-Kee, who will be proudly showcased as a jade sculpture on the bar top.
Sarabi, named after the regal lioness from The Lion King, will be a central hub for daytime activities and adult-only night time entertainment.
Plaza de Coco
The first dining experience themed to Disney-Pixar's Coco will be a "theater-in-the-round"-style venue with a central stage surrounded by dining tables. The entertainment will spread from the center stage all through the dining room. This dinner-time story picks up where the film leaves off, with the story of Miguel and his familia. However, guests who embark on a seven-night cruise will have the opportunity to dine here twice, with a different show each time, keeping the experience fresh for all participants.
In addition to Plaza de Coco, the familiar favorites Worlds of Marvel (with a new yet-to-be-released story) and 1923 will round out the family dining rotation circuit.
Disney Theme Park Adventures on the High Seas
Three brand new venues will celebrate classic Disney Parks attractions, for the first time ever on a DCL ship.
Skipper Society
This lounge will channel Disney's iconic Jungle Cruise attraction with natural colorways and camp-style furnishings, to go along with plenty of the witty banter that our favorite skippers made "world famous." If you are a Disney Parks nerd, you'll find plenty of Easter Eggs tucked into this time-stamped space. Themed cocktails and light snacks populate the menu in this jungle setting.
Periscope Pub
Remember the 1954 Disney film 20,000 Leagues Under the Sea? How about the Disney Parks attraction which lived in Magic Kingdom from 1971 to 1994? This submarine-style pub will "call upon 19th century steampunk influences with polished metals and industrial touches." A "window" in the ceiling will highlight the mysteries of the ocean above, and that gigantic squid will be fondly remembered in the pub's decorative center rug. Craft brews and light bites round out this menu.
Tomorrow Tower Suite
If you have a few extra bucks to spare, this EPCOT-inspired suite will feature energetic designs and futuristic, colorful accents which evoke EPCOT's World Discovery neighborhood (though it will always remain Future World to me). This suite will be located in the ship's forward funnel and will overlook the top deck of the Disney Treasure. According to Disney Parks Blog "With nearly 2,000 square feet of living space, the Tomorrow Tower Suite will comfortably sleep eight guests and feature areas for eating, sleeping and playing, as well as other perks like a full kitchen and private ensuite elevator."
AquaMouse: Curse of the Golden Egg
This water-based attraction will build on the hugely AquaMouse located in the Disney Wish, and introduce an all-new storyline that follows Mickey and Minnie on "a zany misadventure into an ancient temple for a glimpse of the legendary treasure within." The two-person ride vehicles will slide through 760 feet of winding tubes, offering breathtaking views of the ocean and the ship below.
Returning Favorites
In addition to all the Treasure's new offerings, many favorites will return as well. Performances of Beauty and the Beast and Disney Seas the Adventure will return to the theater, and Pirate's Rockin' Parlay Party will ransack the ship's upper decks. The Rose, Palo Steakhouse, and Enchanté by Chef Arnaud Lallament will continue to offer mouthwatering meals, tasty beverages, and amazing views.
For the younger crowd, Disney's Oceaneer Club, Edge, Vibe, and It's a Small World Nursery return to give kids of all ages a designated space to let their imaginations run wild (under the supervision of Disney-trained counselors).
When Can We Go?
The Treasure's maiden voyage will occur December 21, 2024, and the ship's inaugural season will include seven-night itineraries to the Eastern and Western Caribbean from Port Canaveral.
Disney Cruise Line Castaway Club members can book a Disney Treasure cruise as early as Sept. 12, 2023, and bookings will open to all guests on Sept. 20, 2023.
—
Are you interested in sailing away on a Disney cruise? If so, hop over here to reach out to me and start the process. My travel planning services are absolutely FREE, and I can help you score the best, hardest-to-get deals to make your vacation more affordable.
As always, feel free to send a direct message to Facts and Figment on social media:
Instagram: Disney Facts and Figment
Facebook: Disney Facts and Figment