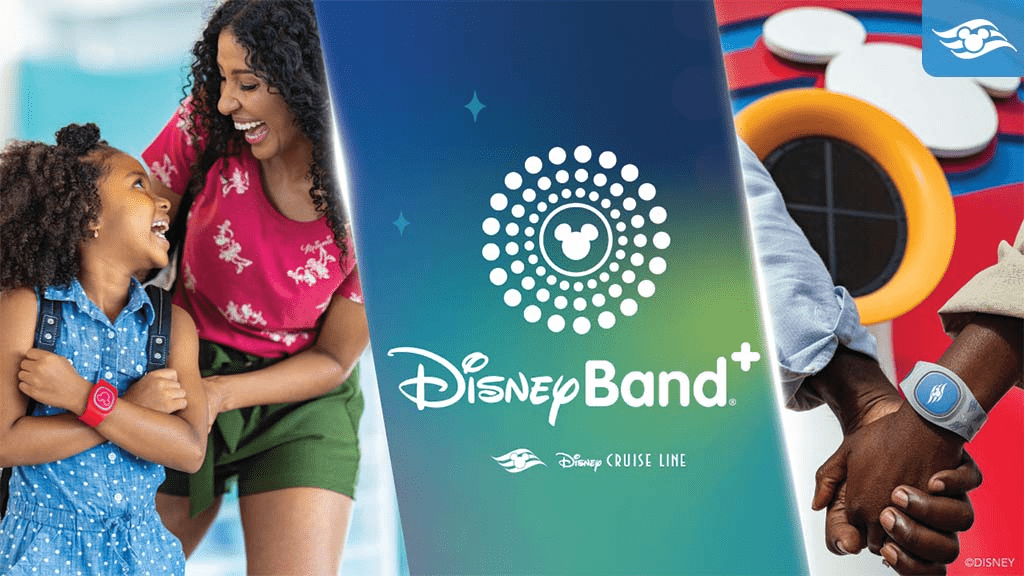 Read Time:
3 Minute, 9 Second
Wearable technology will soon be making its way onto Disney Cruise Line Ships, with three Disney Cruise Line-exclusive designs to choose from.
DisneyBand+
The popular MagicBand+ technology used at Walt Disney World Resort and Disneyland Resort will start making its way to Disney Cruise Line, beginning with a preview opportunity on select summer sailings aboard the Disney Wish, before it officially debuts. Disney Cruise Line is calling the program DisneyBand+.
Open Sesame
Similar to MagicBand+ on land, DisneyBand+ will allow guests to unlock their stateroom door or charge food and merchandise to their stored payment card on their stateroom folio. It will be totally weatherproof – good for swimming, snorkeling, and other indoor and outdoor activities.
Smile!
Guests can use their DisneyBand+ to tap in with Disney PhotoPass photographers around the ship, to capture and organize those priceless photo moments.
Surprise!
Disney Cruise Line will be treating DisneyBand+ users to discover enchanting surprises throughout their cruise, so Disney is encouraging future cruise guests to keep their eyes peeled for extra moments of magic.
Charge Up
DisneyBand+ is rechargeable, and can also be used in place of a MagicBand+ at Walt Disney World and Disneyland Resorts.
Oceaneer Club
For kids ages 3 and up, DisneyBand+ can be used instead of the Oceaneer Club Band to access kids' clubs, including Disney's Oceaneer Club (while onboard the ship) and Scuttle's Cove (at Castaway Cay).
Check out this quick intro video, then continue on for more details.
MagicBand+ vs. DisneyBand+
So you may wonder if the DisneyBand+ can be used at other Disney resorts? The answer to that is yes – it can be used at Walt Disney World Resort and the Disneyland Resort.
As for using the MagicBand+ you currently own on your next Disney cruise. The answer to that seems like a yes, though Disney's language on this is a little murky.
Disney states: "Your Walt Disney World Resort and Disneyland Resort MagicBand+ can be used as a DisneyBand+ during select Disney Cruise Line sailings. Following the preview that is taking place on the Disney Wish, DisneyBand+ will begin to make its way to select sailings aboard other Disney Cruise Line ships. Stay tuned as more information is announced."
So that sounds like a "yes" but we'll keep our eyes on this aspect as Disney progresses in its DisneyBand+ rollout.
The Fine Print
The Disney Key to the World can still be used for all onboard functionality. Additionally, the Key to the World card and photo ID (for Guests 18 and older), will still be required to debark and embark at Ports of Call.
Solid bands cost $34.99, and themed designs cost $44.99, plus tax. Once DisneyBand+ has rolled out on the Disney Wish, guests can save $10 by ordering their DisneyBand+ online ahead of their sailing, instead of waiting to purchase it on the ship.
Reading Between the Lines
If DisneyBand+ and MagicBand+ are intended to be synonymous in terms of their uses, and if both can be used onboard Disney Cruise Line Ships and in Walt Disney World Resort and Disneyland Resort, then it would make sense to use the same name for all bands. Could Disney be planning to rename the entire MagicBand program to DisneyBand? Time will tell. Stay tuned for more details!
Want to Plan a Disney Cruise?
If you want to take to the high seas, I can make it happen for you. Reach out to me today to get started. Visit Facts and Figment Travel Planning, or skip the intro and jump right to this form to begin.
Find Facts and Figment on social!
Instagram: Disney Facts and Figment
Facebook: Disney Facts and Figment