Read Time:
1 Minute, 17 Second
Question: In addition to O Canada!, what other EPCOT attraction film also starred comedy legend Martin Short?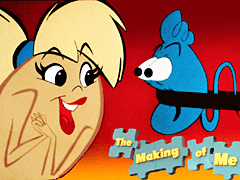 Answer: The Making of Me
This 14-minute short film in Future World's Wonders of Life pavilion spotlighted the story of human procreation, as comedy legend Martin Short wondered exactly how he was created. Guests of this film were transported back in time to witness the courtship of a young couple (also Short), followed by an animated take on the science of conception (including a "race to the egg"), film footage of fetal development, and ending with the moment of birth.
The Making of Me caused some concern before its opening, given its adult subject matter. But the show was carefully produced with that family-friendly Disney lens. It caused far less heartburn than what was anticipated, and proved to be quite a popular part of EPCOT's human story.
The Making of Me was only part of a once wondrous Wonders of Life pavilion. Read about the pavilion's headlining attractions, and find out why its lifespan was cut short in "Dearly Departed Disney: EPCOT's Wonders of Life."
Do you have a favorite classic EPCOT Future World pavilion or attraction? Let us know with a comment here, or on social.
Instagram: Disney Facts and Figment
Facebook: Disney Facts and Figment
If you enjoyed this post, please feel free to share using one of the buttons below (or you can copy/paste the URL).