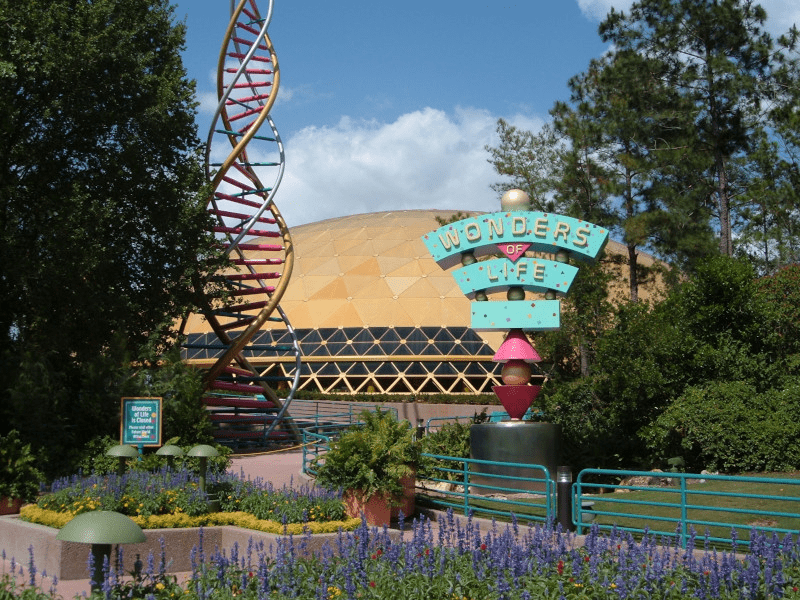 Read Time:
11 Minute, 12 Second
(A version of this article was published for Pirates & Princesses on January 20, 2023.)
"Is there a doctor in the house? Or at least somewhere in the theme park?"
Look no further than the Wonders of Life. This pavilion – devoted to health care, the human body, and nutrition – was the final piece to EPCOT Center's science and technology-based Future World puzzle. Upon the pavilion's completion in 1989, Future World enjoyed a decade of glory days, until Horizons – the first of the original pavilions to close – said goodbye in 1999.
For this edition of Dearly Departed Disney, we'll have a chance to swim through the human body and reside in the brain, as we revisit the classic Future World pavilion, Wonders of Life.
Slow Start
Wonders of Life stumbled out of the gate. While most of EPCOT's Future World pavilions opened with the park in 1982, Wonders of Life was delayed several years, as it failed to attract a sponsor willing to fund its development. Finally, in 1988, Disney found a sponsor in MetLife Insurance. In October 1989 – seven years after the rest of EPCOT – the Wonders of Life opened under a golden dome that stood 65 feet tall, and beckoned to guests with the Tower of Life – a 75-foot-high DNA double helix.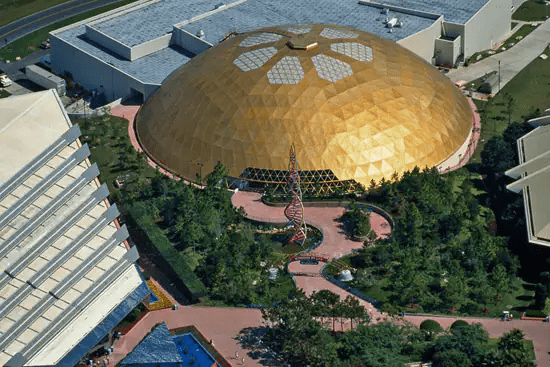 Fun Fact: In addition to becoming the last piece of EPCOT's original Future World puzzle, Wonders of Life also has the distinction of being the last pavilion ever built in Future World that was an original, non-replacement attraction. This fact is not likely to change anytime soon, as all new and planned attractions in EPCOT are replacing something that previously occupied that space (with the next one scheduled to open being Journey of Water, Inspired by Moana, which will replace the former CommuniCore/Innoventions West area).
A theme park pavilion based on health and the human body doesn't sound very exciting, but Disney Imagineers crafted the pavilion's attractions to spice up the subject matter. As a sponsor, MetLife was no slouch. The insurance giant consistently put up the cash to keep Imagineers busy. During its heyday, the Wonders of Life pavilion was one of the most well-maintained and up-to-date in all of EPCOT. That's no small feat, considering the ever-evolving nature of human sciences. As a team, Disney and MetLife created quite an engaging collection of attractions and exhibits, headlined by three unforgettable experiences.
Body Wars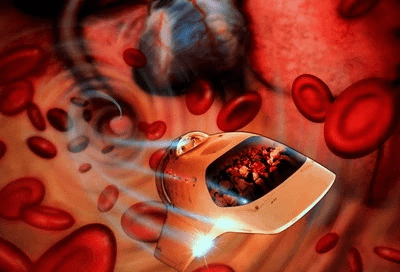 It's only a splinter, how frightening could it be?
Many guests must have wondered this as they buckled into the Bravo 229 sub-liquid/flying vehicle for a trip inside the human body. Body Wars was a motion simulator ride which shrunk guests down to the size of a blood cell so they could interact with the human body. The mission for this attraction was not simply to study a splinter, but to rescue researcher Dr. Cynthia Lair (played by Elizabeth Shue). Dr. Lair was stranded while studying the splinter, and needed to be retrieved. But the human body is a complex collection of individual organs and processes working together in concert. By the time guests arrived to help Dr. Lair, she was sucked into a blood capillary, then into the heart and lungs where she was aggressively attacked by a white blood cell. The Bravo 229 was able to fend off the adversarial cell, but the vehicle was left powerless after the encounter. A quick trip to the brain allowed the Bravo 229's power cells to be refueled, and the vehicle was able to safely beam back outside the body, return to size, and allow the guests to safely disembark.
The Body Wars film was directed by Leonard Nimoy, best known as Star Trek's Mister Spock. Nimoy had previously established himself as a film director, with one of his greatest successes of the 1980s being Touchstone's comedy hit Three Men and a Baby.
The motion simulator experience of Body Wars was very similar to that of Star Tours, which had opened to rave reviews at Disneyland Park two years earlier in 1987. A version of Star Tours would be opening soon in Disney-MGM Studios in 1989 – the same year as Wonders of Life and Body Wars. Sponsor MetLife understandably had concerns about Body Wars being upstaged by Star Tours. Disney agreed to delay the opening of Star Tours until December 1989, giving Body Wars a couple months to find its footing before the Empire invaded Walt Disney World.
Fun fact: Body Wars is considered to be EPCOT's first thrill ride, and was the first attraction at the park to carry a height restriction (40 inches). The turbulence of the attraction gave some riders nausea.
Cranium Command
Cranium Command – a theater-style show attraction – showed guests the importance of the human brain, from a very different perspective. The experience was hosted by Buzzy, a bumbling young recruit in the Cranium Command who was charged with controlling the actions of a twelve-year-old boy. Of course, Buzzy wouldn't be acting alone – he was guided by General Knowledge – an uber-excited stress-inducing military-style commander. Together, Buzzy and General Knowledge had to balance the boy and a host of his body organs (and their competing priorities), including the left and right brain, left and right heart ventricles, stomach, bladder, and adrenal gland. Over the course of the 17-minute show, the team successfully guided the boy through a pre-teen, middle school day, and in doing so helped bring the complex world of neuro-function to a wider audience.
Cranium Command was full of star power, including well-known comedians like Dana Carvey, Jon Lovitz, and Kevin Nealon (at the time all stars of Saturday Night Live), Bobcat Goldthwaite, Charles Grodin, and George Wendt. Long-time Disney voice actor Cory Burton served as the voice of General Knowledge.
Does Cranium Command sound familiar? Pixar's 2015 film Inside Out featured a similar style of competing sentiments, but based on emotions rather than the body's physiological functions.
One of the credited animators on the Cranium Command preshow was Pete Docter, who went on to become one of Pixar's top creatives. Docter later directed Inside Out, and he credited Cranium Command as an inspiration for the film.
Aside from Inside Out, Cranium Command also influenced the 2016 Disney animated short Inner Workings. The short follows Paul – a California man living in the 1980s – whose brain, heart, lungs, stomach, bladder, and kidneys all compete for his attention during a typical day of work.
Cranium Command may not have gone down in history as one of EPCOT's most remembered attractions, but the concepts from the film certainly persisted beyond the attraction's lifespan.
The Making of Me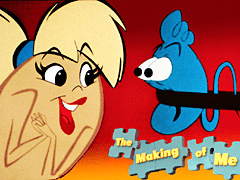 Did you know there was once a film in EPCOT spotlighting the process of childbirth? Believe it or not, The Making of Me was just that. This 14-minute short film starred comedy legend Martin Short, who wondered exactly how he was created. Guests of this film were transported back in time (with Short playing the role of his father) to witness the courtship of a young couple. The lighthearted romance was followed by an animated take on the science of conception (including a "race to the egg"). Next came film footage of fetal development, and the film concluded with a (highly edited) moment of birth.
The Making of Me caused some concern in advance of its opening, as it was certainly quite different from all other Disney theme park content to date. But with Wonders of Life being all about the human body, the concept of reproduction was seen as a necessary inclusion by the pavilion's storytellers. Disney posted a parental advisory message at the front of the attraction, giving parents fair warning about the show's content. Overall, the show was produced with that familiar family-friendly Disney lens. It caused far less heartburn than what was anticipated, and proved to be quite a popular part of EPCOT's human story.
Fitness Time
Many other smaller exhibits populated Wonders of Life over the years. Frontiers of Medicine told medical stories on small televisions. Goofy About Health was a multimedia show about healthy living, hosted by Goofy of course (and using clips from many of his cartoons). Coach's Corner gave guests the chance to swing a baseball bat while getting advice from a professional player. Fitness Fairgrounds tested guests' athletic prowess. Wonder Cycles – precursors to those now-ubiquitous fitness center bikes (and more recently the immensely popular Peloton program) – invited guests to pedal stationary bikes, while attached video screens took them on a tour of Disneyland, the Tournament of Roses parade route, or other destinations.
The exhibits of the pavilion offered guests an experience much like that of CommuniCore (and later Innoventions).
A Dozen Brings a Downslide
Wonders of Life enjoyed a successful first ten years in EPCOT. But in 2001, after twelve years of sponsorship, MetLife said goodbye to the pavilion. Like other EPCOT pavilions over the years, the loss of MetLife (and more specifically, the loss of MetLife's money) led to a slow decline of the pavilion. Updates to the pavilion ceased, and maintenance faltered. In January 2004, only three years after the loss of MetLife, Disney downgraded the pavilion's operational status to "seasonal." In Disney-speak, "seasonal" is usually a harbinger of an attraction's coming extinction. With the pavilion's end in sight, no new attractions or exhibits were added, existing attractions began to fall out-of-date, and maintenance needs were often ignored.
While in seasonal status, Wonders of Life opened only during high capacity park times (primarily in late spring and at Christmastime). Wonders of Life operated for its last session over the 2006 holiday season, and closed for good on New Year's Day 2007.
Repurposing
The golden dome that housed Wonders of Life wouldn't stay empty very long. The pavilion's indoor space was pressed into action later that year to support EPCOT's International Food & Wine Festival. While the dome provided valuable space to host some of EPCOT's festivities, the experience inside was far from ideal. The pavilion's former attractions and exhibits had not been removed following the pavilion's closure, and they remained in place, peeking out at guests from behind temporary walls. In fact, the presence of these extinct attractions and exhibits felt much like being in a creepy theme park graveyard (since that's exactly what it was).
Nonetheless, the dome continued to host gatherings and events for EPCOT's different festivals. Over time, bits and pieces of the pavilion's innards were removed, the interiors were given a paint update, and the indoor space began to feel more inviting (and less creepy) to festival guests. In recent years (through roughly 2018), the pavilion's dome has been occasionally used to host private events.
Reinvention?
In 2019 – less than a year before the COVID pandemic caused the world to hit "pause" – Disney finally announced a plan for a reimagining of the old Wonders of Life space. Walt Disney Imagineering portfolio executive (and popular EPCOT spokesperson) Zach Riddley announced the Play! pavilion. In his announcement, Ridley stated "This innovative, new pavilion is beyond anything we've ever created and is completely unique to Epcot. Built on the power of play, it introduces an immersive and interactive 'city' where you can explore, create, and interact with some of your favorite Disney characters."
Like most everything else in 2020 and 2021, progress on Disney's Play! pavilion was paused. Once rumored to be opening in July 2021, the status of the pavilion is more uncertain now than ever, and the golden dome again sits empty.
Life and Death
The grandeur of the Wonders of Life pavilion is long gone, and the glow of the golden dome cannot outshine the dimness that remains inside. Irony is perhaps the best word to describe this pavilion that once proudly celebrated life, but now continues to die the slowest of deaths.
Fans who remember Wonders of Life, and students of Disney theme park history, will fondly admire the pavilion that once stood tall as a picture of health, and will celebrate the time in EPCOT's history when life found a way.
Thanks for traveling with us. Please follow along here for additional articles in this series. We'll continue to explore many other former attractions and experiences from Walt Disney World, including Magic Kingdom, EPCOT, Hollywood Studios, and Animal Kingdom. We may even visit Disneyland and other Disney Parks.
Sources referenced in writing this article include:
All Ears – Wonders of Life Epcot Archives
Theme Park Tourist – Wonders of Life: The Sad (But True) Story of Epcot's Abandoned Pavilion
Pirates & Princesses – Rumor: EPCOT Play Pavilion To Open July 2021
If you enjoyed this article, please feel free to share it with friends using one of the buttons below, or by copying/pasting the URL for this post. Also, please reach out with a comment, either here or on social media.
Follow Facts and Figment on social media: