Read Time:
2 Minute, 46 Second
The second planDisney Pocket guide released for the All-Star Resorts is for All-Star Movies Resort. Here, guests can star in their own (affordable) resort experience. Be prepared to lookup while strolling the grounds of this resort. Guests are dwarfed by (much) larger-than-life representations of Disney favorites such as the Toy Story gang, Sorcerer Mickey, many of the 101 Dalmatians, and even Herbie the Love Bug. Outdoor photos at this resort play very well on Instagram.
This resort offers standard and preferred rooms, sleeping up to four adults. Family suites are available next door at All-Star Music Resort, which is only a short walk away.
While you're in the neighborhood of the adjacent All-Star Music and All-Star Sports Resorts, take a walk along the paved trails which wind around and through all three resorts. The trails can be a bit crowded at times, but a little patience will reward you with lots of fun characters to see.
Similar to the other Value Resorts, there are no sit-down restaurants at the resort, but the World Premiere Food Court hits the spot for a quick morning breakfast or late-night snack. Chances are you aren't spending too many daytime hours at the resort, but if you are, the food court offers all the basics.
If you want a splash of magic, Fantasia Pool is the place to be. Sorcerer Mickey comes to life, along with a handful of those bucket-carrying brooms.
For a poolside refreshment, the Silver Screen Spirits Pool Bar offers a great selection of alcohol and non-alcoholic beverages. Kids and adults alike will love the Pineapple Dole Whip Smoothie.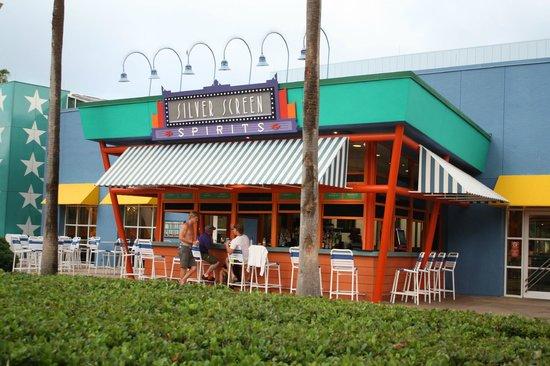 Nearby, the Duck Pond Pool offers a second, smaller place for lower-key family relaxing.
If you want to spend a few proverbial quarters, let the kids check out the Reel Fun Arcade. Or, if you prefer to grab a small souvenir with that same cash, browse through Donald's Double Feature for resort merchandise. You can grab a few basic groceries there too.
Check out the Pocket Guide for Disney's All-Star Movies Resort for more information.
The All-Star resorts have a reputation for being Walt Disney World's "lower-class" resorts. While these value resorts tend to attract larger (and sometimes louder) groups, they are still brimming with giant Disney magic.
planDisney Pocket Guides are especially helpful to guests who are considering staying at a resort they've never before experienced. The Pocket Guides take the form of 5-14 page PDF slides, which are easily printable and savable to smart devices. They offer efficient snapshots of the resort basics, including:
Transportation options
Room sizes
Food and beverage options and locations
Pools and recreation activities
Shopping
Tips from the planDisney panel
Check out the full list of planDisney Pocket Guide summaries here.
In addition to Disney Parks Blog, planDisney also releases Pocket Guides via their Instagram page. Following their IG feed may be the best way to stay updated on the newest releases. We'll continue to update this list of Pocket Guides as planDisney releases them.
If you enjoyed this article, feel free to reach out with a comment here at Pirates & Princesses, or on social:
Instagram: Disney Facts and Figment
Facebook: Disney Facts and Figment