Read Time:
4 Minute, 31 Second
You might not know his name or his face, but you know his voice.
Paul Frees, considered by many to be on par with Mel Blanc as a "man of a thousand voices" lent his voice talents to several legendary Disney characters, as well as quite a few non-Disney characters.
Frees was born Solomon Hersh Frees in Chicago, Illinois in 1920. He spent all of his youth in the Chicago area. By the late 1930s, he began performing on vaudeville as an impressionist, using the stage name Buddy Green.
A Golden Voice in the Golden Age of Entertainment
Frees enjoyed a four-decade career in radio that began in 1942, though it was briefly interrupted when he was drafted for service in the U.S. Army during World War II. Frees fought in Normandy, France on D-Day, was wounded in action, and spent a year recuperating. Frees used his military service to attend the Chouinard Art Institute under the G.I. Bill, though he dropped out following his wife's health troubles, and returned to his dependable radio work.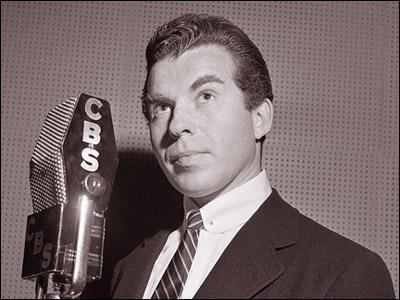 Aside from his radio work, Frees was involved in more than 250 films, cartoons, and TV appearances (some of which were uncredited).
Animation voice work proved to be Frees' bread and butter. He worked regularly with many large animation studios of his era, including Disney, Warner Bros., Walter Lantz, Hanna-Barbera, Metro-Goldwyn-Mayer, Rankin/Bass, and several others.
Disney's Secret Weapon
Frees provided voice work for several major Disney park attractions, including the Haunted Mansion Ghost Host, several pirates from the Pirates of the Caribbean (including the ominous warning "dead men tell no tales"), and narration for Tomorrowland's Adventure Thru Inner Space and the original Great Moments with Mr. Lincoln.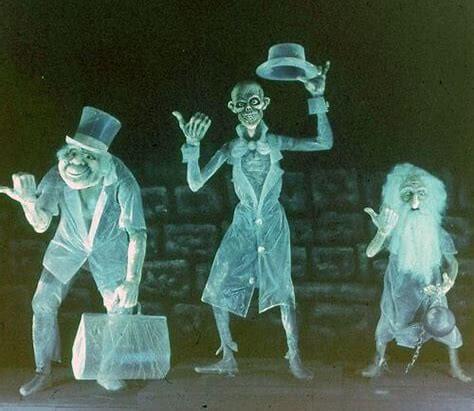 For Disney animation, Frees voiced Professor Ludwig Von Drake, and countless supporting characters, many of which went uncredited.
Frees occasionally dipped his toe into live acting. For Disney, Frees appeared in The Shaggy Dog and The Ugly Dachshund, among other smaller roles.
Outside Disney
In the animated world outside Disney, Frees voiced several culturally significant characters.
Stereotypical foreign bad guy Boris Badenov in the Rocky and Bullwinkle cartoons can thank Frees for his menacing voice.
Frees' thumbprint is all over the Rankin/Bass Christmas special collection. In Frosty the Snowman, Frees provided the voices for Santa, the police officer, and even the little rabbit Hocus Pocus. He also voiced the second-biggest holiday Grinch of all time (besides the Grinch himself), Burgermeister Meisterburger, in Santa Claus Is Comin' To Town.
Frees was pretty good at selling groceries too. He provided the voice for the sweet and cheerful Pillsbury Doughboy, as well as Froot Loops' pitch-bird Toucan Sam.
Frees battled several ailments over the last couple years of his life. He died in 1986 at the age of 66, from heart failure that was sadly induced by a self-administered overdose of pain medication.
Paul Frees' legacy lives on in the Haunted Mansion queue, where a token of cheeky appreciation is listed on one of the crypts just outside the mansion building itself. It reads "Farewell Forever, Mister Frees, Your voice will carry on the breeze."
In 2006, Frees was posthumously offered the ultimate Disney honor, when he was declared a Disney Legend.
Voice actor Corey Burton has carried on Frees' legacy, particularly for Disney content, providing spot-on renditions for many of Frees' characters, as updates and new material are needed.
Say What???
Ok, so you think you know the basics about Paul Frees? Stop right there, because there is one other thing about Paul Frees that I only just learned. According to Peter Guralnik – author of two Elvis Presley biographies – Frees was also, at one time, an undercover narcotics agent for the Bureau of Narcotics and Dangerous Drugs in the 1960s. I assume his role may have been as an informant of some sort around Hollywood, but details on this are essentially nonexistent, as far as I've been able to find. Imagine my surprise when learning this tidbit about Paul Frees while reading a biography about Elvis Presley!
How exactly are Paul Frees and Elvis even related? Well, Frees was one of the countless Hollywood talents Elvis met during his career. Elvis met Frees at a time when he (Elvis) was feeling very patriotic and wanted to play a small part in national defense. Having learned that Frees was working in the war against drugs, Elvis saw an opportunity to do his part in the fight as well. Elvis went so far as to pitch his services to President Richard Nixon. This service idea never amounted to much, but it did score Elvis a cool photo-op with the President.
Friends, if any of you have additional information about this piece of Paul Frees, or if you can confirm (or debunk) the validity of this information, please reach out and share it with me as a comment here, or as a message on social media.
Instagram: Disney Facts and Figment
Facebook: Disney Facts and Figment
Thanks for learning about another Disney Legend! Follow along here for additional articles in this series. We'll continue to highlight more of the extraordinary people who have shaped Disney's storied history.