Read Time:
6 Minute, 52 Second
Animation has progressed to infinity (and beyond!) since the early days of Oswald and Mickey. Hand drawn sequences have been replaced by computer aided illustrations. Computer programming and processing have relieved artists of the painstaking process of filling in the gaps by hand. Computer-Generated Imagery (or CGI) has been around for over 50 years. But it was only when Toy Story burst onto the scene in 1995 that full on CGI films started to really take the place of traditional animation.
We all recognize Pixar as the pioneers and experts in full feature CGI, but did you ever wonder exactly how Pixar does what they do so well? I recently had the opportunity to visit the Science Behind Pixar exhibit at the Boston Museum of Science. This traveling exhibit offers a peek behind the computer animation curtain, while also inviting guests to try out some fun techniques for themselves. There is tons of stunning concept art, and even a few amazing character photo opportunities.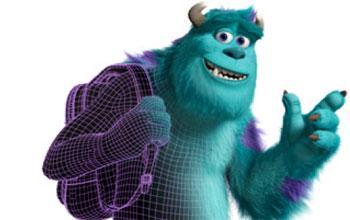 The Science of Pixar exhibit focuses around nine core aspects of the animation process, including Story & Art, Surfaces, Simulation, Modeling, Sets & Cameras, Lighting, Rigging, Animation, and Rendering. Let's dig a little deeper into these specialties.
Story & Art
Every good story starts with a little imagination and a lot of heart. This is where writers and artists work together to refine the plot of the story and develop the pacing. Camera angles also get framed during this phase. Even though the story is largely set at this point, changes can still occur later in the development process.
Surfaces
Pixar's computer animation is well-known for stunning 3D-looking images. But the 3D-model is just a shape – the base block of the object's appearance. The nuance of the surface finish determines how the object appears. The subtleties of the way something looks tells much of the story. Wall-e's surface texture is old and weathered, while Eve has a sleek, modern appearance.
Pixar's surfacing artists can determine each facet of an object's appearance using computer programs called shaders. They can diversify an object's complex appearance by identifying specific elements.
Simulation
What turns a giant stocky stick figure into a fluffy blue and purple cuddle monster? Pixar uses a process called simulation to create supporting motion that makes the animated scenes feel alive and believable. It's what gives Sulley's fuzzy fur the softness we'd love to touch. Hair, water, and mass crowd movements can be created using simulations based in physics. Can you imagine trying to animate Merida's curly red hair? Thankfully, Pixar simulators carry most of that burden!
Modeling
The character design process starts with artists who create sketches. A flat sketch is followed by clay sculptures, called maquettes, which put the character into three dimensions. Once the 3D maquette is established, a virtual wireframe of points and the edges – called a digital model – is developed. The digital model defines the shape of a character for animation.
Pixar's digital modelers create a virtual 3D model with certain defined characteristics, such as bone structure, movement abilities, and physical limitations. An individual character's anatomy is an important part of the digital modeling process. This uniqueness is what allows Woody to bend and wobble as the plush doll he is while Buzz moves much more stiffly, being made of hard plastic and limited joint movements.
Sets & Cameras
Unlike the early days of animation, scene sets in modern animation involve much more than simple background drawings. Story scenes still begin with the tried-and-true process of creating storyboards. Pixar's set designers act as architects, creating the virtual environments within which each story scene takes place. Many of the pieces in an individual set are created using computer programs, while select, more unique set pieces are developed in much the same way as individual characters.
If you think there are no cameras used in animation, think again. Pixar's camera artists use virtual cameras to set up story frame shots and angles, much as a physical camera person would do in filming live action. Careful and creative consideration went into the camera angles for A Bug's Life, telling an entire story from the vantage point of an ant. The Science Behind Pixar exhibit included a physical representation of the ants' tree from the film – complete with the ability to control two different cameras placed at "ant-level."
Lighting
Lighting is one of those aspects of animation that goes largely unnoticed – unless it's not done well. Pixar's lighting designers use physics and geometry to define the angle of lighting, the casting of shadows, and even the dimming of light over distance. The dull underwater light that Nemo lives in? That was refined by Pixar's lighting designers. How does the sun shine off Lightning McQueen? Ask a Pixar lighting designer!
Rigging
When I think of rigging, I think of things that hang or get mounted. But in the world of computer animation, rigging is the process of defining a character's movement. When Pixar designers rig a character, they are designing the virtual bones, joints, and muscles that allow the character to move. In this way, it's like designing a puppet on a string.
The rigging process works closely with the modeling process in defining individual character (or object) movements. Elastigirl's movements are largely defined during the modeling phase, and she is animated during the rigging phase.
Animation
We all know the basic definition of animation. It's a series of images, each one slightly different from the last, shown rapidly in sequence to create the illusion of movement. Back in "the olden days", Disney animators would animate primary character movements, and "in-betweeners" would handle the subtle movements between the major movements. This premise still holds true today, but Pixar animators use a computer program to fill in the gaps between a character's major movements. The animated fill-ins create a more fluid motion than traditional hand-drawn animation.
Rendering
Once the scene is created, the animation is run, and the cameras have filmed, the shot is almost complete. But the scenes may need some final polishing. Features like coloring, shading, and camera shot editing are performed in order to produce the finished product.
Concept Art
The exhibit tastefully sprinkled concept art pieces from Pixar films around the exhibit hall. I won't share them all here, as my cell phone camera cannot do them justice, but here are a couple to whet your appetite.
Character Photo Opportunities
Every hardcore Disney fans loves a good character photo, and the Science Behind Pixar delivered a few great opportunities. We got to share the lens with Buzz Lightyear, Sulley & Mike, Edna Mode, WALL-E, and Dory. Unfortunately, the lighting in the exhibit hall was not very camera friendly, but you get the idea from this selection.
The Legendary Lamp
The Science Behind Pixar is a win-win for both kids and adults. The art and character pieces are eye-popping, while the educational aspect is truly enjoyable, fitting the bill of "edu-tainment." Walt Disney always strove for films and entertainment that parents and children could enjoy together, and this exhibit delivers on both fronts.
Finally – check out how my son re-created the jumping Luxo Jr. lamp. He set up and photographed over 100 frames to animate this sequence. Pretty cool, huh?
The Science Behind Pixar has since left Boston, and is currently wowing guests in Hong Kong. But fear not, middle Americans, the exhibit will be in Cincinnati Ohio in October 2021.
Much of the information shared in this article was obtained from the Science Behind Pixar website. Check it out yourself and you can try some of the animation stations offered at the exhibit itself.

Friends, I hope you enjoyed this article. If you would like to chat more about amazing exhibit, feel free to reach out with a comment here, or send me a direct message on Instagram at https://www.instagram.com/disneyfactsandfigment or on Facebook at https://www.facebook.com/disneyfactsandfigment.