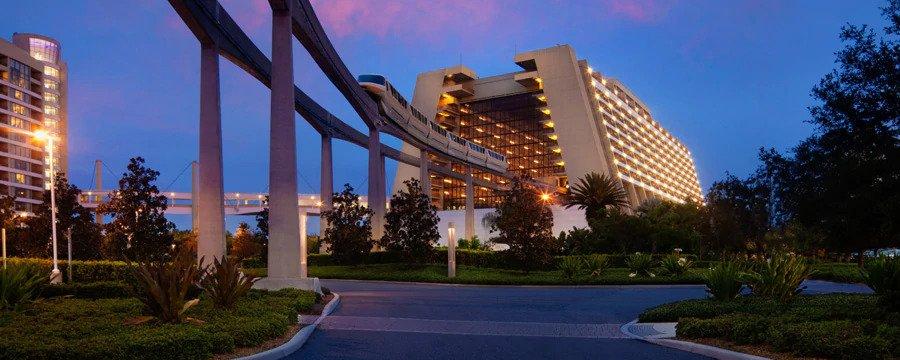 Read Time:
1 Minute, 20 Second
Between all four Walt Disney World theme parks, both water parks, and even Disney Springs, there are many dozens of attractions guests can enjoy. Conquer several "mountains" at Magic Kingdom. Soar high above the world in Epcot. Flee from a dinosaur in Animal Kingdom. You can even fly the Millenium Falcon in Hollywood Studios. Splash yourself silly with several high intensity water slides in the water parks. You can even drive a car straight into the water in Disney Springs.
But did you know there used to be an attraction operating at one of the WDW resorts? Do you know what attraction this may be, and where it was located? Take your best guess, then click on Mickey below to see if you are correct! Hint – it's not the Monorail, as the photo may suggest.
You could look up the answer online, but it wouldn't be as entertaining as listening to the WDW Radio podcast. In Episode 638 – 10 Secrets and Stories of the Walt Disney World Resorts: Part 2, host Lou Mongello and his guest – Disney historian and author Jim Korkis – discuss some of the little-known stories behind these legendary resorts. Here, you'll learn the answer to this question, and pick up a few other tasty morsels along the way. While you're at it, listen to Episode 637 – Part 1 as well, to learn even more about the WDW resorts.

Good luck! And as always, reach out here with a comment, and find me on Instagram at https://www.instagram.com/disneyfactsandfigment or Facebook at https://www.facebook.com/disneyfactsandfigment.