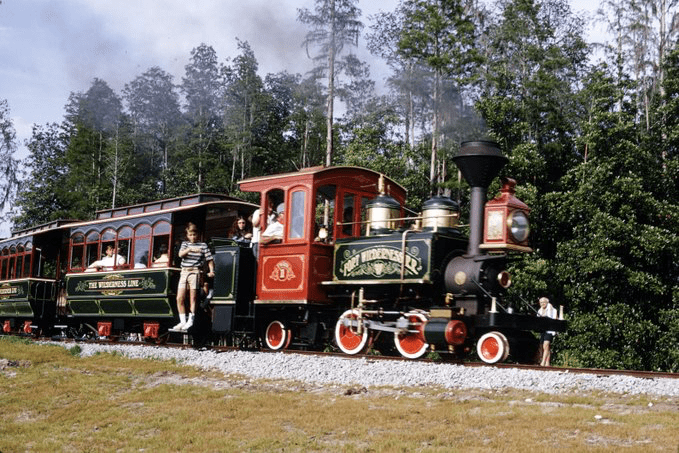 Read Time:
1 Minute, 23 Second
What attraction formerly operated in a Walt Disney World resort?
Fort Wilderness Railroad!
The Fort Wilderness Railroad officially opened in 1974 – a little over two years after the resort itself opened. This narrow gauge railroad train carried happy passengers along a 3.5-mile route, providing transportation for the various campsites within the resort and campground, as well as the nearby Disney's River Country water park (which operated from 1976 to 2001).
Issues with track maintenance, fuel capacity, guest safety, and noise concerns caused the train to operate on a reduced schedule after 1977, and the attraction closed permanently in February 1980.
After the railroad closed, Disney moved the locomotives and passenger cars into storage. They were forgotten for several years until they were rediscovered by Carolwood Pacific Historical Society co-founder Michael Broggie (son of Disney Imagineer and Disney Legend Roger Brogie). The locomotives and twelve of the surviving passenger cars were acquired by several Carolwood Pacific Historical Society members, and have moved on to various locations for continued appreciation.
Attentive visitors to Fort Wilderness can still see signs of the railroad tracks circling 'round the campground – fading evidence of yet another piece of Walt Disney World's storied history.
As I mentioned before, you can learn even more interesting tidbits about the WDW resorts by listening to the WDW Radio podcast, Episodes 637 and 638.  Host Lou Mongello will never fail to entertain and inform you, in the most delightful way.

Thanks for reading friend. As always, reach out here with a comment, and find me on Instagram at https://www.instagram.com/disneyfactsandfigment or Facebook at https://www.facebook.com/disneyfactsandfigment.