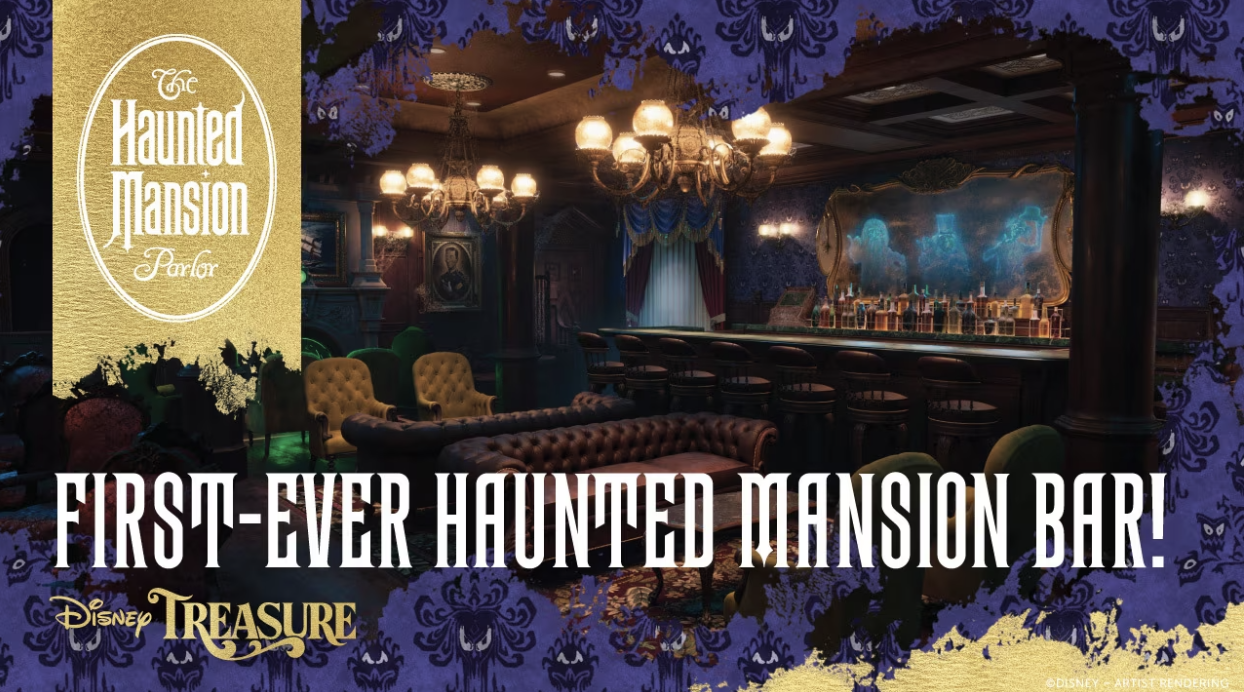 Read Time:
2 Minute, 57 Second
(A version of this article was shared with Pirates and Princesses and published on October 24, 2023.)
Disney Cruise Line has announced details on the Haunted Mansion Parlor – a lounge aboard the forthcoming Disney Treasure which will immerse guests in the next chapter of the Haunted Mansion saga. The one-of-a-kind experience will be "a swinging wake unlike any other, that of a jovial captain who entered the ghostly realm after a disastrous dinner with his beloved fiancé."
Disney describes the design as resembling "a first-class drawing room of a classic cruise liner from the golden age, invoking inspiration from the original Haunted Mansion with a nautical twist. Complete with nostalgic tributes to Haunted Mansion attractions around the world, fans will recognize the iconic wallpaper and the distinctive purple armchair tucked in the corner."
In addition to the decor, cruise guests will also encounter a few familiar faces from the original Disney Parks attraction, "as well as some new seafaring arrivals, in a portrait gallery depicting the Disney Treasure's own ghostly residents."
Haunted Merchandise
Three new exclusive pieces of merchandise will be available onboard the Disney Treasure, as described by Disney:
Haunted Mansion Parlor Music Box
A keepsake inspired by an eerie music box that will be found inside the Haunted Mansion Parlor. As the rumors go, this mysterious box belonged to the captain's bride-to-be and only opens in the presence of malevolent spirits.
Haunted Mansion Parlor Clock
Inspired by the old grandfather clock from the original Disney Parks attraction, this clock will evoke the nostalgic allure of the Haunted Mansion.
Haunted Mansion Parlor Mirror
A ghost may even follow you home from your voyage, as this mirror will offer a frightening surprise when the hitchhiking ghosts mysteriously appear in the frame.
Don't Forget the "Chilling" Drinks
Three new "spirits" will be available to Parlor guests, as described by Disney:
Sympathetic Libations
Want the perfect zero-proof cocktail? Look no further than the Sympathetic Libations, a non-alcoholic offering which will invite guests to sip on sour cherry and blood orange flavors in a specialty tiki mug.
Ghoulish Delight
Those with a sweet tooth will enjoy a decadent combination of ube fudge, oat milk, and tapioca pearls into a glittery purple concoction, garnished with a gummy eyeball.
Signature Beverage
This signature drink will be a ghostly twist on a classic margarita, presented to guests amidst a swirl of flavored smoke. Topped with a lemon salt foam, this tequila-based cocktail will contain a secret message, only to be revealed by black light.
If you want to try your hand at making these cocktails yourself, Disney Parks Blog has the recipes available here.
---
As if you needed another reason to embark on a Disney Cruise! This haunted hangout is sure to be jam-packed for the foreseeable future, once the Disney Treasure sets sail. Now, more than ever, is a great time to use professional travel planning services when planning your next Disney trip. Facts and Figment Travel Planning can help you score the best discounts Disney has to offer, at Disneyland, Walt Disney World, Disney Cruise Line, Aulani, or Adventures by Disney. Please start here to begin. Our travel planning services are absolutely FREE, and we can help you score the best, hardest-to-get deals to make your vacation more affordable.
Find Facts and Figment on social:
Instagram: Disney Facts and Figment
Facebook: Disney Facts and Figment