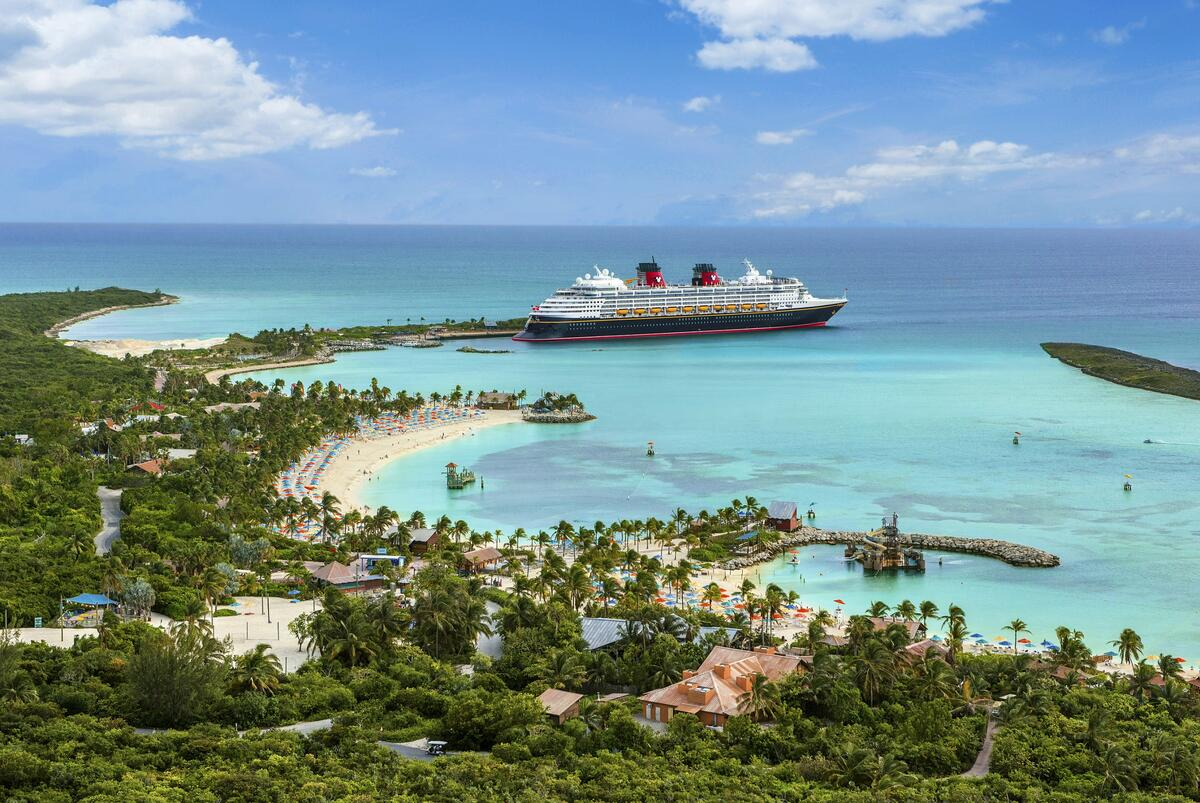 Read Time:
6 Minute, 6 Second
"I've got…two tickets to paradise. Pack your bags, we leave tonight." – Eddie Money
Idyllic white sand beaches, turquoise waters, and swaying palm trees are the stuff of vacation fantasy. On board select Disney Cruises to the Bahamas and Caribbean, fantasy becomes reality.
Welcome to Castaway Cay – Disney's privately-owned vacation island, reserved solely for guests aboard select Disney Cruise Line voyages. This guest-favorite location offers all the amenities one would need for a day in the sun with your toes in the sand. Let's explore this private paradise in the Bahamas.
From Settlers to Smugglers – Castaway History 101
Castaway Cay is all of 1,000 acres, and is only about three miles long. The Bahamian Island used to be known as Gorda Cay. The first settlers arrived on the island in 1783. The settlers were European loyalists escaping the American Revolution. Farmers were able to grow food, and soon a small village had formed on the island. It has been theorized – though not proven – that pirates have, at times, made Gorda Cay a hideaway. In more recent times (mid- to later-1900s) the island, like others in the Bahamas, fell victim to drug smuggling activity. Disney's first interest in the island came in the early 1980s, when they used the picturesque setting to film a few scenes from their 1984 film Splash. Disney was smitten by the island. The company took a 99-year lease on the island in 1997, cleaned up the neighborhood, and began welcoming Disney Cruise Line guests in 1998. Check out this piece by Everything Mouse for a more in-depth history on Castaway Cay.
How To Get There
Select three- and four-night voyages in the Bahamas include a stop at Castaway Cay, and some longer cruises (some of which also sail to the Caribbean) stop TWICE at this island paradise.
Like most ports-of-call, Disney Cruise Line ships dock right at the island, allowing guests to simply walk off the ship directly onto land, without needing to "tender" aboard a separate craft to get from the ship to the island. Don't forget to grab a towel on your way off the boat!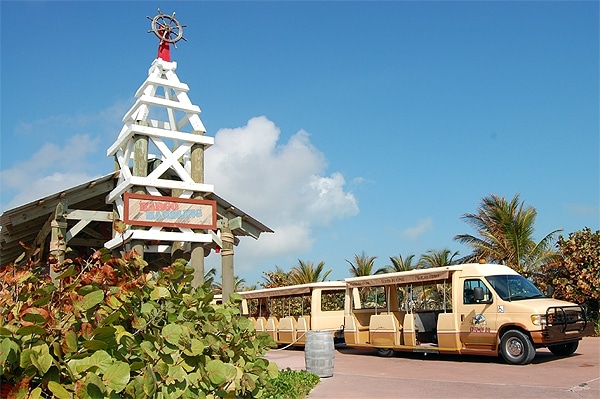 Once guests disembark, the tram stop is just a short distance away. The trams take guests to the island beaches (although you certainly can walk if you prefer – it will take about 15 minutes). Note that all trams running from the dock go to Castaway Family Beach. Guests 18 and over wishing to visit Serenity Bay Beach must switch trams.
Let's Play!
Ah, yes. The part we've all been waiting for. The beaches at Castaway Cay are beautiful, full of soft white sand and clear (and temperate) waters. As I mentioned above, Castaway Cay offers two beach areas. Tubes are available to rent at both beaches.
Castaway Family Beach is open to all guests. Complimentary beach chairs and umbrellas are set up and ready to go (but don't be too late, as these are first come, first serve).
Serenity Bay Beach is reserved for guests 18 and over, and offers a more relaxed environment for guests who just want to chill with a good book, soak up the sun, and float in the water.
Private cabanas are available at both beaches for an additional charge. They are a bit pricey, but very much worth it considering the degree of luxury and service they offer.
Beachside Sports
Swimming and sunning aren't the only activities on the beach. Disney offers an assortment of other beachside options, including sports (like volleyball and soccer) and a snorkeling lagoon.
Spring-a-Leak toddler water play area and Pelican Plunge water play area (which includes two water slides) offer additional water-packed options. Drier, shadier, and "less sandy" activities like basketball and ping pong are available at In Da Shade Game Pavilion.
Runners, if you are looking to stretch your legs off the ship, Castaway Cay offers a self-paced 5K race that comes complete with a finisher's medal. It's a nice little souvenir that feels extra good to earn!
Explore the Island (and the Ocean)
There are way more ways to explore Castaway Cay than simply walking (or running) or taking the tram. Guests can rent bicycles to explore the interior of the island. A variety of water vehicles are available to rent, including kayaks, paddleboards, aquatrikes, and small boats.
Water-based excursions will let guests fish, swim with stingrays, parasail, or simply relax on a boat tour. Disney offers experiences a la carte, and also bundles several options into a variety of packages to pack the day full of excitement.
Let's Eat!
A guest's gotta eat, right? At Castaway Cay, all guests are welcome to enjoy an all-you-can-eat barbecue lunch and unlimited soft drinks and soft serve ice cream – included in the visit.
For additional refreshments, visit Olaf's Summertime Freeze, Conched Out Bar, and Heads Up Bar. Castaway Air Bar is available for adults at Serenity Bay Beach.
Just For Kids
You've read about the adults-only options at Castaway Cay. How about the kids? The younger crowd gets their due with two special places all their own:
Scuttle's Cove cares for kids ages 3 through 12, and offers activities like sandcastle building, water games, and scavenger hunts.
Teen Hideout gives all teens through age 17 a space to chill.
Take Home a Piece of Paradise
Want to grab a bit of island swag to bring back home? Disney has you covered with two shops offering exclusive merchandise, as well as a few basic sundries.
Buy the Seashore and She Sells Seashells and Everything Else both sell beachwear and toys, hats, clothing, and even those famous Disney pins.
Castaway Cay is the perfect island getaway, tucked away in the Bahamas just for Disney Cruise Line guests. This is a can't miss for first time Disney cruisers, and veterans alike.
—
The planDisney PDF Pocket Guide offers more details on all the activities, services, food, and shopping available on Castaway Cay.
planDisney Pocket Guides are especially helpful to guests who are considering staying at a resort (or sailing on a Disney cruise ship) they've never before experienced. The Pocket Guides take the form of 5-14 page PDF slides, which are easily printable and savable to smart devices. They offer efficient snapshots of the resort basics, including:
Transportation options
Room sizes
Food and beverage options and locations
Pools and recreation activities
Shopping
Tips from the planDisney panel
Check out the full list of planDisney Pocket Guide summaries here.
Are you interested in taking a cruise aboard the Disney Cruise Line, or visiting Disneyland or Walt Disney World resort? Contact us today at Facts and Figment Travel Planning to start planning your next Disney Vacation! We'll get your trip planning off the ground, so you can start looking forward to your next magical experience.
If you enjoyed this article, feel free to reach out with a comment here or on social:
Instagram: Disney Facts and Figment
Facebook: Disney Facts and Figment