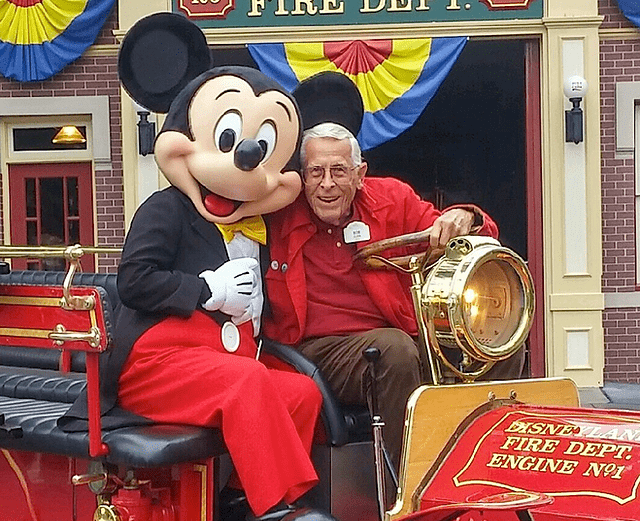 Read Time:
14 Minute, 0 Second
(A version of this article was shared with Laughing Place on March 22, 2023.)
In 1967, Disneyland celebrated one of its major historical improvements when it opened an updated version of Tomorrowland dubbed "a world on the move." The truth is, Tomorrowland – and Disneyland as a whole – were moving right from the beginning days in 1955. Walt Disney surrounded himself with a great many talented artists, and Bob Gurr stands unique as one of the most pivotal in the park's storied history. Gurr literally "figured out" how to design and build many of the most iconic moving attractions in all of Disney Parks history. During his employment with Walt Disney Imagineering, this master of movement worked on more than 100 designs for attractions.
Let's go for a spin with Bob Gurr in this edition of Disney Legends Spotlight.
Sneaky Smart
Robert Henry Gurr was born in October 1931 in Los Angeles, California. As a youth, Gurr admits to being "a real handful when I was young." In third grade, he was expelled from school and sent to a military academy. But Gurr credits loyal family and teachers for sticking with him and challenging him, while focusing his attention on things he loved. And what he loved was mechanics. He was fascinated with tools, devices, and especially cars. If it had moving parts, Gurr was interested in it.
Even after steering straight, the rebellious part of Gurr would still pop out now and then. He often snuck into Grand Central Air Terminal in nearby Glendale to climb into the cockpits of idle transport airplanes. His goal, however, was not to cause trouble – Gurr was legitimately interested in the machines he snuck in to see.
The artistic side of Gurr saw the youth draw countless sketches of automobiles and other vehicles, even going so far as doodling them on his school test papers. Taking his interest in mechanics and art for a drive after high school, Gurr attended the Art Center College of Design in Los Angeles on a General Motors scholarship. There, he studied industrial design. Gurr graduated from the school in 1952, and ironically was hired out of college by Ford Motor Company – a direct competitor to GM. Gurr moved to Detroit to make his way in the auto industry.
Shortly after beginning work for Ford, Gurr decided he wasn't meant for mass-market production (and the heavy politics of the auto industry). He preferred to try working for himself, starting his own business under R.H. Gurr Industrial Design. While drumming up some work on his own, Gurr supplemented his pay by writing two books. The first was How to Draw Cars of Tomorrow, which Gurr published in 1952. Gurr started writing his second book – Automobile Design: The Complete Styling Book – while working solo, though he didn't publish it until 1955, at which point he had started working for Disney.
Taking a Test Drive For Disney
Bob Gurr was hired in 1954 by WED Enterprises (precursor to Walt Disney Imagineering) to consult on the design of the miniature cars for Disneyland's Autopia attraction. On his first day, he entered the scene to the sight of a miniature car chassis, which needed a sporty looking body. Gurr sketched up a few designs for the body shell. Little did he know that his sketches would garner him even more work.
He was next tasked with drafting the inner workings of the chassis parts, so they could be manufactured in quantity. The only problem was, Gurr knew design, not engineering. So he did what many others have had to do while working for Walt – he said yes to the task and then learned how to do it. In this case, Gurr learned how to engineer car parts and draft them for production. The Autopia cars went through many changes over the first decade. Frequent collisions were destroying the car bodies, which led to bumpers and guard rails. Eventually – ten years after the attraction first opened – center guide rails were installed to keep the cars moving along a set path, eliminating continued collisions.
In the Driver's Seat
Autopia was Gurr's first introduction to working for Walt, but it wound up being just the first of many jobs he was given for Disneyland (and eventually other Disney parks). Let's explore a few of Bob Gurr's signature Disney contributions.
Main Street's Antique Vehicles
While designing the Autopia vehicles, Walt Disney asked Gurr to help create antique vehicles to travel along Main Street U.S.A. Gurr knew that authentic turn-of-the-century vehicles wouldn't be able to handle the stresses of daily use in Disneyland, so instead of sourcing and refurbishing antiques, he designed new vehicles that looked authentic, but actually used modern (1950s era) parts which could better stand the test of time and be easily replaced when needed. Gurr's original Main Street vehicles include a red horseless carriage, a two-story omnibus, and the Carnation truck, which didn't operate, but stayed put for guest viewing. Two years after Disneyland opened, an additional horseless carriage and a second omnibus were added to the collection. When Gurr noted to Walt that Main Street should have a fire truck, Walt tasked him with creating that as well.
Walt was so smitten by the fire truck that he often drove it around Disneyland while the park was closed!
Monorail
The story of Disneyland's Monorail is one that began in Europe, crossed the Atlantic Ocean to California, and saw the kidnapping of a high-ranking American official. Let's dig in.
In 1957, Walt wanted a streamlined line to run inside Disneyland. He put Gurr on the case, and Gurr scouted out GM's Aerotrain, which ran between Los Angeles and Las Vegas. Gurr designed a scale version of the Aerotrain for Disneyland, called the Viewliner Train of Tomorrow. The Viewliner ran alongside the Disneyland Railroad, between Tomorrowland and Fantasyland. The Viewliner was short-lived, however, as Walt's vision of the future quickly outgrew the attraction.
In October 1958, Walt Disney returned from a trip to Europe, enraptured by a high-speed German train called the Alweg Monorail. Walt wanted this for Disneyland, and he immediately put Gurr and others on the project. Walt's team created, designed, and built the Disneyland Monorail in barely nine months – a remarkably short time compared to modern construction timeframes. It opened to the public on June 14, 1959 with great fanfare, including a visit by U.S. Vice President Richard Nixon. It was on this day that Gurr assisted Walt in famously "kidnapping" the vice president and his family during an unplanned test run of the attraction.
The Monorail originally carried guests primarily above Tomorrowland, though it was expanded in 1961 to carry guests to the Disneyland Hotel. Over a decade after Disneyland's Monorail debuted, Gurr led the design on Walt Disney World's Monorail, which opened with the resort on October 1, 1971.
Matterhorn Bobsleds
The second major attraction in Disneyland's Tomorrowland Expansion is the famous (or some with back pain might say infamous) Matterhorn Bobsleds. Walt wanted to put an alpine-inspired rollercoaster inside a miniature version of Switzerland's Matterhorn Mountain. Initially, Gurr was brought in to design the bobsled roller coaster vehicles. But upon successful completion of that task, Gurr was tapped to design the roller coaster's track layout inside the mountain structure. For this, Gurr once again needed to go "back to school", teaching himself trigonometry. Gurr's successful roller coaster design proved he could create more than vehicles.
Flying Saucers
Have you ever played air hockey? Now imagine yourself sitting on the air hockey puck. That was the experience on the Flying Saucers in Disneyland, which operated for five years from 1961 to 1966. The saucers were originally proposed by an outside designer to operate like a traditional hovercraft – blowing air out the bottom to create the air cushion. When Bob Gurr tried out the proposed hovercraft unit, he found it loud and it blew air and dust everywhere. Based on Gurr's comments, a second attraction design was created. Instead of the vehicles blowing air, the attraction platform itself provided the air cushion, just like an air hockey table. Gurr designed the flying saucer vehicles, which could accommodate two guests and would float on air, moving in whatever direction the guest leaned. High operating and maintenance costs cut Flying Saucers' life short, but the attraction remains one of the most unique ever operated at a Disney park.
Submarine Voyage
The third major piece of the Tomorrowland Expansion trifecta was the Submarine Voyage attraction. The sea-based attraction is fairly generic in its storyline, incorporating elements of traditional underwater themes such as shipwrecks, ice caps, and the lost continent of Atlantis. Bob Gurr helped design the submarines for the attraction, which never actually dove fully underwater. Instead, they maintained a steady depth along a defined track. The submarine's dive was simulated through the use of directionally-aimed bubbles and variable lighting, to give guests the illusion that they were in fact descending deeper underwater. This is an excellent example of how Disney used creative ways to tell a story in an attraction.
Honest Abe
In 1963, Walt Disney was approached by several entities to create some magic for the upcoming 1964-65 World's Fair, to be held in New York. The period leading up to the Fair proved to be one of the most prolific in Disney parks history. Walt assigned many of his top Imagineers to prioritize the requests for four different attractions for the Fair.
One of these attractions – Great Moments With Mr. Lincoln – would be Disney's first attempt at using its fledgling animatronics technology to animate a full person. Bob Gurr was part of Walt's design team for animating Lincoln. The initial construction of Lincoln proved too heavy and limited in movement to offer a suitable demonstration. So Gurr stripped the figure down to the frame, studied the movement and mechanics, and was able to redesign Lincoln using fewer and lighter materials. The final result was a truly lifelike representation of Walt's favorite U.S. president – and an array of truly amazed guest faces at the Fair.
In an amusing anecdote, Gurr once lamented that Abraham Lincoln's slender frame made it extremely difficult to properly fit all the mechanics needed for his animatronic functions. Gurr quipped of the experience "Oh, gosh, why didn't Walt want Grover Cleveland?"
Ford Magic Skyway
Another Disney entry into the 1964-65 World's Fair would reunite Bob Gurr with a previous employer. Magic Skyway, sponsored by Ford Motor Company, was a dark ride that took guests for a trip back in time to the prehistoric period, ushering them from the land of dinosaurs, through the invention of the wheel, and ultimately into a futuristic city full of Ford vehicles. Of course, guests rode in a selection of Ford automobiles throughout the attraction. Gurr was tasked with designing those ride vehicles – a job which he very ably handled.
Omnimover
When enjoying dark rides in Disney Parks, we might take it for granted when our ride vehicle turns in a given direction to better face a selected scene from the attraction. We can thank the Omnimover for sparing us from straining our necks. While Bob Gurr didn't invent the Omnimover, he did coin the term, as a portmanteau of OmniRange and PeopleMover. Disney contemporaries Roger Broggie and Bert Brundage developed the mechanics for the Omnimover, building on Gurr's well-established system of slow-moving vehicles.
The first attraction to feature the Omnimover is Adventure Thru Inner Space, which opened in Tomorrowland in 1967. Other famous Disney attractions to use the Omnimover system include Haunted Mansion, Spaceship Earth, The Little Mermaid: Ariel's Undersea Adventure, and Buzz Lightyear Astro Blasters, as well as several former EPCOT attractions (most notably Horizons and World of Motion).
Beyond Disney
Bob Gurr retired from Disney in 1981 to form Gurr Design, Inc. Under this business venture, Gurr has designed and/or consulted on many projects outside the Disney universe. Here are a few of his most noteworthy creations.
Jackson Victory Tour
Gurr created a series of illuminated spider effects for the Jacksons' 1984 Victory Tour.
1984 Summer Olympic Games
For the closing ceremonies of the 1984 Summer Olympics in Los Angeles, Gurr's team simulated a flying UFO hovering over the Los Angeles Coliseum. The UFO communicated with the stadium, responding to a series of notes sounding out the Olympic fanfare tune. Gurr's team created this effect using a large black helicopter carrying a UFO-shaped illuminated object, with lights managed via remote control.
Universal Studios Hollywood
In a partnership with fellow former Imagineer Dave Schweninger, Gurr co-founded Sequoia Creative. The new company's first order of business? Creating a twenty-foot-tall fire breathing serpent for The Adventures of Conan: A Sword and Sorcery Spectacular.
Next up was a 30-foot-tall animatronic of King Kong. The gigantic animatronic weighed 13,700 pounds (or a little under seven tons).
Treasure Island
In 1997, Gurr dipped his toe in Las Vegas, designing the sinking ship mechanics for the fan-favorite pirate battle scene outside Treasure Island Hotel and Casino.
Dinosaurs
Continuing to go bigger and bigger, Gurr consulted on the design of the T-Rex animatronic for the 1993 film Jurassic Park. In 1998, he kicked it up another notch for Godzilla.
Not Finished Yet
Long after "retirement", Bob Gurr continued to consult on Disney projects. At the turn of the millennium, Gurr consulted with Garner Holt Productions (which is now a household name in mechanical themed entertainment) on the Under the Sea (Little Mermaid) show in Tokyo DisneySEA. Gurr's biggest animatronic yet was a giant Ursula figure, which measured a whopping 65 feet long and weighed 27 tons.
In more recent years, Gurr has put a large effort into documenting his life and experiences. In 2012 he published Design: Just For Fun (2012), and in 2019 he published BOB GURR: Legendary Imagineer: Life and Times – Disney and Beyond (2019)
For visitors to the Los Angeles area, Gurr hosts Walt Disney History tours and other events through his Waltland website (in conjunction with Fandom Productions).
Legendary Accolades
Bob Gurr has been recognized numerous times for his groundbreaking and imaginative work for both Disney and beyond. In 1999, he was given a Lifetime Achievement Award by the Themed Entertainment Association (THEA). He was named a Disney Legend in 2004.
Gurr is one of very few individuals who have been honored with two windows on Main Street, USA. His first window is in Disneyland, above Disney Clothiers, Ltd.:
"Leading the Race to the Future
Meteor Cycle Co.
Our vehicles pass the test of time
Fast, Faultless and Fadless
Bob Gurr"
Gurr's second window is in Magic Kingdom, over Main St. Fashion Apparel. It reads:
"The Big Wheel Co.
"One-of-a-Kind"
Unicycles
Horseless Carriages
Dave Gengenbach
Bob Gurr
George McGinnis
Bill Watkins"
Bob Gurr's remarkable Disney career lasted almost forty years. During his time, he designed some of Disneyland's most legendary attractions. His name has become synonymous with the idea of motion within Walt's park.
As Gurr himself so pointedly noted: "If it moves on wheels at Disneyland, I probably designed it."
And even if Gurr didn't design it, there's a good chance his work inspired it.
---
Thanks for rolling along with us to appreciate this legend of Disney Parks. If you'd like to reach out with a comment or to offer a favorite Bob Gurr-designed attraction, please feel free to share here or on social at:
Instagram: Disney Facts and Figment
Facebook: Disney Facts and Figment
Follow along here for additional articles in this series. We'll continue to highlight more of the extraordinary people who have shaped Disney's storied history.
Sources:
Disney D23 Legend page for Bob Gurr – Disney D23
Bob Gurr: The Wizard of Wheels – Daniel Butcher – 4/4/2013
Walt Disney and the Kidnapping of an American Official – James Smith – 12/9/2021
Bob Gurr's "Design: Just for Fun" isn't your typical Disney Legend memoir – Jim Hill – 6/20/2012
Bob Gurr's Designer Times Archive – Laughing Place, 2000-2009