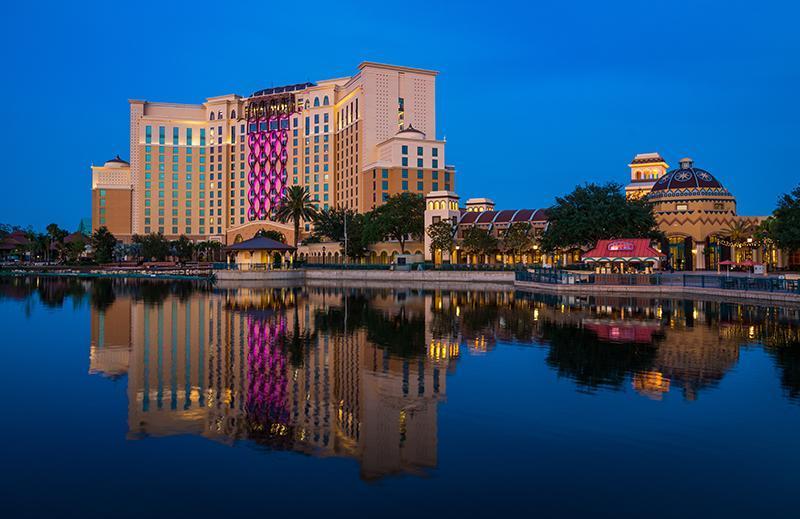 Read Time:
3 Minute, 59 Second
(A version of this article was published on Pirates & Princesses, along with similar articles on other Disney Resort Pocket Guide pieces.)
Coronado Springs Resort presents guests with a feeling of Spanish, Mexican, and Southwest American culture. This resort is a whole village, surrounding Lago Dorado in the Animal Kingdom neighborhood of Walt Disney World.
The original Coronado Springs resort area includes the Casitas Village and the Cabanas Village. However, the resort grew much taller in 2019 with the addition of the sixteen-story Gran Destino Tower. Themed with a modern touch to classic Spanish style, the tower celebrates the relationship of Walt Disney and Salvador Dali (who jointly created the breathtaking short film Destino).
The resort is located between Animal Kingdom and Hollywood Studios parks (though not close enough to Hollywood Studios to use the Disney Skyliner for transportation). Complimentary bus service is the primary option for transportation to other WDW locations, other than by car.
Between the main resort villages and Gran Destino Tower, Coronado Springs offers a wide assortment of accommodations. The villages offer rooms sleeping as few as two adults, up to the larger "Casita" suites which can sleep up to eight. Gran Destino Tower's standard rooms sleep up to four adults, and the Presidential Suites can sleep up to six adults. While Coronado Springs may not be the ideal resort to park your party of twelve, the rooms offer plenty of plush feels and varied views. The planDisney PDF Pocket Guide offers many more details on the different room types.
Dining options are plentiful throughout Coronado Springs, and here are a few noteworthy establishments. Toledo offers tapas, steak, and seafood with a Spanish flair – all amid amazing views from the rooftop of Gran Destino Tower. But before you settle in at Toledo, enjoy a drink or two at Dahlia lounge, also located on the Gran Destino rooftop.
Another unique experience at Coronado Springs is Three Bridges Bar and Grill at Villa del Lago. This casual dining restaurant is surrounded on all four sides by Lago Dorado, as the restaurant is only accessible by one of three bridges that span the lake and converge at the restaurant. The reflections off the water are stunning at night!
If you are looking for a half gallon of milk or a couple last-minute souvenirs to bring home, Panchito's Gifts and Sundries offers small groceries and resort-specific merchandise.
Guests can swim among Mayan ruins at the Lost City of Cibola Pool. The pool features a 50-foot pyramid where guests can rinse themselves in the waters streaming down the stone steps. A 123-foot-long water slide dumps kids of all ages into the pool. Three other smaller pools are sprinkled throughout the resort as well.
A 0.9-mile running and walking trail curls around Lago Dorado, kissing both villages and the Gran Destino Tower. Sunrise and sunset are beautiful times to take a stroll around this scenic lake. If you want to mix it up and find even more unique views, take your run through the lake on the three bridges that converge at the center.
Coronado Springs features a 220,000 square-foot convention center, including two ballrooms, an exhibit hall, and 45 breakout rooms. The presence of hundreds of convention attendees can sometimes dull the luster of this otherwise brightly shining resort. But if you can look beyond the meetings and nametags, the conventioneers don't cause too much trouble. In fact, maybe a bit of Disney magic will put smiles on their faces.
Coronado Springs is not the most attention-grabbing resort in WDW, but it really is gorgeous. The addition of Gran Destino Tower has elevated this resort almost to Deluxe level. This resort is worth a closer look when planning your next Disney trip.
planDisney Pocket Guides are especially helpful to guests who are considering staying at a resort they've never before experienced. The Pocket Guides take the form of 5-14 page PDF slides, which are easily printable and savable to smart devices. They offer efficient snapshots of the resort basics, including:
Transportation options
Room sizes
Food and beverage options and locations
Pools and recreation activities
Shopping
Tips from the planDisney panel
Check out the full list of planDisney Pocket Guide summaries here.
In addition to Disney Parks Blog, planDisney also releases Pocket Guides via their Instagram page. Following their IG feed may be the best way to stay updated on the newest releases. We'll continue to update this list of Pocket Guides as planDisney releases them.
If you enjoyed this article, feel free to reach out with a comment here or on social:
Instagram: Disney Facts and Figment
Facebook: Disney Facts and Figment