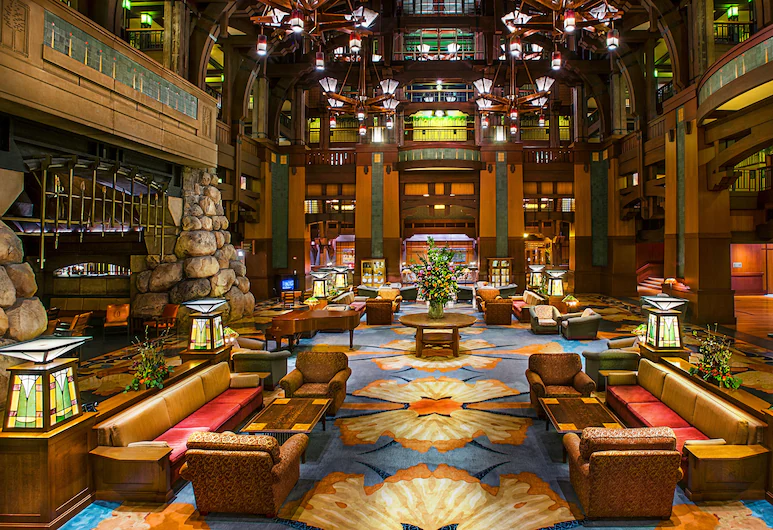 Read Time:
2 Minute, 51 Second
(A version of this article was published Pirates & Princesses, along with similar articles on other Disney Resort Pocket Guide pieces.)
Wanna stay right in the magic of Disneyland, while feeling a world away? Disney's Grand Californian Hotel and Spa is the perfect combination of rustic elegance combined with woodsy-styled craftsmanship. For east coast folks who are familiar with Walt Disney World's Grand Floridian Resort and Spa, you may expect a similar vibe. The look is totally different, but the luxury and world-class service are exactly like you'd expect from a deluxe Disney Resort.
In the recent Pocket Guide preview for Disney's Yacht Club Resort, we told you how guests can walk to two Walt Disney World parks – Epcot and Hollywood Studios. Well, take that convenience up a notch. Guests of the Grand Californian can walk out of the hotel through their own private entrance to Disney California Adventure, or take a short stroll over to Disneyland Park. No buses, no boats, no Monorails, and especially no cars!
The resort offers a wide range of room types, starting with basic rooms sleeping up to five adults, with a wide range of views, all the way up to signature suites which can sleep up to twelve. The planDisney PDF Pocket Guide offers many more details on the different room types.
Three pools are located on the hotel grounds – Fountain Pool, Redwood Pool, and Mariposa (butterfly) Pool. The Fountain Pool offers guests a hot tub to warm up on those chilly Anaheim winter evenings. The Redwood Pool caters to the tiniest of guests. Food services are offered at all pools.
Dining at the Grand Californian is top notch. Napa Rose is the hotel's signature dining experience. Storytellers Cafe offers buffet, family style, and character dining, with glimpses of Mickey and friends. GCH Craftsman Bar and Grill offers an assortment of American fare. Of course, guests can easily walk to Downtown Disney for countless other dining options.
The Grand Californian really shines with its next-level amenities, including Tenaya Stone Spa, private poolside cabanas, a state-of-the-art fitness center, and professional fitness classes. Resort merchandise and small groceries are available at Acorns Gifts & Goods (though a world of additional merchandise is located down the lane in Downtown Disney).
So close to the magic, yet worlds away – Disney's Grand Californian Hotel and Spa will leave you feeling pampered and primed for a day in the parks.
planDisney Pocket Guides are especially helpful to guests who are considering staying at a resort they've never before experienced. The Pocket Guides take the form of 5-14 page PDF slides, which are easily printable and savable to smart devices. They offer efficient snapshots of the resort basics, including:
Transportation options
Room sizes
Food and beverage options and locations
Pools and recreation activities
Shopping
Tips from the planDisney panel
Check out the full list of planDisney Pocket Guide summaries here.
In addition to Disney Parks Blog, planDisney also releases Pocket Guides via their Instagram page. Following their IG feed may be the best way to stay updated on the newest releases. We'll continue to update this list of Pocket Guides as planDisney releases them.
If you enjoyed this article, feel free to reach out with a comment here or on social:
Instagram: Disney Facts and Figment
Facebook: Disney Facts and Figment