Read Time:
2 Minute, 50 Second
(A version of this article was published Pirates & Princesses, along with similar articles on other Disney Resort Pocket Guide pieces.)
Want to escape the stress of real life (and even the hustle and bustle of Disney Parks life)? Look no further than this entry into the planDisney Pocket Guide series, coming to you from a location you may not expect – The South Carolina coastline. The recent Pocket Guide preview for Disney's Yacht Club Resort regaled you with nautical details of a seaside-themed resort. Well, Disney's Hilton Head Resort IS a seaside resort, themed to a 1940s-era hunting and fishing lodge. A home-like comfy feel and lots of outdoor activities define this resort's welcoming character.
The resort offers a wide spectrum of rooms, ranging from Deluxe Studios sleeping up to four adults, all the way to a Three Bedroom Grand Villa, which can sleep up to twelve adults. Rooms are available with a choice of woods or water views. The planDisney PDF Pocket Guide offers many more details on the different room types.
Two pools are located on the resort proper – The Big Dipper and the Little Dipper. As you might guess, the Big Dipper is much larger, and it features a wraparound waterslide and hot tub. The Little Dipper caters to the tiniest of guests.
A third pool is located just down the road at Disney's Beach House. Resort guests can access this exclusive getaway spot by traveling down a 1.25-mile bike path (shuttle service is also available). This maritime-themed clubhouse hosts an H-shaped outdoor pool, and an air-conditioned lounge stocked with comfy furniture, games, and a flat screen TV.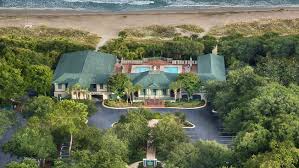 Disney's Hilton Head Resort offers just a couple basic food options – quick service lunch and snacks are available at Signals Seaside Grill, and Tide Me Over offers breakfast, lunch, and snacks. But hold the trumpets – Dole Whips are available at both locations! Hilton Head Island is full of amazing dining options (over 250 in fact), and guests mainly travel outside the resort for dinner.
This resort offers plenty of outdoor activities for all ages and interests, including dolphin and nature discovery trips, nature walks, bike rentals, tennis, golf, and evening campfires. Resort merchandise and small groceries are available at Broad Creek Mercantile Shop.
Disney resorts pride themselves on making their guests feel comfortable, and Disney's Hilton Head Resort provides the low-key relaxation vibe that truly feels like home.
planDisney Pocket Guides are especially helpful to guests who are considering staying at a resort they've never before experienced. The Pocket Guides take the form of 5-14 page PDF slides, which are easily printable and savable to smart devices. They offer efficient snapshots of the resort basics, including:
Transportation options
Room sizes
Food and beverage options and locations
Pools and recreation activities
Shopping
Tips from the planDisney panel
Check out the full list of planDisney Pocket Guide summaries here.
In addition to Disney Parks Blog, planDisney also releases Pocket Guides via their Instagram page. Following their IG feed may be the best way to stay updated on the newest releases. We'll continue to update this list of Pocket Guides as planDisney releases them.
If you enjoyed this article, feel free to reach out with a comment here or on social:
Instagram: Disney Facts and Figment
Facebook: Disney Facts and Figment