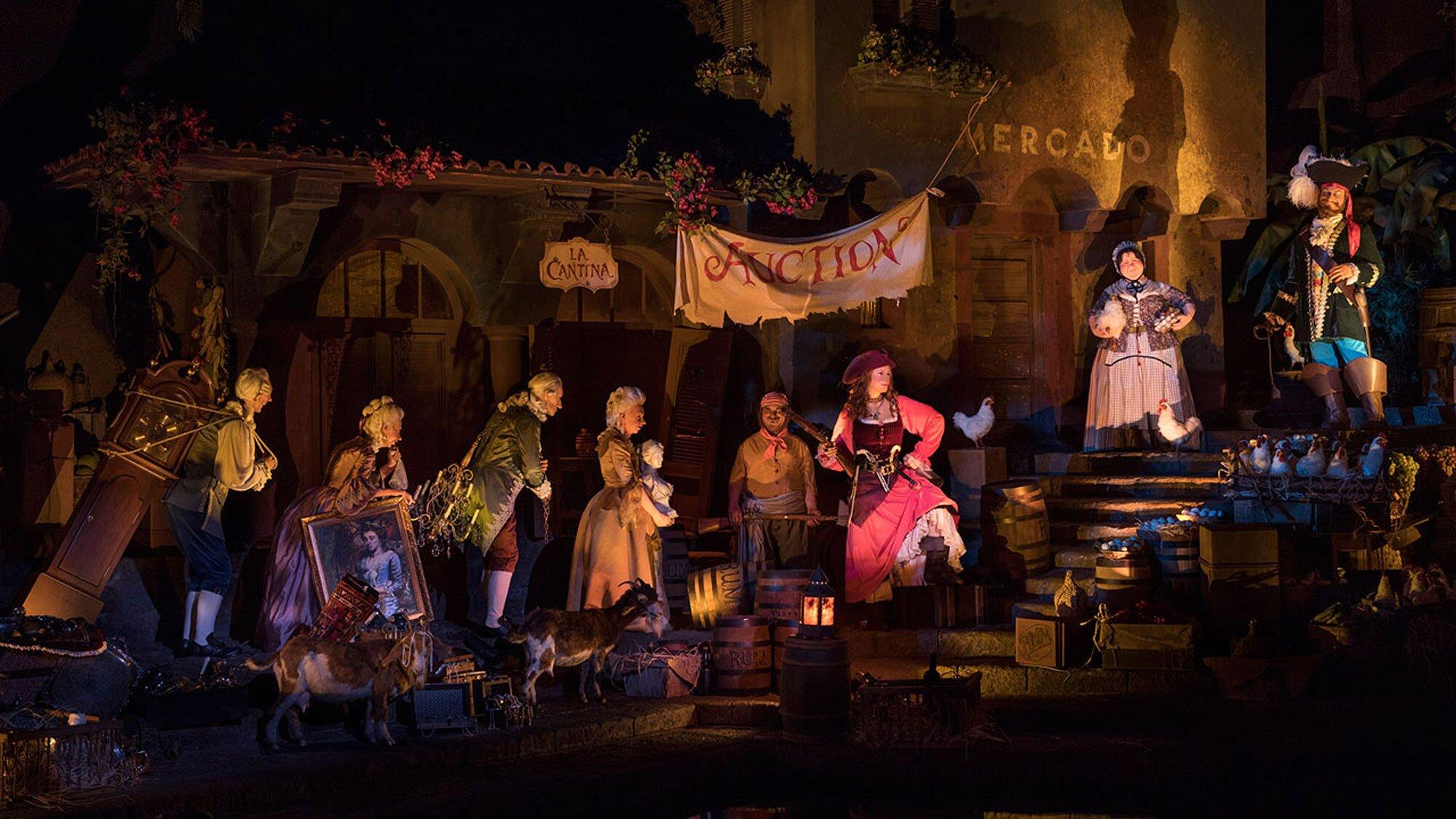 Read Time:
10 Minute, 49 Second
(I published a version of this post for Pirates & Princesses, along with similar posts on the most popular attractions at Epcot, Disney's Hollywood Studios, and Disney's Animal Kingdom.)
Magic Kingdom – Walt Disney World's original theme park – recently turned fifty years young. It is the park with the most attractions, offering guests of all ages endless opportunities for a magical visit. So what are the most popular attractions at Magic Kingdom? Take a look at my top picks, many of which I consider must-dos for your first trip (or every trip).
Space Mountain
Let's start this list off with a bang. One of Magic Kingdom's famous "mountains", Space Mountain is not for the faint of heart. The iconic indoor coaster opened in 1975 and takes guests on a journey into space (where everyone can hear you scream). The ride speed tops out at 27 MPH, which is relatively low for a modern coaster. But what it lacks in speed it makes up for with a seemingly endless string of twists and turns – all in almost complete freaking darkness.
Guests heading through the indoor queue may wonder why they have to walk so far to get to the loading area. This is because Space Mountain was added to Tomorrowland several years after the park opened. The Instagram-friendly show building is actually located outside the original park boundary. The tunnel to the loading zone gently ramps down, then back up, taking guests underneath the Walt Disney World Railroad tracks and outside the "berm."
Splash Mountain
"Zip-a-dee-doo-dah, zip-a-dee-ay
My, oh, my, what a wonderful day"
Frontierland's Splash Mountain is a fan favorite flume ride, especially on a hot Florida day. Audio animatronic critters are front and center here as guests tour the deep southern critter country. The story follows the journey of the restless (and reckless) Br'er Rabbit as he gets into trouble with Br'er Fox and Br'er Bear. Hold onto your hat and prepare to get wet when you dive into the briar patch!
Ride this attraction while you still can, as it is currently on the endangered species list. For socially sensitive reasons related to the attraction's inspiration film Song of the South, Disney Imagineers are redesigning this attraction to be themed to the animated feature film The Princess and the Frog. Our best guess is that the attraction will close permanently within the next year or two.
Big Thunder Mountain Railroad
Right next door to Splash Mountain is the "wildest ride in the wilderness." Big Thunder Mountain Railroad – the third of Magic Kingdom's Mountains – takes guests on a runaway train through the southwestern town of Tumbleweed. This coaster reaches speeds up to 35 MPH, but the sharp curves can make it feel a whole lot quicker. Big Thunder is a family-friendly coaster, as most kids can handle it fairly readily. This is my favorite coaster in Magic Kingdom.
For a completely fresh experience, ride this train at night. The dimly lit town comes to life when the sun goes down.
Seven Dwarfs Mine Train
Half rollercoaster, half dark ride, Magic Kingdom's newest coaster carries guests through a diamond mine being scoured by Snow White's friends, the seven dwarfs. The swaying cart speeds into the mine, slows down so guests can greet the dwarfs, then continues to roll on its zig-zag way. This coaster tops out at 34 MPH and will get plenty of giggles out of its guests, both big and small.
Seven Dwarfs Mine Train pays homage to Snow White, Disney's first princess, who also hosted a dark ride attraction in Magic Kingdom for forty years before it closed in 2012.
Haunted Mansion
"We have 999 happy haunts here, but there's room for a thousand."
Haunted Mansion is perhaps the most iconic attraction in all of the Disney Parks. Guests board "Doom Buggies" to experience an unearthly blend of humor and horror that only a Disney haunted house can offer. This attraction is classic Disney storytelling and Imagineering at its best, as many Disney Legends contributed both ideas and mechanical imagination to its creation.
Don't just race to the attraction using Genie+. The queue winding through the graveyard is one of the very special things about the Haunted Mansion. Many Disney Legends are cleverly recognized in the tombstones and other memorials on display. After the attraction, you may even notice a pet cemetery, in which resides a certain famous toad in particular.
Pirates of the Caribbean
"Yo ho, yo ho, a pirate's life for me!"
My absolute favorite Disney dark ride is the classic Pirates of the Caribbean. Guests feel the (very refreshing) cool dampness in the air while boarding boats for this dark ride masterpiece. Once the boat departs, guests wade through a series of classic pirate scenes, experiencing the tales of the pirate days of old. A combination of intimate personal moments and larger battle scenes gives guests something new to notice with every ride. Keep an eye out for Captain Jack Sparrow – the rum-swilling buccaneer joined the attraction in 2006.
The Disneyland version of this attraction has the distinction of being the last attraction to which Walt directly contributed, although it opened after his death.
Jungle Cruise
Once out of the Caribbean, take another boat ride, back in time and along several exotic rivers of the world. Guests will meet playful elephants, angry lions, and mischievous monkeys while winding through this time-stamped jungle of the early 1900s. The audio-animatronic animals are a blast, but the real stars of the show are the Jungle Cruise skippers. They offer a non-stop barrage of corny one-liners that will have guests chuckling (especially the adults).
Here are a couple of personal favorite Jungle Cruise Skipper jokes:
"I love my job as a skipper. In fact, my parents are so proud…of…my brother…."
"Everyone watch out for Ginger. Ginger snaps. That's right, she's one tough cookie. I know, I know…it's a crumby joke, but I milk it for all I can!
If you visit Magic Kingdom at Christmastime, be sure to take a ride on the "Jingle Cruise!"
It's a small world
Let's stay in the water for one more top attraction. "The happiest cruise that ever sailed" embodies the essence of Walt Disney like few other attractions can. It's a small world takes guests on a boat ride around the world, viewing our world through the eyes of a child.
Yes, there is always the matter of that particular earworm (you know how it goes). But if you're going to have a Disney tune stuck in your head all day, it may as well be a Sherman Brothers ditty full of inspiration and cheer.
Peter Pan's Flight
"Come on, everybody, here we gooooo!"
Peter Pan's Flight is classic Fantasyland dark ride fare at its best. Guests board a small ship and sail the sky – not the water – out over London and on to Neverland. Party with the lost boys and sing with the natives, but watch out for Captain Hook (the world's most famous crook). Despite a cornucopia of modern rides available in Magic Kingdom, Peter Pan still excels among the young, and the young-at-heart. A recently redesigned interactive line queue helps make the wait feel more bearable.
"You can fly! You can fly! You can fly!"
Tomorrowland Transit Authority PeopleMover
Let's wrap up where we started, and round out our list back in Tomorrowland. The TTA PeopleMover offers a calm, peaceful, and rejuvenating break in the midst of a hectic and exhausting day in Magic Kingdom. Before even boarding the PeopleMover, guests experience a taste of Tomorrowland by escalating up a moving ramp, to a circulating loading zone. Once onboard, guests enjoy a casual cruise above the busy streets of Tomorrowland. This simple experience has developed something of cult popularity.
While passing along the edge of Space Mountain, keep an eye out for the Progress City model, which was inspired by Walt Disney's vision of EPCOT – the Experimental Prototype Community of Tomorrow.
Don't Overlook These Gems!
Now that I've offered my official favorites, let's give some consideration to these often overlooked attractions and experiences, which tend to be passed by most guests in their dash to the next big thing.
Swiss Family Robinson Treehouse
I always climbed trees and made forts as a kid, so climbing the different levels of the Swiss Family Treehouse is a no-brainer to entertain my whimsy. The cool nooks and crannies and clever castaway inventions inspire creativity. Also – the view from near the top of the tree is one of the sneaky best in all of Magic Kingdom, offering unique angles of Cinderella Castle and Space Mountain.
This attraction is even better appreciated after seeing the film, Swiss Family Robinson. The film is a bit dated, but still offers a cool romantic view of being stranded on a lush tropical island. Did I mention there is never a wait to enjoy this self-guided attraction?
Tom Sawyer Island
Speaking of unique views, Tom Sawyer Island offers a perspective of Frontierland and Liberty Square that you can get nowhere else. Your photos of Big Thunder Mountain and Haunted Mansion are sure to get some traction on Instagram. Boarding a small skiff boat over to the island may seem like a hassle, but the process takes no longer than most attraction queue lines (in fact it's usually shorter).
When exploring the trails and caves of the island, guests really feel like they are in another world – hard to believe when they are so close to the bustle of Magic Kingdom! This is a great place to let kids explore and do their thing.
Walt Disney's Enchanted Tiki Room
If you are looking to purge the "it's a small world" theme song from your brain, try replacing it with the Tiki Tiki Tiki Tiki Tiki room. Another gem from the legendary Sherman Brothers brings this cast of birds, flowers, and Tiki gods to life as they sing you a serenade or two. The open-air (but sort of indoor) attraction gives guests a low-key place to chill for a bit. Wanna kill two birds with one stone (pardon the pun)? Grab a Dole Whip next door at Aloha Isle, and enjoy your treat during the show. The Enchanted Tiki Room is one of the very few attractions where food and drinks are allowed (trust me, I once had to dump an entire slush into a Tomorrowland trash bucket because I wasn't allowed to take it on the PeopleMover).
Fun Fact: Walt Disney originally planned for the Disneyland version of the Tiki Room to be a table service restaurant, where feathered friends would serenade the guests. The final version did not include a restaurant, but it's still a nice place for a break in the day.
Walt Disney's Carousel of Progress
Another Walt Disney original, the Carousel of Progress harkens back to the early 20th century, taking guests on a tour of the timeline of progress. With three of the four scenes covering the first half of the century, and the final scene depicting a tomorrow that is already in the past, the attraction is admittedly a little outdated. But what it lacks in cutting-edge demonstration, it makes up for with the classic Disney charm (and air conditioning). Stop into this carousel for a seat, and your feet and back will thank you.
The Dapper Dans
This last entry on my list of overlooked attractions isn't technically an attraction. The Dapper Dans are a vintage (and very talented) barbershop quartet. They come out on Main Street several times a day, offering a host of choral delights, ranging from current Disney tunes to classics from the great American songbook. But it's not just their singing that entertains. Their witty banter in between numbers, and their active engagement with the audience, make the Dapper Dans a must-see entertainment option. If you've seen them before, then you may have seen their odd-looking instruments, which are a lot harder to play than they look. Check out the daily times guide to make sure you're around when they come out.
Magic Kingdom offers many more attractions, entertainment, and experiences than the ones listed above. Future pieces in this series will explore other types of entertainment within this magical park.
Check out a few of my favorite attractions in Walt Disney's other theme parks, including Epcot, Disney's Hollywood Studios, and Disney's Animal Kingdom.
Feel free to reach out with a comment here, or send a direct message on social:
Instagram: Disney Facts and Figment
Facebook: Disney Facts and Figment