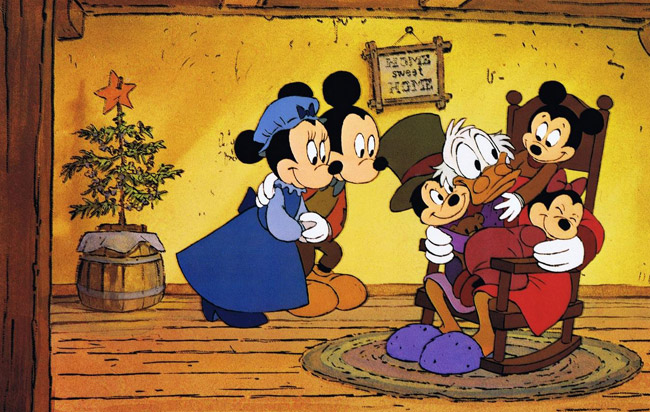 Read Time:
3 Minute, 27 Second
Charles Dickens' 1843 short novel A Christmas Carol is one of the most oft-adapted Christmas tales in modern times, and Disney is no stranger to putting their heartwarming spin on a classic tale.
If you're a fan of Mickey's Christmas Carol, then you undoubtedly delight in the potpourri of cameo characters who make an appearance in the film. The more obvious integral characters include Mickey and the gang, but there are also a great many smaller character roles that color this film.
Dig a little deeper, and you just may notice how the origin of most of the cameo characters come from Disney adaptations of classic British literature – nods to several timeless British classics. Let's identify a few of these lovable characters, by their stories.
The Wind in the Willows
British novelist Kenneth Grahame's 1908 children's book inspired Disney's amusing animated adaptation of Mr. Toad's journey to "nowhere in particular." This 1949 short film spawned a legendary Disney Parks attraction.
J. Thaddeus Toad (affectionately known to most as Mr. Toad) sits high upon a perch as old Mr. Fezziwig, playing his violin to the delight of his party guests.
Angus MacBadger dances with glee at Fezziwig's party.
Mole and Water Rat roam the streets of old London collecting donations for the poor.
Mr. Toad's horse, Cyril Proudbottom, pulls Fred's (played by Donald Duck) cart around town.
Two of the weasels snarkily dig a grave for Scrooge in the Christmas Future scene.
Robin Hood
This legendary heroic outlaw was originally depicted in English folklore, and has since found a place in literature and in a great many films. Disney's 1973 adaptation of this tale contributed several townsfolk to Scrooge's London.
Skippy and Toby can be spied playing in the streets at the end of the film.
Lady Kluck, Sis, and Tagalong enjoy Fezziwig's party.
Mother Rabbit and Grandma Owl cower with nervousness watching Scrooge demonstrate his remarkable transformation in the streets of London, while Otto the dog is a beggar in the street.
The Three Little Pigs
Did you know the story of The Three Little Pigs has a British origin? The earliest versions of this fable took place in the British countryside. The fable has since been adapted to fit many cultures and locations. Walt Disney topped the charts of early animation with 1933's The Three Little Pigs, and introduced a smash radio hit Who's Afraid of the Big Bad Wolf?
In Mickey's Christmas Carol, Big Bad Wolf hangs out as a street corner Santa, while the three little pigs sing Christmas carols with him. Two of the three pigs can be seen running through the streets in another scene from the film.
Other British literature based characters attending Fezziwig's yuletide bash include Uncle Waldo from The Aristocats and the Secretary Bird from Bedknobs and Broomsticks.
I had never noticed the cultural presence of so many Disney-adapted British characters in Mickey's Christmas Carol. This is exactly why I love listening to the Book of the Mouse podcast. Hosts Courtney and Emily routinely dive a little deeper into Disney-related or Disney-inspired books, and come up with some excellent nuggets, as well as great recommendations for readers with an appetite for Disney-inspired content. Their recent podcast episode discusses Charles Dickens' A Christmas Carol, and explores three Disney adaptations on the classing Christmas tale. This episode is well worth a listen, and you can find it wherever you get your podcasts.
Merry Christmas and Happy Holiday friends. If you enjoyed this article, please feel free to share it with friends using one of the buttons below, or by copying/pasting the URL for this post. And please, consider joining our mailing list, if you haven't already. I only send one email a week, so I won't clog your inbox!
Follow Facts and Figment on social media:
Instagram: Disney Facts and Figment
Facebook: Disney Facts and Figment