Read Time:
1 Minute, 49 Second
Which American Government Official Did Walt Disney "kidnap" aboard his newly opened Disneyland Monorail?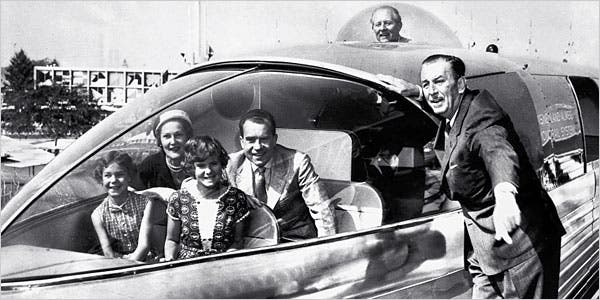 Answer: Vice President Richard Nixon
For the grand opening of Tomorrowland's newest attractions, Vice President Richard Nixon was on hand for the festivities. Prior to the ceremony, Walt took Mr. Nixon and his family (along with the Mr. Nixon's Secret Service entourage) to the monorail for an in-place inspection tour of the train at the Tomorrowland station. The Nixons were having a great time checking out the inside of the train, and Walt was so excited he told his engineer Bob Gurr "Let's go" to give them a test ride. Gurr closed the doors and stepped on the pedal. As they pulled out of the station, Mr. Nixon swore, realizing (with delight) that his Secret Service detail had been left on the loading platform. Walt and Bob had literally kidnapped the vice president!
The train took a lap around the park, and as it was approaching the Tomorrowland station to complete the lap, Nixon's daughters shouted "Let's go again!" Walt ordered Bob to give them another lap. The train sailed right through the station, again leaving the Secret Service in its dust. Nixon howled with laughter. By this time, Bob Gurr was sweating bullets, carrying unauthorized cargo in Walt's Monorail.
When they returned back to the Tomorrowland station a second time, they came to a stop and the Nixon family disembarked. When they looked back at the train, they saw the Secret Service was now inside the train, not realizing the Nixons had gotten off. The Secret Service looked more like the Keystone Cops! Nixon said to his detail in amusement "You should have seen the looks on your faces!"
All's well that ends well, and the Nixons enjoyed the rest of their day at Disneyland. Though Bob Gurr's heart skipped a few beats that morning!
Walt, you are one of a kind for sure!
Thanks for reading friends. As always, feel free to reach out here with a comment, and find me on social:
Instagram: Disney Facts and Figment
Facebook: Disney Facts and Figment