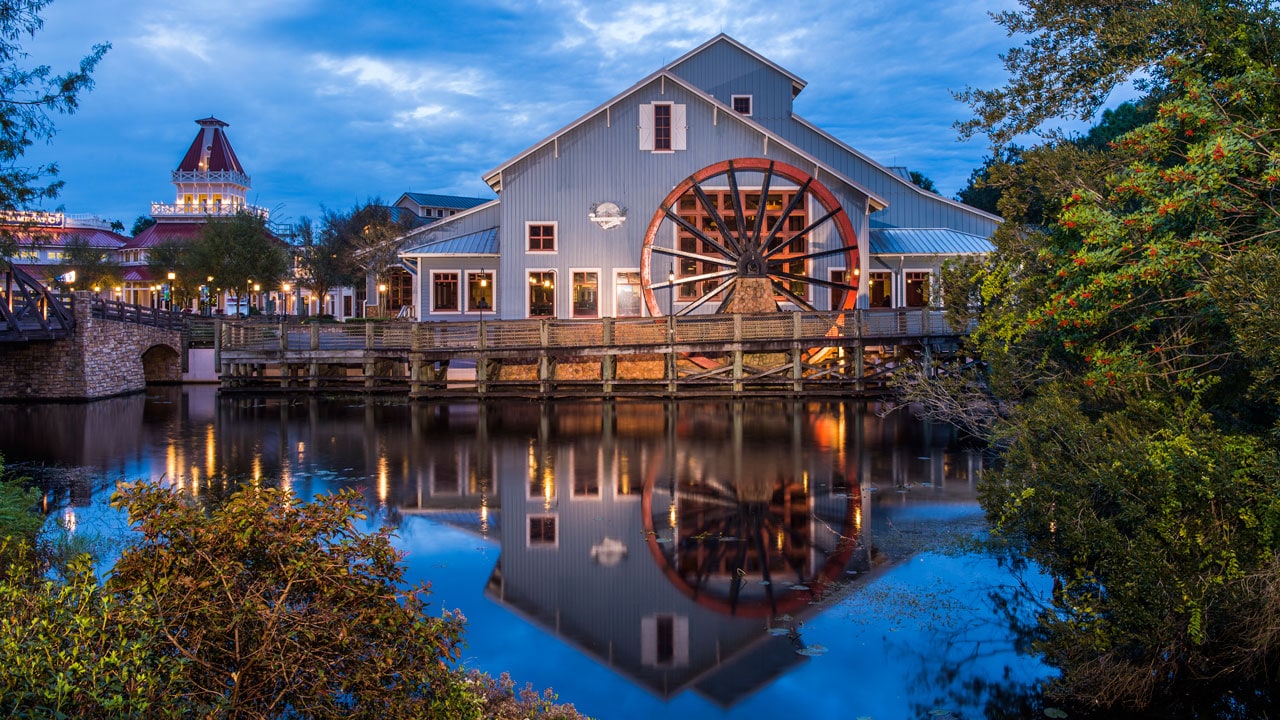 Read Time:
3 Minute, 11 Second
"Gonna lay down my sword and shield,
Down by the riverside…"
planDisney Pocket Guides recently offered guests some ideas for jazzing up their resort stay at Disney's Port Orleans Resort: French Quarter. Now, take a short stroll along the Sassagoula River to take the energy down just a notch with a relaxing stay at Disney's Port Orleans Resort: Riverside. This sister resort to French Quarter offers guests the choice of staying in a plush antebellum mansion at Magnolia Bend, or in one of the colorful cottages over in Alligator Bayou. Either way, you'll feel right at home in rural Louisiana.
No matter where you walk, you're never far from the water, in what may be the most picturesque resort in all of Walt Disney world. Enjoy a stroll along the Sassagoula River on the fitness trail connecting Riverside to its sister resort – Port Orleans Resort: French Quarter. Roast marshmallows at night on Ol' Man Island, go for a swim in the island's swimmin' hole, or try your hand at catching a fish in the fishin' hole. The pool's water slide is inspired by an old fashioned sawmill slide.
Hungry? The resort offers four excellent food and beverage options, including the Riverside Mill Food Court, River Roost Lounge, Muddy Rivers Pool Bar, and Boatwright's Dining Hall. Or, you can simply walk over to Port Orleans: French Quarter for even more options (such as the famous Mickey Beignets).
Speaking of River Roost Lounge – there's a lot more to this joint than simple food and drink. Check out Yehaa Bob at the lounge, and get your boogie on! Bob performs a variety of energetic tunes from the great American songbook most nights. Check the resort schedule ahead of time to make sure you'll get to witness his most unique performance.
Want to do some shopping, grab a bite away from the resort, or catch a performance of Cirque du Soleil: Drawn to Life? Hop in a water taxi and cruise on over to Disney Springs.
Riverside offers a wide variety of rooms, ranging from two to five people. If you have a little princess in your party, check out one of the Royal Guest Rooms. Nods to these strong Disney heroines abound in these lavishly themed rooms.
We've stayed at Port Orleans: Riverside as a family. We absolutely loved the beauty and relaxing atmosphere of the resort, and I definitely recommend the resort to both the ultimate Disney fan, as well as those who might like a resort that doesn't exude over-the-top Disney character theming. Even if you aren't planning to stay at Port Orleans: Riverside, the resort is still worth the trip to check it out (and maybe put it on your list for your next Disney trip). The planDisney PDF Pocket Guide offers more details on this charming resort.
planDisney Pocket Guides are especially helpful to guests who are considering staying at a resort they've never before experienced. The Pocket Guides take the form of 5-14 page PDF slides, which are easily printable and savable to smart devices. They offer efficient snapshots of the resort basics, including:
Transportation options
Room sizes
Food and beverage options and locations
Pools and recreation activities
Shopping
Tips from the planDisney panel
Check out the full list of planDisney Pocket Guide summaries here.
In addition to Disney Parks Blog, planDisney also releases Pocket Guides via their Instagram page. Following their IG feed may be the best way to stay updated on the newest releases. We'll continue to update this list of Pocket Guides as planDisney releases them.
If you enjoyed this article, feel free to reach out with a comment here or on social:
Instagram: Disney Facts and Figment
Facebook: Disney Facts and Figment