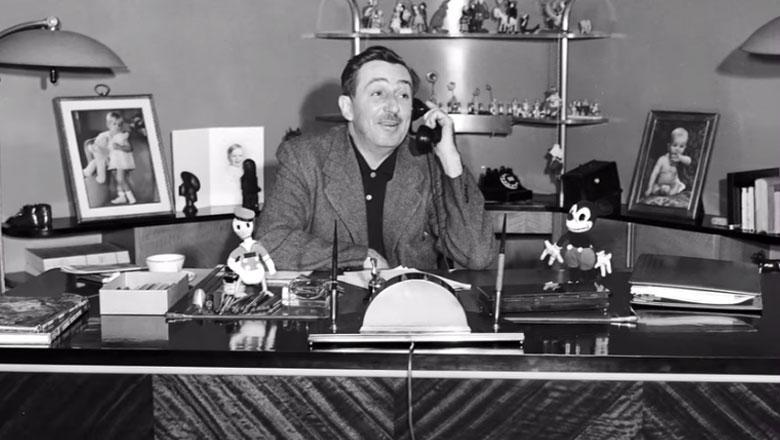 Read Time:
1 Minute, 40 Second
We're just two days shy of Walt Disney's 120th birthday, so I thought I'd share a fun little Walt fact today.
For fans of Walt, the opportunity to step foot inside his office at the Walt Disney Studios is of the same magnitude as a visit to a religious shrine or a historical monument. Unfortunately, very few fans will ever be so lucky to have that opportunity. But Adventures Thru the Walt Disney Archives – a behind-the-scenes documentary recently released on Disney+ – gives fans an opportunity to see "the room where it happened."
Well, Walt didn't have just one office – he had two. An outer office – more for reception and display – and a second, inner office where Walt spent more of his private working moments. But not only did Walt's office have a second office – it also had a kitchen. Slide-away wooden doors revealed a sleek 1950's-style kitchen, complete with a window counter, stove, oven, refrigerator, and cabinets stocked with Walt's favorite foods – canned chili, canned ham, and V8 juice!
Check out this walkthrough video showing many details from the place where Walk worked:
Adventures Thru the Walt Disney Archives – hosted by the brilliant Disney producer Don Hahn – is chock full of amazing pieces, including animation, sculptures, set pieces, documentation, and even key locations in Walt's life. This film is a quick watch, coming in at just under an hour, but it will guarantee every true Disney fan an eyeful of history and the need for a couple tissues.
And Happy 120th Birthday to Walt Disney – a legend then, now, and forever!
If you enjoyed this article, please feel free to share it with friends using one of the buttons below, or by copying/pasting the URL for this post.
Follow Facts and Figment on social media:
Instagram: Disney Facts and Figment
Facebook: Disney Facts and Figment