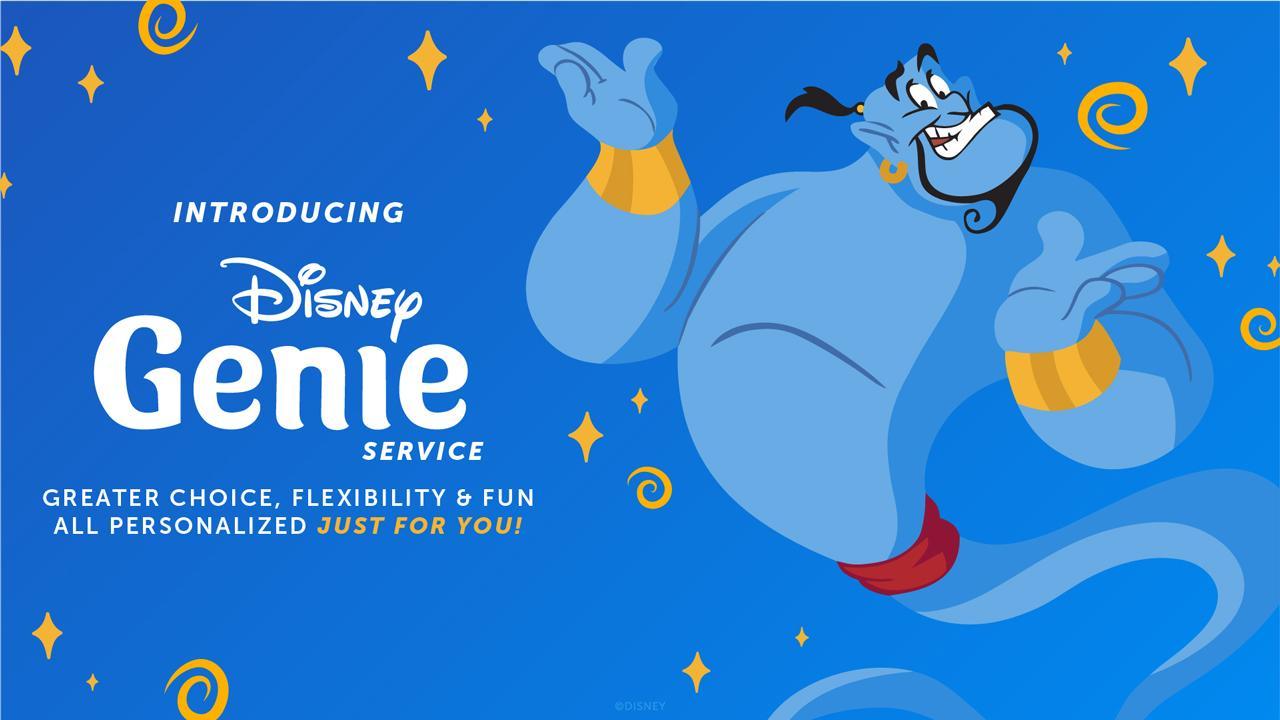 Read Time:
5 Minute, 17 Second
We all knew this was coming, and here is it. Disney primed us for this back at the D23 Expo in August 2019. Then COVID hit, and we largely forgot about it. But Disney didn't. At long last, and introduced in careful consideration of guest feedback, Disney has formally introduced the Genie service. It is coming soon (though not exactly sure when, other than "Fall 2021") at an American Disney park near you.
As expected, passionate Disney fans (and any potential visitors without loads of expendable income) have significant concerns about the new service – particularly the paid options. I'll highlight a few of the major points here, and give you my honest opinion on information shared so far, at the end of this article.
What is Genie?
Don't think of Genie as an evolution of the Walt Disney World FastPass system. Genie is much more similar to the MaxPass system previously used in Disneyland. Even the pricing is similar. The WDW FastPass system and the Disneyland MaxPass system will both be retired.
But first – let's start with this. All attractions will continue to offer the traditional standby queue. This will stay "free." For select attractions that use virtual queues (Star Wars: Rise of the Resistance, Spiderman: Webslingers, and the upcoming Remy's Ratatouille Adventure) guests will still have the option to compete for a spot in the virtual queue without paying extra.
How Genie Will Work
In the sections below, I go step-by-step through the different versions and options that will be offered under the Genie Program. The information is just surface level detail at this point, but it gives a basic idea of how the program will work.
Genie Service
The base version of the Genie service is free to all guests. It will reside on your phone, within the My Disney Experience app, and will help guests plan the activities of their Disney vacation, starting from when they first book the trip.  Based on information guests enter, the program will suggest attractions, dining, and overall itineraries.
Genie+ Service
The Genie+ service is a souped-up version, available for purchase. It will cost $15 per guest per day at Walt Disney World Resort,  and $20 per guest per day at Disneyland Resort.  If you opt to purchase it, you'll be able to make choices on prioritizing your favorite attractions – one attraction at a time – to visit with minimal wait using the Lightning Lane entrance (formerly known as FastPass entrances). This can be used across multiple parks for those who enjoy park hopping.
Disney Resort Guest Perk – Guests of Walt Disney World resort hotels will be able to start making Genie+ attraction selections beginning at 7:00 AM. All other guests may begin making selections once they enter the park.
Individual Attraction Purchases
Completely separate from Genie or Genie+ services, guests may choose to purchase individual attraction selections (which will be offered for some of the most popular attractions) in an a la carte manner, instead of through the Genie service. There will be a limit of two attraction purchases per guest per day, and these options are subject to limited availability. The cost for purchasing these options has not yet been released by Disney, but it will likely vary by date, attraction, and park, and will be announced closer to launch of the service. Again – you'll be able to buy this in addition to OR instead of the $15/$20 Genie+ option.
Enhanced Audio, Augmented Reality, and PhotoPass
Genie+ will also include Disney parks-themed audio experiences and photo features to capture your memories – augmented reality lenses for those visiting Walt Disney World Resort and unlimited Disney PhotoPass downloads from your day if you are visiting Disneyland Resort. To clarify – guests at WDW will still need to purchase the Memory Maker package for all traditional Cast Member and attraction-based photo experiences.
Initial Take
I've read the posts, I've listened to the podcasts, and I've chatted on social media. After doing my best to put all the pieces together (at least, all the pieces Disney has given us) I've formulated my initial thoughts. I must admit, I'm a smidge disappointed that this next generation of Disney Parks planning won't be free, considering how much just the base cost of a Disney vacation has become. But I'm cautiously optimistic that the program can be effectively used for minimal additional cost. In other words – I'm not totally down on it, and will pony up a moderate amount of cash if it proves worthwhile. Like any new program, it will have bugs at first. And on the brighter side, guests will get used to the new experience and learn how to use it with more efficiency.
Still Confused? Use a Travel Planner!
This is a ton of new information, and it will greatly change the way guests approach a Disney vacation. I've been to WDW and Disneyland a total of four times over the last eight years. I've enjoyed the planning part of the trip, but this is starting to feel a little overwhelming, even to a Disney nut like me.
Now more than ever, planning a Disney trip is much more easily accomplished with the help of an authorized and experienced Disney vacation planner. I highly recommend using Far Beyond Infinity Travel for your travel planning. Not only will they help you figure out how this magic Genie works, they will help fill your vacation tank with magic, from the resorts, to the parks, to the restaurants, and even to the airport – all at no charge to you. Check out Far Beyond Infinity Travel, and be sure to contact them at [email protected] for a FREE no-obligation quote request.
If you found this article helpful, please share it with friends using one of the buttons below, or by copying/pasting the URL for this post. And please encourage your friends to join our mailing list. It only sends out one email per week, so it won't clog your email inbox. Thanks so much, and have a great day!
Follow Facts and Figment on social media:
Instagram https://www.instagram.com/disneyfactsandfigment
Facebook https://www.facebook.com/disneyfactsandfigment.