Which Disney film character's personality is a combination of Keith Richards and Pepe Le Pew?
Why, none other than Captain Jack Sparrow!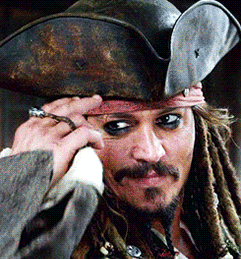 Captain Jack is a legendary pirate of the Seven Seas, and his character combines the laid back cool of the Rolling Stones' Keith Richards with the suave charm of Pepe Le Pew.
Captain Jack's famous feats are rivaled only by his unending tricks, and his morals are about as dependable as his supply of rum. While he may be a master of promoting his own conquests, Jack is constantly in battle with his own moral compass. Nonetheless, we wouldn't have him any other way!
Savvy, mate?
If you enjoyed this trivia question, share it with a friend using one of the share buttons below (or scribe your inner seadog and copy/paste the URL).

We are on Instagram at https://www.instagram.com/disneyfactsandfigment and Facebook at https://www.facebook.com/disneyfactsandfigment.