Read Time:
11 Minute, 23 Second
On July 5, 1989, NBC debuted a pilot series for "a show about nothing." That's it. No sophisticated plot. No significant goals. No major challenges. This show about nothing went on to run nine seasons and 180 episodes, and become one of the most iconic television comedy series of all time. The series was billed as the daily life and times of New York-based comedian Jerry Seinfeld, and captures the humorously mundane exploits of Jerry and his friends George Costanza, Elaine Benes, and Cosmo Kramer. I grew up during the height of Seinfeld's popularity, and I consider it without a doubt to be my favorite television show of all time.
Being a huge fan of both Seinfeld and Disney, and knowing of a few connections between the two, I set out to see what other common bonds these two pop culture powerhouses might share. There were more than I expected, and from some surprising places.
Jerry Seinfeld and Larry David
The main man, the center of the show, the legend himself, Jerry Seinfeld actually has no direct Disney connections. Seinfeld is a self regarded super fan of Superman. But since Superman is a DC Comics hero – not Marvel, maybe Jerry had to "play for their team."
Larry David is co-creator of the show, and his real life personality was the inspiration for George Costanza. He also does a great George Steinbrenner voice as the New York Yankees General Manager (and George Costanza's boss). David does have one minor brush with Disney – he made a cameo appearance as himself in the television series Hannah Montana. In fact, he was the first celebrity on the show to cameo as himself.
Elaine Benes – Julia Louis-Dreyfus
As Jerry's on again/off again girlfriend Elaine, Julia Louis-Dreyfus is smart (but not too smart), snarky, and flip. Elaine will never be recognized as an accomplished dancer, but she couldn't keep herself from humming a Disney tune in Season 9, Episode 6: The Merv Griffin Show (undoubtedly one of my favorite episodes).
Elaine: It happened as I was making cup-a-soup, singing that song from "The Lion King."

Jerry: 'Hakuna Matata'?

Elaine: I thought I was alone.

Jerry: That doesn't make it right.
Disney music earworms take no prisoners.
Pixar fans may know Julia Louis-Dreyfuss as the wide eyed ant Princess Atta in A Bug's Life.  As the queen-in-waiting, she nervously holds the colony together while fellow ant (the courageously clumsy Flik) explores the great beyond, seeking help for the colony on an adventure that feels like a trip through Magic Kingdom's Frontierland.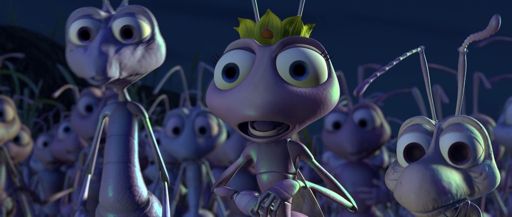 Louis-Dreyfus can be heard as Laurel Lightfoot – widowed mother to Ian and Barley in Pixar's Onward, and she also had a small role in Disney's Planes, as Rochelle – a racing plane inspired by the Bay Super V, a conversion of the V-tail Model 35 Beechcraft Bonanza (I'm not sure what that is, but it sounds quite impressive).
George Costanza – Jason Alexander
George is Jerry's childhood friend, who aspires to exhibit some of Jerry's charm, but can never quite pull it together. He can be a divisive character, frustrating to many, though I must admit I love him and I'm always rooting for him.
Jason Alexander perched upon high for one of the more "elevated" Disney roles, as the gargoyle Hugo in The Hunchback of Notre Dame. Hugo is part of a trio of gargoyles – Victor, Hugo, and Laverne – who sit near the top of Notre Dame cathedral, lending a bit of lighthearted comedy to an otherwise quite serious film.
Here's a piece of trivia – Victor and Hugo were named after Victor Hugo, the author of the novel Notre-Dame de Paris.  Laverne, on the other hand, was named after Laverne Andrews from the 1940s singing group The Andrews Sisters (The Andrews Sisters had previously performed for Disney in short segments in the films Make Mine Music and Melody Time, but are most well-known now as the backup singers to Bing Crosby in his popular rendition of Jingle Bells).
But Alexander is not just a gargoyle to Disney. He is also memorialized as a bug! No, I'm not talking about A Bug's Life, as he is not in that film. But he "appears" in the Animal Kingdom attraction "It's Tough to Be a Bug," as the voice of Weevil Kneevil, an acorn weevil.
Cosmo Kramer – Michael Richards
Life is never boring (or private) when Kramer is your next door neighbor, but if you don't mind sharing your couch, your food, and pretty much everything else in your home, then Kramer is the perfect neighbor!
Ever inventive, Kramer is always up to something new. My personal favorites of his schemes include his hosting of the Merv Griffin Show in his own apartment, and his big idea for an oil bladder (where he hired a college intern named Darren). Kramer as a character did have one brush with Disney, when he created his "coffee table book about coffee tables." In the show, Kramer was able to book a guest spot on visit on-air with Regis and Kathie Lee, a daytime talk show which aired at the time on ABC – a curious choice, since Seinfeld aired on competitor network NBC, and Disney had a long standing strong partnership with ABC (even before purchasing the network in 1995).
Speaking of that intern Darren – he took copious notes during his time as Kramer's assistant, and captured a passionate conversation between Jerry and George, over whether or not Iron Man wore "some sort of undergarment" under his iron suit.
Kramer: What did I miss?

Darren: Well, after ordering, Mr. Seinfeld and Mr. Costanza debated whether or not Iron Man wore some sort of undergarment between his skin and his iron suit…

Kramer: Uh huh…

George: And I still say he's naked under there!

Jerry: Oh that makes a lot of sense.
Interestingly, this conversation took place in a 1997 episode of the show – eleven years before Disney kicked off the Marvel Cinematic Universe in 2008 with the first of three Iron Man films.
Outside of his work on Seinfeld, Richards has one small piece of work with Disney. He actually appeared in one Disney attraction – the now-retired Ellen's Energy Adventure in Epcot. In the attraction, Richards played a small uncredited role as a caveman discovering fire. (Sorry for the grainy photo – it was the best I could find).
Who knew going back in time to learn about the creation of energy could be so much fun?
David Puddy – Patrick Warburton
David Puddy is the blissfully moronic meathead boyfriend of Elaine Benes. As if being an occasional star on Seinfeld wasn't enough, Warburton is legendary to Disney Parks fans for one iconic role – that of a flight attendant in the pre-show for Soarin'.
"When the doors to your flight open, please take a seat and store all carry on items in the under seat compartment. This includes: Cameras, purses, hats, and of course… these little beauties." I even have a t-shirt boasting "Nice Work Pal."
FUN FACT: Warburton wasn't Disney's first choice for the flight attendant role. That distinction belongs to John Travolta, also known as Danny Zuko from Grease. According to Imagineer Jim Clark, Travolta's filming schedule (and an undesirable little beard on his chin) discouraged Disney from officially offering him the role. After seeing a screening of The Emperor's New Groove, the Soarin' team was smitten by Warburton's performance of Kronk, and the rest is aviation history.
Also in the parks, Warburton lent his voice to the droid G2-4T in the Star Tours queue. In case you were wondering about his full name, here you go:
"My name is G2-4T. That's short for G2-4TT45579982DWP-403ST. That's just my first name. I'd tell you my last name, but I don't wanna hold up the line."
Warburton plays a sizable role in Disney films as muscle-bound henchman Kronk for the villain Yzma in The Emperor's New Groove – a role he reprised for the sequel Kronk's New Groove.
On television, Warburton voiced Buzz Lightyear in the Disney series Buzz Lightyear of Star Command.
Newman – Wayne Knight
Helloooo Newman! America's most lovingly-hated postal worker never claimed a Disney connection in the show, but actor Wayne Knight has had several notable nods in Disney films.
Knight's role as Al McWhiggin in Toy Story 2 is closest to Seinfeld character Newman's irritating ways. McWhiggin is the greedy, sneaky, chicken-suit-wearing owner of Al's Toy  Barn – and he's determined to get top dollar for the Woody's Roundup gang.
Knight plays an opposite role in Tarzan, as Tantor the elephant. Tantor is a panicking pachyderm – always worrying. But Tantor's heart is as big as his body, and he faithfully helps Tarzan in his many adventures.
Knight revisited his Toy Story roots to provide the voice for Emperor Zurg in the television series Buzz Lightyear of Star Command.
George's Parents – Frank and Estelle Constanza – Jerry Stiller and Estelle Harris
"My name is George. I'm unemployed and I live with my parents."
What would you do if you had parents like these? You could probably write a sitcom for television. That, and celebrate Festivus! These two are loud, excitable, a bit outrageous, and entirely lovable.
Frank Constanza said perhaps the truest words ever spoken in the show when he exclaimed:
Estelle Costanza did not have such a memorable Disney line in the show, but actress Estelle Harris channeled her inner Constanza for her role as Mrs. Potato Head in several of the Toy Story films. Her big screen husband in the films was not played by Jerry Stiller, but by Don Rickles.
Harris also had a recurring role on television as Muriel in Disney's The Suite Life of Zack & Cody.
Eric the Clown – Jon Favreau
Fans of Disney's Marvel and Star Wars franchises are well familiar with Jon Favreau's accomplishments, which have earned him the status of Disney Legend. Favreau's Seinfeld contributions include one minor but memorable single-episode role as Eric the Clown, hired by George to entertain children at his girlfriend's birthday party.
Favreau put his foot down, literally. As in, Eric the Clown put out a trash can fire with his clown shoe!
Favreau's Disney accomplishments are monumental. He directed/produced/executive produced several Marvel Cinematic Universe films and Star Wars series, and maintains an occasional role as Happy Hogan in the Iron Man and Spider-Man films.
Favreau is executive producer for the Star Wars series The Mandalorian, where he and creative partner Dave Filoni are widely credited with "saving" the Star Wars franchise. Favreau also has a minor acting role in The Mandalorian, as a Mandalorian fighter. Favreau provides voice roles in Solo: A Star Wars Story and The Clone Wars television series.
Favreau has also directed live action reimaginings of The Jungle Book and The Lion King.
Like I said – a Disney Legend.
Naked Subway Guy – Ernie Sabella
If you ride the subway often in New York, you'll see enough strange things to fill a book, or in this case, an episode of Seinfeld. Jerry was fortunate enough to spend a few minutes with a heavy naked guy while travelling the subway. Hakuna Matata! The naked guy was played by Ernie Sabella, who voiced Pumbaa in the original animated version of The Lion King.
Emily – Sarah Silverman
Comedian Sarah Silverman knows her way around the standup comedy circuit, and she played a minor role in one episode of Seinfeld, as Kramer's girlfriend Emily. Silverman played a much sweeter role for Disney in the Wreck-It-Ralph films, and Ralph's pint-sized pal Vanellope Von Schweetz, star racer in the video game Sugar Rush.
Silverman also made a cameo in the 2011 Disney film The Muppets.
The Seinfeld Babies
Fans of the original Muppet Show (coming soon to Disney+) may remember an odd skit featuring Bobby Benson's Baby Band. Bobby's band performed several times in the latter years of The Muppet Show, and have since made brief appearances in the Muppet films Muppets Most Wanted and The Muppet Christmas Carol.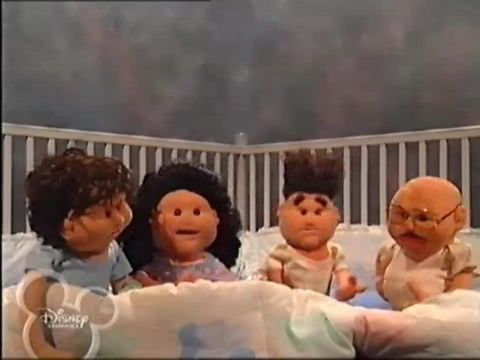 A Seinfeld spoof of the baby band, called "Seinfeld Babies", appeared in a 1996 episode of Muppets Tonight, which was a short-lived reboot of the original Muppet Show. In the skit, the four primary characters of Seinfeld – Jerry, George, Elaine, and Kramer – are portrayed in baby Muppet form. They play out a scenario spoofing the iconic Seinfeld episode "The Contest." As fans of Seinfeld might expect, Baby Kramer immediately is the first out. It's a little creepy, but that's history – not that there's anything wrong with that!
Yada yada yada! I hope you enjoyed this "list about nothing."  If you know of any Disney/Seinfeld connections you think I may have missed, feel free to reach out with a comment here, or connect with me on social at:
Instagram: Disney Facts and Figment
Facebook: Disney Facts and Figment