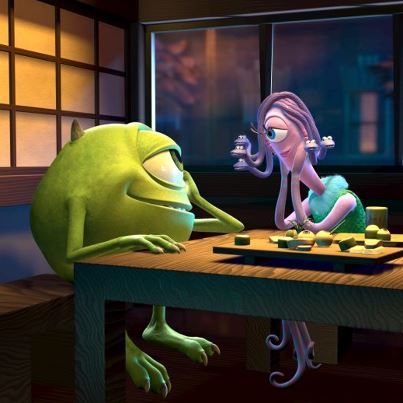 Mike Wazowski may not be the most attractive monster on the scare floor, but in the Pixar film Monsters, Inc., Mike's girlfriend Celia Mae is smitten by his silly romantic charm. Mike plans a perfect romantic dinner date for two, which was humorously "interrupted" by Sully and Boo. What is the name of the restaurant Mike takes Celia to for dinner? And for an extra challenge, what is the inspiration for the restaurant's name?
And the answer is:
Harryhausen's
Mike takes Celia to dinner at "a little place called Harryhausen's" where Boo gets loose and causes quite a panic across Monstropolis.
The name Harryhausen's pays homage to science fiction and stop-motion animation legend Ray Harryhausen, who is legendary for his production of animation created in many science fiction films, including The 7th Voyage of Sinbad (1958), Mighty Joe Young (1949), Jason and the Argonauts (1963), and Clash of the Titans (1981). Ray Harryhausen was also an inspiration to Tim Burton, who used stop-motion animation with amazing creativity in The Nightmare Before Christmas, among other films.
Source –IMDB (film credits)