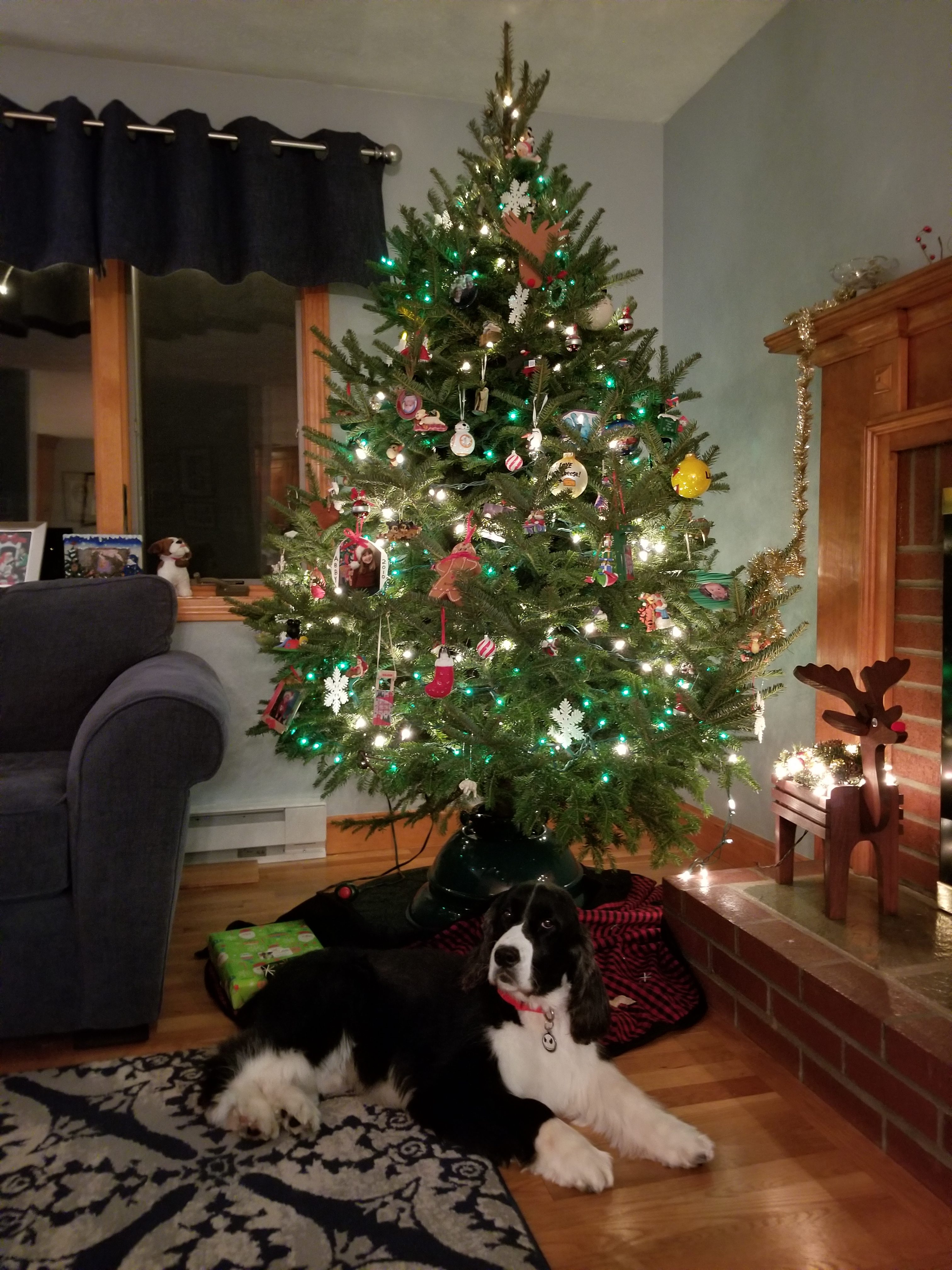 Read Time:
8 Minute, 24 Second
Merry Christmas friends! I'm looking to spread some holiday cheer by sharing with you twelve days of my most special Christmas ornaments. My goal is to share a bit of my Christmas cheer with you, one ornament at a time. If any of these ornaments strike you in a fun or meaningful way, please chip in with a comment. I'd love to hear from you!
The First Day of Christmas: The Lovely Couple
My wife Nicole and I have been happily married for over 15 years, and this ornament captures our "sweet" relationship perfectly. Whimsical, happy, and full of love. This was a gift from my brother and sister-in-law for one of our first Christmases together. Would you believe this ornament once fell and shattered on our hardwood floor? I painstakingly pieced it back together with super glue. Just like our marriage, it is stronger than ever!
The Second Day of Christmas: Abby and Ben
With day one about us as a couple, day two is about our greatest gifts, our two children Abby and Ben. We were already quite happy before they entered our lives, but with them our hearts are full tenfold more.
My mom used to tell me I'd never quite understand how much she loves me until I had a child of my own. You know, she was right! It's a whole different level. They are, and will always be, our greatest accomplishments.
The Third Day of Christmas: Sammy
I have always loved dogs, and so has Nicole. So it only stands to reason that dogs would be a meaningful part of our lives together. Nicole already had her cocker spaniel Sammy when I first met her – he was about two years old. I first met Sammy on our second date. We took him to Nantasket Beach in Hull MA.
Several years after we met, when we were already married, Nicole admitted to me that she set up our second date to include Sammy, so she could know if I had potential. I guess I passed the test!
Sadly, Sammy left us in 2011, but there are still touches of him all around our house. He is part of our story.
The Fourth Day of Christmas: Mickey's Sack of Goodies
This ornament came home with us from our last family trip to Walt Disney World. We found this at Ye Olde Christmas Shoppe in Liberty Square – a must-stop-in on every trip we make. We always love our Mickey ornaments, but the personal piece of this family favorite sits snuggly in Mickey's sack. Duffy the Disney Bear became fast friends with our son Ben during our first Disney trip, when he was only 2 ½ years old. We watched the resort channel Duffy Story five or six times that week, and many times on YouTube since. Duffy is no longer regularly appearing at Epcot like he used to, but we did get lucky on our last trip, and got to see him again at an Annual Passholder event – we were guests of our very generous friends that night! Ben has two beautiful Duffy plushes, including a Christmas Duffy (which is not allowed to be put away with the Christmas decorations after the season).

The Fifth Day of Christmas: Tigger

I went through a big time Tigger phase in my younger days, and have several ornaments on the tree to show for it, including this cheerful bell-ringing Tigger. He holds a festive garland of chunky holly berries and leaves, complete with jingle bells. He rings the bells when you pull his tail. You may have caught a glimpse of one or two other Tiggers in my other tree and ornament photos.
The Sixth Day of Christmas: Patty
This may back the oldest ornament I have, and when it's not on our tree it rests among other fragile pieces in a stuffed, fluffed box. I'm not exactly sure where it came from – my best guess is a church Christmas bazaar. The little girl hand painted on the ornament has always reminded me of my older sister Patty when she was a little girl. There is an uncanny resemblance, although I don't believe the ornament was specifically personalized for Patty. Nonetheless, Patty finds a sweet spot on our tree each year.
The Seventh Day of Christmas: Handprints
This one makes me well up a little more each year. Kids grow up so fast, and every year these handprint ornaments look a bit smaller to me. They are a fun memory of our kids' toddler days, and a loud annual reminder to savor their youth while they are still young (ok, I admit, I'm getting a bit teary as I write this).
Also in this photo are several other nods.
The green and clear wreath is another old family favorite, probably from a bazaar or craft fair. As a kid, I used to painstakingly find the perfect spot for it on the tree, where I could make sure a light shone through from the center, illuminating the translucent plastic body of the wreath. It's still semi-round after all these years.
I found the snowflake lying lonely in the middle of the road at Fort Wilderness a couple years ago. I was going for an early morning jog at Christmastime. I figure this may have fallen from one the many golf carts that bound about the resort decked out in their holiday finest. It was the most entertaining jog I've ever taken.
Lastly, this Jack Skellington ornament is one of several on our tree or elsewhere in our house. Jack is one of my favorite Disney characters, and our whole family loves The Nightmare Before Christmas.
The Eighth Day of Christmas: Dodger
I almost didn't get this Dodger ornament. He was for purchase at McDonalds, when Oliver and Company was prominently in movie theaters at Christmastime in 1988. The store was all out of Dodgers, except for the one in the display case. Initially the employee refused to sell me the display Dodger, but I was there with a friend and his mother, who tenaciously argued with the store manager on my behalf until they agree to let me buy the display piece. I have never forgotten that, to this day. Never underestimate the power of a mom trying to do right by her child (or in this case, her child's fortunate friend)!
The Ninth Day of Christmas: S-N-O-W
This is one of only a couple ornaments that does not hang from our tree. It's a Christmas decor set that Nicole and I bought in our early years together. It started out on an end table in our living room, and has moved around between the top of our wooden CD shelf (remember those?), back to the end table, to the top of our BOSE CD player, and this year it rests upon our mantle (though it will likely get displaced when we put up our stockings in a few days). Let it snow! Let it snow! Let it snow!
The Tenth Day of Christmas: Mom
My mom passed away almost four years ago, of Chronic Obstructive Pulmonary Disease (COPD). During one of her last stays in the hospital, during Christmastime 2015, I bought this reindeer for her at a hospital craft fair fundraiser. The reindeer sat cheerfully in the window of my mom's hospital room during her stay, and also spent some time with her in her nursing home room during the final couple months of her life. The reindeer resides with us now, and steadfastly accompanies our Christmas tree throughout the season. It prompts me to think of my mom, and Abby and Ben to remember Mémère.
The Eleventh Day of Christmas: Toast for Two
One of our most unique ornaments, this silver tray serves champagne and chocolate-covered strawberries for two. Nicole and I received this as a gift – I believe it was for our first Christmas together. It clips onto a branch instead of hanging. It needs to be clipped to just the right branch – sturdy enough to support its weight, and straight enough so the tray isn't tipped. This ornament always sits at the front of our tree, near the top where the branches are strongest. Fraser fir trees are our family favorite, and they tend to have very strong branches.
As a side note – our wedding night was such a blur – a flurry of excitement and non-stop stimulation – that when we finally got to our hotel room, we were starving. We had not thought to set up a late night treat for ourselves, so along with our champagne that was placed by my brother, we split a bag of chips out of the hotel vending machine! To be honest, it ended up being the perfect night just the same, and I wouldn't change a thing.
The Twelfth Day of Christmas: Believe
For those who still hear the bells from Santa's sleigh, they are blessed to truly believe. The spirit of Christmas is about so much more than Santa and presents and snow. It's about love, faith, and believing in the goodness of others – in God and in our families, friends, and neighbors. The world is still full of so many good people. We need to believe in each other, and when we do so, the magic of Christmas will be with us.
We got this little bell on our trip aboard the Polar Express. We have two others – one on Abby's personal table top tree, and one on Ben's tree. I hope and pray that we will always be able to hear the sweet sounds of our Christmas bells.
Thank you for reading. I hope you enjoyed this trip around our Christmas tree, and I truly hope that you and yours – family, friends, neighbors, coworkers, and all others who have a special place in your life – have a wonderful and safe holiday season.