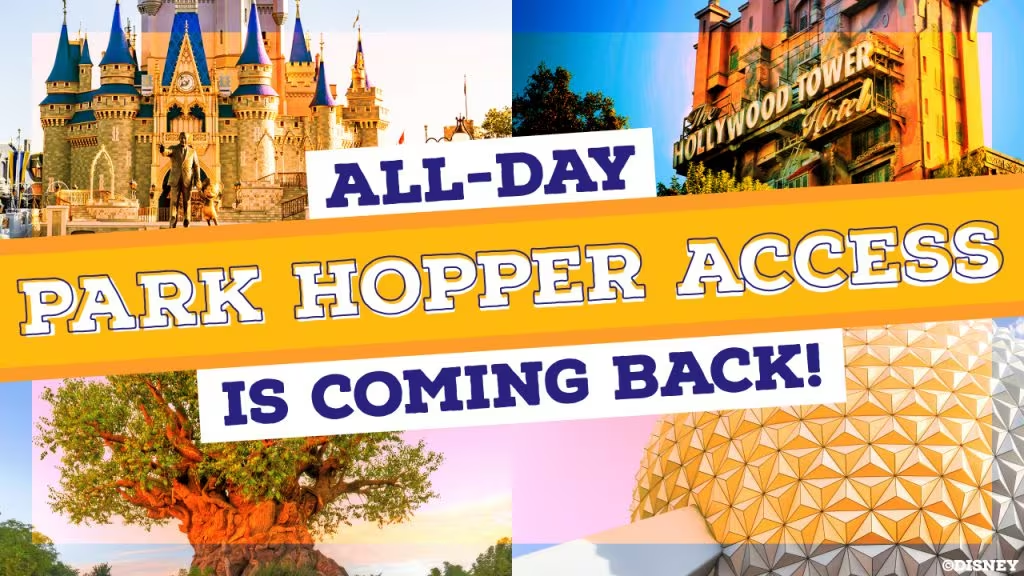 Read Time:
3 Minute, 32 Second
Disney Parks dropped some mixed news today. The good news? Full Park Hopping is returning to Walt Disney World! The bad news? Some price increases are coming to both Disneyland and Walt Disney World. Let's explore both announcements.
Full Park Hopping Returns to Walt Disney World
Beginning Jan. 9, 2024, guests with a Park Hopper ticket or an Annual Pass will once again be able to park hop at ANY TIME OF DAY during park hours (subject to capacity limitations). Since Park Hopping returned to WDW in 2021 (post-pandemic), it has only been allowed after 2 p.m. each day. Now, guests can now decide when it's time to visit another park.
This is especially welcome news to Annual Passholders, as Park Hopping is baked into the DNA of the pass, and one of its greatest values. It is important to note that Annual Passholder guests (using what Disney refers to as "non-dated tickets") must still visit the first park they have made a theme park reservation for before utilizing the park hopping option, until such time as theme park reservations are no longer required. Previously, Disney teased the introduction of "Good-to-go" days for Annual Passholders sometime in 2024, whereby they will not need a theme park reservation to visit the parks on select days. Stay tuned for more info on the rollout of these days.
Price Increases at Disneyland
Disney recently announced plans to double parks investments over the next ten years. While that was welcome news to Disney Parks fans, it is not surprising that it has been followed by news of price increases at the parks and resorts. 
Disneyland ticket prices are rising nearly across the board, with some tickets increasing over 15%. A Tier-0 (least busy season) 1-day ticket will remain $104, but all other ticket prices will increase to varying degrees, with the largest increase being $15 on a Tier 6 1-day ticket, raising that ticket price to $194.
A 2-day ticket will rise from $285 to $310, an increase of $25.00, and a 5-day ticket will rise from $415 to $480, an increase of $65.00.
The option to park hop between Disneyland and Disney California Adventure will see a rise in price as well, on 2-day tickets and up. Increasing from $5 – $15 depending on the length.
Disneyland's Annual Passes – or Magic Keys – are increasing between $50 and $150, depending on the level of the pass.
The price for Genie+ will increase by $5 (if pre-purchased), from $25 to $30 per person per day. If buying Genie+ day-of, the price will now start at $30.00 per person per day and will vary.
Parking at Disneyland will increase by $5 pretty much across the board, with the exception of Downtown Disney, which is not increasing at this time.
Price Increases at Walt Disney World
Annual Passes at Walt Disney World will be increasing soon, between $30-$50, depending on the level of the pass.
At this time, Disney has not announced an increase in date-based tickets.
Standard parking at the theme parks will be increasing by $5, from $25 to $30 per vehicle, which will match the cost for parking at other major central Florida theme parks.
---
Price increases at Disney Parks are pretty much an annual event (but then again, so is inflation). Given Disney's recent announcement of plans to double investments in the theme parks, the announcement of these price increases is not surprising at all.
Now, more than ever, is a great time to use professional travel planning services when planning your next Disney trip. Facts and Figment Travel Planning can help you score the best discounts Disney has to offer, at Disneyland, Walt Disney World, Disney Cruise Line, Aulani, or Adventures by Disney. Please reach out here to begin. Our travel planning services are absolutely FREE, and we can help you score the best, hardest-to-get deals to make your vacation more affordable.
Find Facts and Figment on social:
Instagram: Disney Facts and Figment
Facebook: Disney Facts and Figment