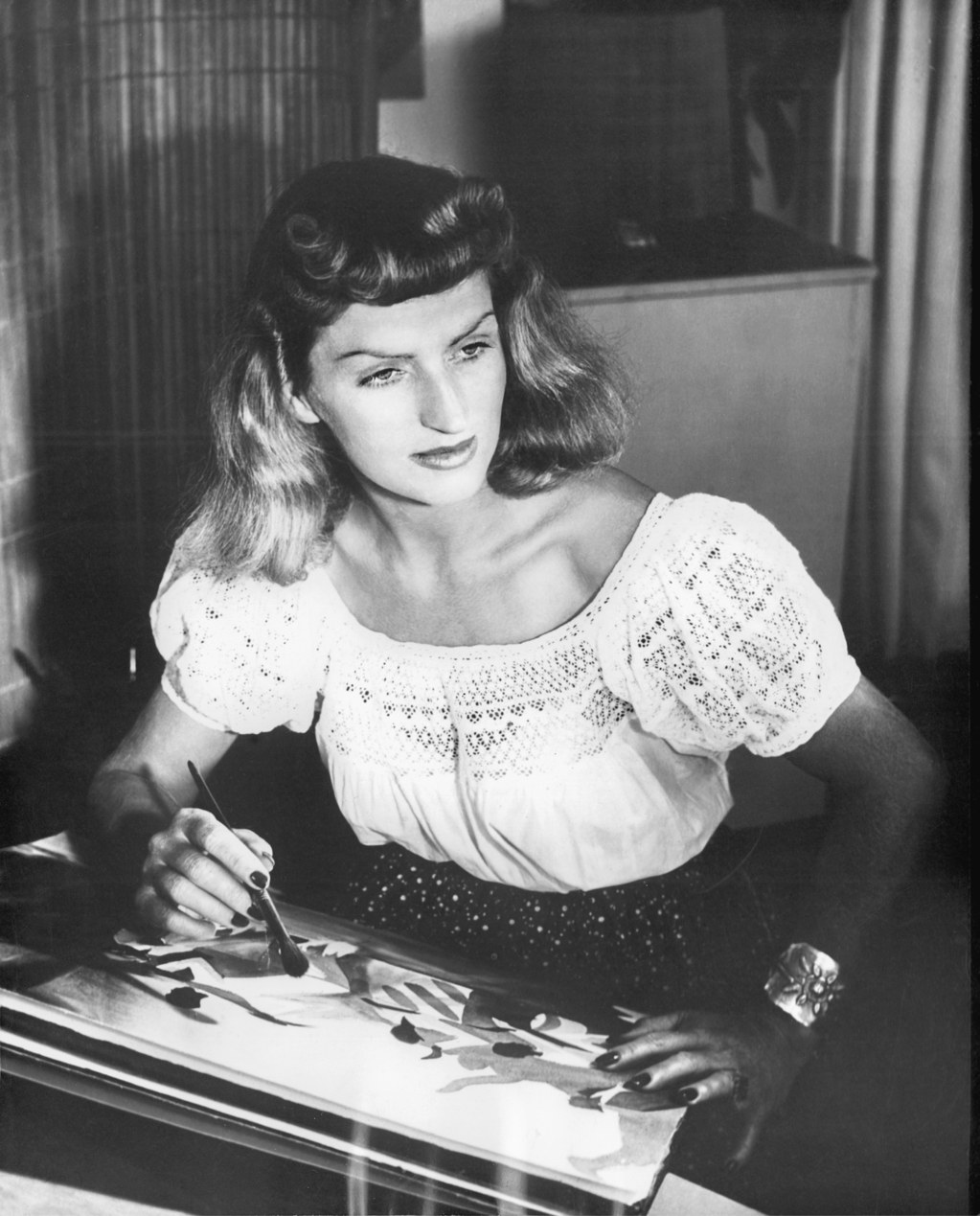 Read Time:
7 Minute, 59 Second
(A version of this article was published for Pirates & Princesses on March 29, 2022.)
Friends, would you like something to smile about today? Look no further than the remarkably happy and positive artwork of Disney Legend Mary Blair. This endlessly talented artist worked with the Walt Disney Company from 1940 through about 1970, and in doing so created everlasting impressions on Disney films and parks that shine just as brightly today as they did many decades ago.
The Early Years
Mary was born in 1911 in Oklahoma. While still a small child, her family moved to Texas, and later to California. Mary went to college at San Jose State University, then studied illustration under a scholarship at the prestigious Chouinard School of Art in Los Angeles. While studying at Chouinard, she met her future husband Lee Blair. The two excelled in producing fine art, and Mary was becoming increasingly recognized for her work, but their artistic merit was not transforming into financial payoff. Lee joined the Disney Studios in 1938, and Mary followed in 1940.
The Disney Years
Initially, Mary worked on assorted smaller projects for Disney, but never quite found her place in her early days with the studio. In 1941, Mary and Lee both had the privilege of joining Walt Disney on his South American goodwill tour, as part of "El Grupo." During this trip Mary developed a deeper appreciation for multicultural artistic inspiration, and this experience led directly to her involvement in 1942's Saludos Amigos and 1944's The Three Caballeros. It was here that Mary's signature color and pop began to take shape.
During World War II the studio turned most of its efforts towards government contract work. It did, however, also produce several smaller compilation film sets, or "package films", and these films offered Mary some unique opportunities to really play with her talents. During this period, Mary put her stamp on Make Mine Music, Melody Time, and The Adventures of Ichabod and Mr. Toad.
When the Disney studio emerged from the wartime efforts, Mary was invited to participate in animation for Cinderella. Her whimsical, angular artwork didn't seem to flow very well with the film as a whole, and other animators had a difficult time collaborating with her style, so very little of her efforts made it to the final film cut. Alice in Wonderland, however, was an entirely different story. Mary's style fit the content perfectly, as if the story was written specifically for her talents. Topsy turvy, upside down, inside out – it all screamed out for Mary's unique style.
Every time you see Tinkerbell dart through the sky and treat you to a sprinkle of pixie dust, you can thank Mary Blair. She is the creative force and design behind the mischievous fairy, as well as Skull Rock and the Mermaid Lagoon in the animated film Peter Pan – the last feature film Mary worked on for Walt Disney.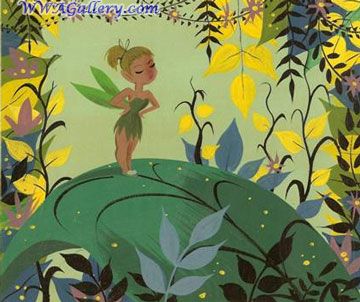 At the same time Mary was working on Peter Pan, she developed concept art for a lesser known Disney short film, which decades later would inspire a multi-billion-dollar Pixar franchise. Susie the Little Blue Coupe chronicles the journey of a car that goes through several stages of life, from being brand new and fancy, to years of neglect, to abandonment, and eventually to refurbishment and a new life. Susie's look – and her influence on the Cars franchise – is unmistakable, and it all started with the pen and brush of Mary Blair.
Outside Disney
Walt was deeply disappointed in 1953 when Mary went off to do her own work outside of Disney, but Walt continued to seek inspiration in animation from Mary's style. When Walt chose Eyvind Earle to design much of the scenery for visually striking film Sleeping Beauty, he insisted that Earle's angular style – which was largely inspired by Mary Blair – be strongly maintained throughout the film.
While Mary was doing her own thing, she still continued to do some work for Disney – notably, illustration work for the popular Little Golden Books series, which are collector items themselves. Outside of Disney, she worked on commercial animation and design, and she designed several Christmas and Easter set pieces for New York's Radio City Music Hall.
it's a small world
Walt Disney was known for sensing talents in his artists that they didn't even know they had, and he was able to bring these talents out of his artists for the world to enjoy. He made artists into storytellers, storytellers into songwriters, and animators into Imagineers. And in 1963, Walt called on Mary to do something she had never done before – design an entire pavilion and attraction for the 1964 World's Fair. Mary was able to translate her talents to the third dimension, designing a timeless pavilion and a colorful, eye popping, heartwarming attraction "it's a small world."
The sense of innocence and hope that is ubiquitous throughout the attraction captures Mary's personality perfectly, and sings to the young, and the young-at-heart – the spirit that also exemplifies Walt Disney himself. It's a small world was such a hit that when the World's Fair ended in 1965, it was carefully deconstructed, transported, and rebuilt for Disneyland, along with Carousel of Progress, Great Moments With Mr. Lincoln, and part of Ford's Magic Skyway.
Mary's Murals
In 1966, Mary got her first taste of working on multi-textured murals, using fired clay tiles in the compilation of the scene. The first of her murals measured 220 square feet, and was produced for the Jules Stein Eye Institute at the UCLA Center for Health Services in Los Angeles.
Walt's next assignment for Mary was to create two murals for the renovation of Disneyland's Tomorrowland. Completed in early 1967, after Walt's death in late 1966, these murals faced each other in the area known as the Tomorrowland Promenade, cheerfully covering the sides of the show buildings for Adventures Thru Inner Space and Circle-Vision 360°. Each of these murals was 15.5 feet high and 54 feet long – 837 square feet each. (They have since been covered over in later thematic transformations to the always-changing Tomorrowland).
But Mary wasn't finished yet. Her largest and most impressive mural was completed after Walt's passing. She created a floor to ceiling mural to cover much of the interior of the brand new Contemporary Resort, which opened with Walt Disney World in 1971. This mural measures 90 feet tall, and covers all four sides of the elevator shaft located within the hotel's Grand Canyon Concourse. This mural, titled Pueblo Village, celebrates the art and culture of the Navajo community, as well as the naturally bright earth tones of the American southwest. The mural took Mary and her team over eighteen months to design, create, and install, and the finished product contains over 18,000 square-foot tiles.
Walt Disney World enthusiasts may know of the famous five-legged goat located high up the mountain on one face of the mural. The Navajo community holds a belief in the concept of worldly creations being kept "purposely imperfect", maintaining that nothing humankind creates should approach perfection, as doing so would be an insult to the Great Spirit. Mary honored this Navajo belief with the installation of the now famous five-legged goat.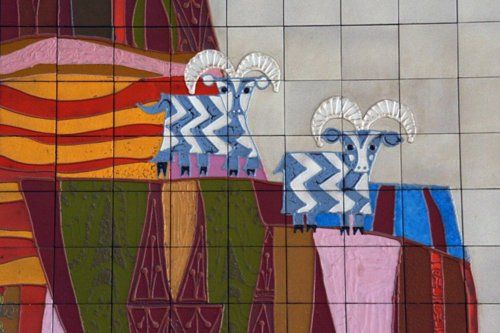 Visitors to the Contemporary can still find the goat perched high upon one of the mountains in the mural. This goat is not easy to spot, so here is a tip. You'll need to travel to the least visible side of the mural – facing the monorail – to find it.
An Extraordinary Talent
Mary Blair died in 1978, at age 66. Like Walt, Mary's life proved too short to showcase all of her amazing ideas and talents. Mary received the ultimate Disney honor in 1991 when she was named a Disney Legend. Google honored Mary's 100th birthday with a Google Doodle on October 21, 2011.
Mary Blair's creations live on to this day, in Disney films, books, attractions, and resorts. A couple of the modern-style Mickey Mouse cartoons – including Yodelberg and O Sole Minnie – were styled after Mary's masterfully simple color and pattern sensibilities.
I hope this skip through the art of Mary Blair has put a smile on your face and some hope in your heart. If you would like to chat more about Mary, feel free to reach out with a comment here, or send a direct message on social:
Instagram: Disney Facts and Figment
Facebook: Disney Facts and Figment
Thanks for learning about another Disney Legend! Follow along here for additional articles in this series. We'll continue to highlight more of the extraordinary people who have shaped Disney's storied history.
You can learn more about Mary Blair from several books, including The Art and Flair of Mary Blair and Magic Color Flair: The World of Mary Blair; both by John Canemaker, and Pocket Full of Colors: The Magical World of Mary Blair, Disney Artist Extraordinaire by Amy Guglielmo and Jacqueline Tourville.