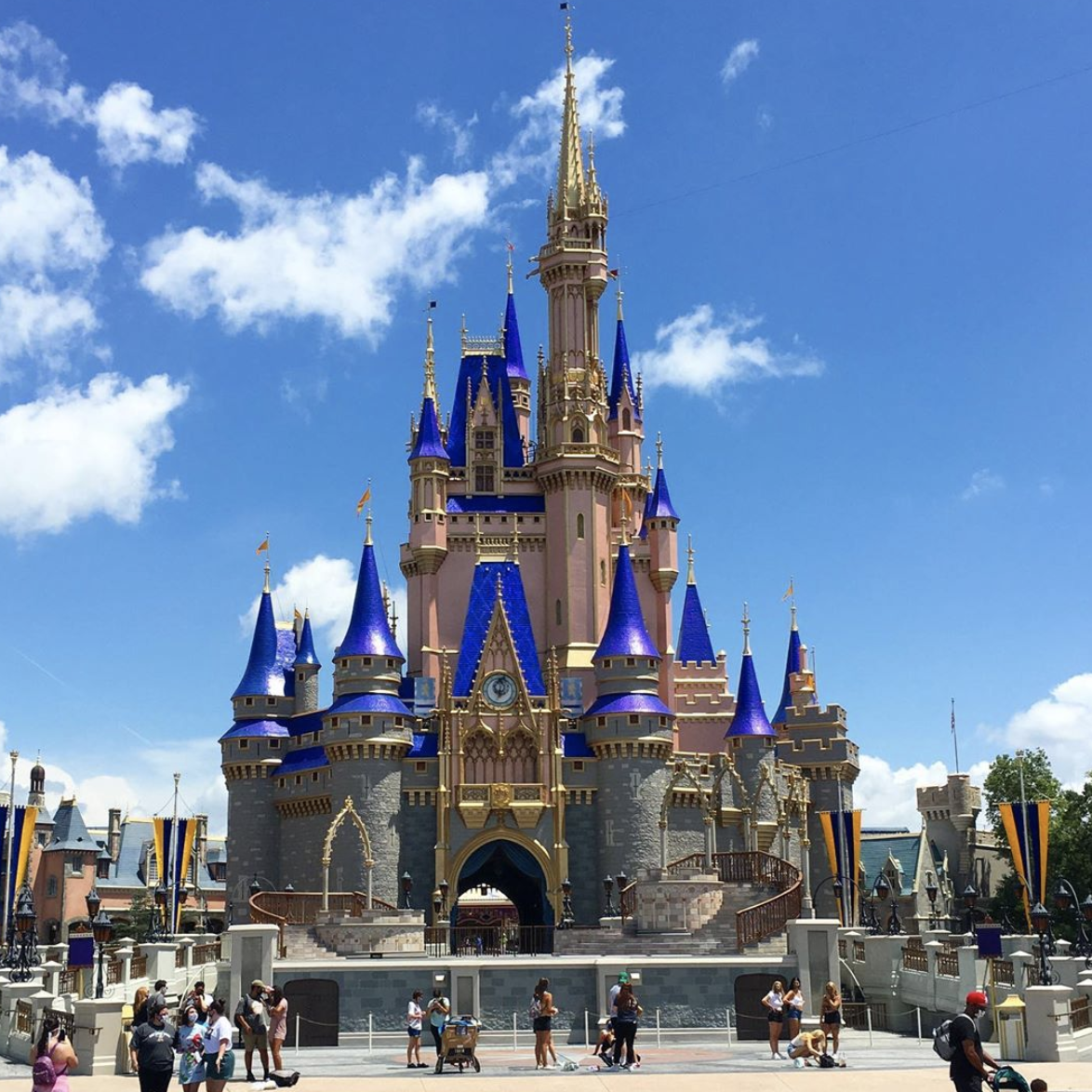 Read Time:
8 Minute, 21 Second
They don't call Florida "The Sunshine State" for nothing. When you're not caught in a mid-afternoon thunderstorm, then you're most likely enjoying a good amount of beautiful (and very hot) Florida sun. But if you are looking for shade, you won't find a whole lot of it in the Disney parks. Unlike major metropolitan cities, where the sky is literally the limit for building height, Walt Disney World plays a different game.
If you are in New York, Chicago, Shanghai, and many other major cities throughout the world, it is very common to see buildings 20, 30, 50, even 100 stories in height, with the overall heights of many buildings being well over 1,000 feet. A building this high will cast a long shadow, and shady spots are plentiful.
Disney parks play it a bit differently. For Imagineers, it is not about the size, the height, or the magnitude of a structure – it is about the quality and theming. When telling a story, the size, scale, and surroundings of a structure are just as important to the story being told as the attraction, restaurant, or hotel located within. When it comes down to "bigger and better", there is a threshold in the sky at 200 feet that has had a huge impact on determining the construction of many iconic Walt Disney World structures.
In the United States, the Federal Aviation Administration (FAA) monitors the skies, keeping them safe for air travel. For this reason, any structure higher than 200 feet above ground level must be identified using a flashing light beacon. This helps protect aircraft flying in the area from potential in-air collisions. It also protects people who may be occupying a portion of the taller structures, as well as people outside the structures on ground level.
One might say "Ok, so what? Just put a light on the top and move on." If there is one thing Disney Imagineers learned from Walt during the history of the company, it is to never overlook the details when telling a story. This premise works in two directions. First – for full guest immersion, do not leave out even the smallest of details that add to the story. Make the guest a part of the story, and put them 100% in the world you are creating. Second – and conversely – to stay within the intended theme, do not let unwanted details interrupt or ruin the story. It is here in this second premise that Imagineers have made exacting decisions on how to construct some of the most iconic structures in any Disney park, and even around the world.
If you were to take a trip back to 14th century medieval Europe, and you could pay a visit to a historical royal castle, would you expect to see a blinking red light on top of the tallest spire? Electricity hadn't even been invented yet!
How about going for a climb up Mount Everest. Do you think there is a cell phone tower at the very top, hoisting a light beacon as well? (For the record, there are several cell phone towers installed on the world's highest mountain, but none at the very top).
Lastly, if you were to stroll through Hollywood in the 1930s, and consider stopping in at the haunted, paralyzed Hollywood Tower Hotel, would you expect to see a red glow atop the tower? Probably not.
All three of these structures measure up at a little under 200 feet tall. The majesty and grandeur of each reigns supreme, without sacrificing any of the story for a technological detail. Almost every building (and every attraction) in Walt Disney World is under 200 feet high, allowing Imagineers to forgo the flashing Rudolph beacon at the top. There is one exception to this, which you will see at the end of this list.
Without further ado, I present to you the tallest structures in Walt Disney World.
Spaceship Earth – 180 feet
EPCOT's iconic geodesic sphere measures roughly 165 feet in diameter, hoisted 15 feet into the air upon pile driven structural steel supports. From some angles, Spaceship Earth looks 300 or 400 feet high, but here's a fun fact for you – the entire footprint of the sphere could actually fit inside the largest tank at The Seas With Nemo, located just a few hundred feet away. Did you have any idea that aquarium was so large?
Space Mountain – 183 feet
This one is a little misleading. If you think Space Mountain looks quite a bit shorter than Cinderella Castle, your eyes are correct – sort of. It is the highest tower atop the futuristic starport that measures up to 183 feet, but the bulk portion of the starport is much shorter. As such, this coaster has more lefts and rights, than ups and downs.
Disney's Contemporary Resort – 184 feet
Step outside Magic Kingdom and you are pretty much at the Contemporary. This resort opened with Magic Kingdom and the Polynesian Resort in 1971. The resort's individual rooms were pre-constructed, then slid into place on-site using a crane.  The Contemporary has a wide open interior concourse, and it uses most of its 184-foot height to fit Mary Blair's amazing Grand Canyon Concourse mural – don't forget to look for the five-legged goat!
Cinderella Castle – 189 feet
Here we are – the most iconic symbol of Walt Disney World, and perhaps second only to Mickey Mouse himself as the most iconic symbol of Disney overall. The castle's tallest spire reaches 189 feet, but would you believe me if I told you it is only the second tallest structure in Magic Kingdom. I wonder what the highest one could be?
Bay Lake Tower – 195 feet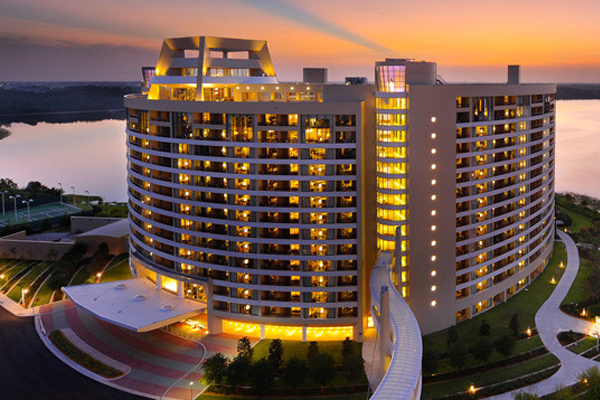 Disney's Contemporary Resort expanded in 2009 and opened Bay Lake Tower, which accommodates guests belonging to the Disney Vacation Club. It tops it's companion by 11 feet, making it the tallest resort in the Magic Kingdom resort area.
Gran Destino Tower – 195 feet
Similar to the Contemporary, Disney's Coronado Springs Resort expanded in 2019, and when it did, it added Gran Destino Tower, with theming inspired by eccentric artist and one-time Disney collaborator Salvador Dali. The simpler, classy design of this resort appeals to adults, while the subtle touches of Walt and Mickey will remind kids that they are still in Walt Disney World.
Big Thunder Mountain Railroad – 197 feet
"You mean to tell me Thunder Mountain is taller than Cinderella Castle?" Why yes it is. But we must qualify here. Similar to Space Mountain, the bulk of Big Thunder is well shorter than the official height of 197 feet, but the tallest of the red rock canyon spires does touch 197 feet. Based on its location is Frontierland and the natural colors of the canyon-scape, Big Thunder doesn't jump out in height like the castle does.
Hollywood Tower of Terror – 199 feet
When you walk down Hollywood Boulevard at Disney Hollywood Studios, this ominous-looking hotel tower, seemingly stuck in the 1930s, looks much taller than its 199-foot listed height. Disney Imagineers expertly crafted the approach to the hotel to instill a sense of ominous threat and danger in guests. Those brave enough to ride the ill-fated elevator will not travel to the top of the building. Their fall from the thirteenth floor will be closer to 100 feet.
Expedition Everest – 199.5 feet
This one cracks me up. Measuring 199 "point five" feet in height, Expedition Everest is officially the highest mountain in Walt Disney World. The Yeti reigns supreme in this Animal Kingdom attraction as guests fear for their safety on a semi-runaway train. Guests "climbing" this attraction will actually reach quite close to the 199-foot height, making that scramble from the Yeti feel even more heart-thumping. I hope you don't mind riding backwards…
WDW Dolphin Hotel – 257 feet
Coming in at 257 feet, the Walt Disney World Dolphin Hotel is the tallest structure in WDW, and the only structure higher than 200 feet above ground level. Partnered with the Swan, this pair of hotels is not actually owned by Disney, but guests at these hotels do enjoy the same advantages that other Disney resort guests enjoy. And yes indeed, the Dolphin does have an aircraft beacon atop the tower. Hey, it's kinda close to Epcot's Future World, so we can give it a pass, right?
While the following two structures in Disney's Animal Kingdom didn't make the top ten list, I included them here, for additional scale of reference.
Pandora's Floating Mountains – 156 feet
Somehow, Disney Imagineers were able to simulate the floating island mountains seen in Avatar (I suspect fortified steel beams had a lot to do with it). And yes, these mountains actually do cast quite a nice late afternoon shadow!
Animal Kingdom Tree of Life – 145 feet
Although the symbol of Disney's Animal Kingdom stands proudly at the center of the park, the Tree of Life's 145-foot height, when combined with Animal Kingdom's lush vegetation, results in the icon often being obscured to guest views even when right up close. Did you know the interior of the tree is actually a retired oil rig? Think of that the next time you are circling the tree searching the 325 animal carvings in the bark.
The next time you are at Walt Disney World, make sure you look up. Just don't forget to wear your sunglasses!
I hope you enjoyed this list of the ten tallest structures in Walt Disney World. Feel free to reach out with a comment here, or send a direct message on social:
Instagram: Disney Facts and Figment
Facebook: Disney Facts and Figment