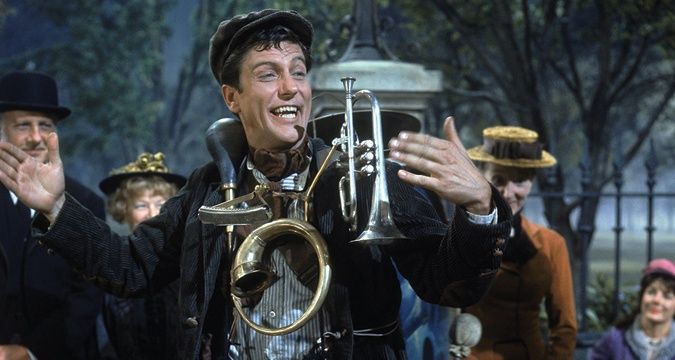 Read Time:
2 Minute, 30 Second
Winds in the east, mist coming in.

Like somethin' is brewin' and 'bout to begin.

Can't put me finger on what lies in store,

But I feel what's to happen all happened before.

Bert
We all know Bert as the lovable chimney sweep who helps Mary Poppins bring a world of wonder and magic to the Banks family. Besides his primary occupation of being a chimney sweep, this jack-of-all-trades also moonlights as a pavement chalk artist, a kite seller, and a one-man-band (as shown in title image).
While Mary Poppins clearly has a lot of magical ability, it seems as if Bert has a touch of magic inside himself too. He knows Mary quite well, he is very comfortable with her magic, and his sidewalk chalk drawings are able to come to life (though we aren't entirely sure if Bert made his drawings come to life, or if Mary did it).
And maybe most importantly, Bert always seems to show up at just the right place and time (like Mary), to help the Banks family when they need it most. Bert acts like a caretaker to Jane and Michael Banks while Mary is away, and he talked a bit of sense into Mr. Banks, leading Mr. Banks to reclaim the magic and wonder in his own life.
After Mary simply floats into the Banks' lives out of thin air, we learn that Bert has known her before. And when Mary leaves the Banks with the changing of the wind, Bert seems to know that he'll see her again someday. While we can't quite be sure if Bert is a real person or a magical being, we do know that he is a charming friend, and a guiding light to those in need.
The Wooden Leg
Bert – "Speaking of legs, I met a man with a wooden leg named Smith."
Uncle Albert – "What was the name of his other leg?"
While this joke may be a bit corny, it fits quite well in the goofy scene where we meet Uncle Albert. Legend has it that there is indeed a wooden leg named Smith in one of the train stations at Magic Kingdom. If you see it in your Disney travels, please let us know where you saw it, and share a picture!
A Disney Legend
Bert was played in the film by Disney legend Dick Van Dyke, who also played Mr. Dawes Sr., the extremely old and frail owner of the bank where Mr. Banks works.
Mr. Dawes Sr. died laughing at the wooden leg joke, when told by Mr. Banks after he was fired from the bank!
"Chim Chiminey Chim Chiminey Chim Chim Cherr-ee"
Mary Poppins is full of incredible music written by the famous Sherman Brothers. The song Chim Chim Cher-ee, sung by Bert and Mary Poppins, won an academy award for best song in a motion picture.