Read Time:
2 Minute, 57 Second
Hello friends, thanks for coming back. In keeping with the spirit of my first post, I want to share with you a little bit about myself. My name is Jim Smith (yes – THAT Jim Smith). I'm a husband, a dad, and a Disney fan. I live in metropolitan Boston, MA, and I have lived in this area my whole life. I am married to my best friend – my wife Nicole – and together we created our beautiful, Disney-fied family of 5 – my wife and me, two kids (Abby and Ben) and our Mickey-collar-wearing dog, Bailey (Baileywick of Enchancia – it's one of our more obscure Disney inspirations).
I went to public school through eighth grade, played little league baseball and soccer, went to a private high school, and attended Boston University, where I earned a degree in environmental science and policy. I practice a career in the environmental field.
And on the side, I Disney. As in – I watch Disney movies, read Disney books, visit Disney parks, wear Disney logos, and listen to Disney music (and podcasts). I've been a Disney fan since I can remember, and in recent years I've become a deeper fan of Walt Disney, the man. My demonstration of Disney affection has ebbed and flowed with me throughout my life – sometimes front and center, and sometimes subtly in the background – but it's always there. You might say it flows through me (like the Force!).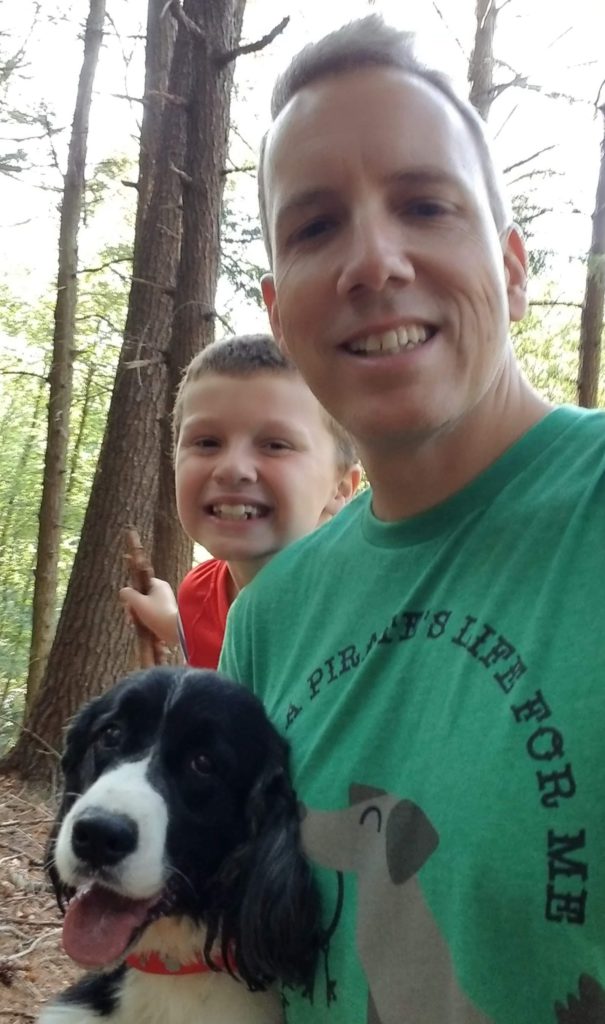 On that note, I have a confession to make – as I've grown older (notice I didn't say "grown up") I've become a bit more bashful about my affection for Disney. We live in a very competitive world, where beliefs and opinions are not only diverse and strong-willed, but can also be very aggressive and judgmental. I have historically worked in an equally aggressive environment, among a various mix of career-oriented business people. For so many poor unfortunate souls, Walt Disney World is a check box they do once when their kids are young, and then they are done. They don't feel the magic as it is meant to be appreciated, and then they move right on to the next thing. As such, I've kept my Disney side fairly low-key in public, but I'm working on letting more of my personality show through. Please join me as I use this opportunity to celebrate something I truly love. If you found this site and you are reading this post, then I'm pretty sure you get it. And for that, thank you so much!
I've been to Walt Disney World a half dozen times, and the most amazing visits have been over the last several years, sharing the experiences with our wonderful children. When living life outside the Disney parks, we as a family enjoy conversations about our favorite Disney things, play 20-questions, guess the character quizzes, "Disney World favorites" polls, and puzzles. Disney movie nights are big in our house – complete with a fruity appetizer, pizza, dessert, and drinks in our resort mugs.
Yes, we do things other than Disney, but this is a Disney site, after all.
I could go on, but why have all our fun at one time? More to come!
Thank you so much for reading.
Jim